This Week, February 22- 26, 2021
Read the latest news from the Academy.

Recent Academy Activity, Feb. 22–26, 2021
Save the Date—April Professionalism Webinar to Look at ASOP No. 1
Join the Academy in April for the year's first professionalism webinar. The focus will be on ASOP No. 1, Introductory Actuarial Standard of Practice. Presenters will be Actuarial Standards Board (ASB) Chairperson Darrell Knapp, and ASB members Kevin Dyke and Cande Olsen. The webinar will be held on Wednesday, April 21, from noon to 1:30 p.m. EDT. Registration will open soon.
Volunteer Action Required: Commitment to Professional Objectivity
Committing on an annual basis to professional objectivity is required to perform volunteer work for all those who participate in Academy committees. Al Bingham, vice president of professionalism, reminded Academy volunteers via email Friday to submit a conflict of interest (COI) acknowledgment and a continuing education (CE) attestation. If you are a volunteer or Interested Party, follow the instructions in the email or on the membership page (see "Volunteer Acknowledgments" under Volunteer Resources). For more information about the Academy's commitment to professional objectivity, please visit the Professional Objectivity at the Academy page.
Academy Presents at CASTF 'Book Club'
The Academy made three presentations Tuesday to the NAIC's Casualty Actuarial and Statistical (C) Task Force (CASTF) webinar as part of CASTF's "Book Club" series to facilitate regulator training and the sharing of expertise on predictive analytics on the topic of race and insurance. Presenters were Dorothy Andrews, chairperson of the Data Science and Analytics Committee (DSAC); Roosevelt Mosley, DSAC member and member of the Casualty Practice Council's (CPC) Racial Equity Task Force; and Lauren Cavanaugh, CPC vice president.
Uccello Presents on Medicare in Alliance for Health Policy Webinar
Senior Health Fellow Cori Uccello presented Thursday's webinar on "Medicare Solvency Projections and Potential Policy Solutions," sponsored by the Alliance for Health Policy. She set the stage for the discussion by providing basic program information, covering Hospital Insurance (HI) and Supplementary Medical Insurance (SMI), the projected depletion of the HI trust fund, and noted that Medicare's sustainability challenges go beyond solvency. Other webinar panelists looked at short- and long-term policy options to address Medicare program solvency and offer equitable access, as well as the potential impacts on providers, plans, and beneficiaries.
Recently Released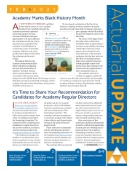 The February Actuarial Update covers how the Academy has marked Black History Month, led by the reissue of The Magic School Bus Takes a Risk: A Book About Probability. Also in the issue, it's time for members to offer recommendations for Academy regular directors; the Academy welcomed 338 new members in the second half of 2020; the "Member Spotlight" profiles the ASB Pension Committee's Matthew M. Smith; and the "Professionalism Counts" column looks at conflicts of interests in the context of transparency.
The winter issue of The Retirement Report includes a Q&A with Pension Committee Vice Chairperson Elena Black on some of the committee's key issues and output including comments on actuarial standards of practice, issue briefs on timely topics including COVID-19, and practice notes. Also in the issue, a preview of next month's webinar on Social Security reform options, and an update on recent legislative and regulatory activity.
Professionalism Outreach
Council on Professionalism member Ken Kent delivered a virtual professionalism presentation Thursday to the Iowa Actuaries Club. The presentation explored broad ethical concepts and the role of ethics in decision-making, as well as following the actuarial professional standards that are housed and maintained by the Academy.
Upcoming CE Opportunity: Social Security Reform Options Webinar
Don't forget to register for next month's pension webinar "Social Security Reform Options Through the Lens of Individual Equity and Social Adequacy Considerations." Continuing education and Joint Board for the Enrollment of Actuaries continuing professionalism education credit is available. The webinar will be held on Tuesday, March 16, from noon to 1:30 p.m. EDT. Register today.
Academy Publications Available for Order
From the "Magic School Bus" to our annual law manuals, the Academy has a variety of publications to support you and your work. Click on the title to place your order:
Public Policy Activity
The Health Solvency Subcommittee sent a comment letter in response to a request from the NAIC's Health Risk-Based Capital (RBC) Working Group to further analyze the impact of incorporating investment income into the existing underwriting risk factors within the health RBC formula.
Upcoming Events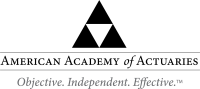 If you would like more information or to contact the Academy, please visit us at www.actuary.org/content/about-us
Follow the Academy on Facebook, LinkedIn, and Twitter. Listen to our podcast.
---
1850 M Street NW • Suite 300 • Washington, DC 20036 • 202.223.8196 • www.actuary.org
Copyright 2021 American Academy of Actuaries. All rights reserved.