This Week, December 7–11, 2020
Read the latest news from the Academy.

Recent Academy Activity, Dec. 7–11, 2020
Academy Comments to NCOIL on Race and Insurance Underwriting
Academy volunteers presented at the National Council of Insurance Legislators (NCOIL) Annual Meeting during the Special Committee on Race in Insurance Underwriting's session. Dorothy Andrews, chairperson of the Data Science and Analytics Committee, presented on behalf of the committee and provided an update on its ongoing work relevant to NCOIL's examination of these issues. Casualty Vice President Lauren Cavanaugh presented on behalf of the Casualty Practice Council, and Mary Bahna-Nolan presented on the issue from a life perspective.
2021 Dues Reminder
If you are receiving this version of This Week, the Academy does not yet have a record of receiving your 2021 membership dues. "The Meaning of Your Membership" highlights the Academy's ongoing and important work during a challenging 2020. Please take a moment to renew your membership now by clicking here to pay your dues, or you may log in to make changes to your account, including changing your mailing address to receive Contingencies magazine at your home address, for those members continuing to work from home. For questions about dues renewal, partial dues waivers, or updating your membership profile, please contact the Academy's membership services department at 202-785-6925 or membership@actuary.org.
Pension Webinar Covers Modeling Practice Note
A pension webinar on Thursday, "Setting Investment Return Expectations in an Evolving Capital Market Environment," offered a variety of viewpoints from presenters and methodologies for developing and assessing investment return expectations. Academy volunteer Evan Inglis moderated, and presented the first segment on asset pricing and the impact of pricing on returns and return forecasting. Investment professionals Shaum Shrinivas and Phil Kivarkis built on that foundation, walking through processes for developing capital market assumptions. Academy volunteer Jerry Mingione summarized a composite of forecasts from a variety of models. The Q&A that followed included discussions about the effects of Federal Reserve policies and rapid technological advancement. Archived slides and audio are available free to Academy members.
Professionalism Outreach
Actuarial Standards Board (ASB) member and incoming Vice Chairperson Rob Damler delivered a virtual presentation Tuesday to the Iowa Actuaries Club on "Professionalism and Selected ASOP Topics." The presentation provided an overview of the professionalism infrastructure housed in the Academy, followed by a focused review of recently effective and proposed revisions to actuarial standards of practice (ASOPs), and a topical review of documentation, disclosure, and reliance in ASOPs. Damler concluded with an interactive "Professionalism Challenge" that included audience polling and discussion of professionalism issues.
Start Your Week With Academy Professionalism, Pension Webinars
There's still time to register for next week's professionalism and pension webinars, which will deliver timely and relevant content and a chance to earn continuing education (CE) credit.
Monday, Dec. 14, join us for "Clear as a Bell: Professionalism Aspects of Communication," the Academy's fourth professionalism webinar of the year. Clear and appropriate communication is an essential and fundamental component of actuarial work—so much so that it is emphasized throughout the various elements of our professionalism infrastructure. Presenters with deep knowledge and experience from service on the ASB, the Actuarial Board for Counseling and Discipline, and the Committee on Qualifications will discuss communication across the professionalism spectrum.

Tuesday, Dec. 15, will feature "The Impact of COVID-19 on Retirement Plans," a Pension Practice Council webinar that will look at COVID-19's impact on private, multiemployer, and public retirement plans and their sponsors, recognizing that much is still uncertain. The panel will discuss the stress placed on certain plan sponsors and governments brought on by the current economic environment as a result of the pandemic and the actions taken (or not taken) in response.
Both webinars will start at noon EST. Don't miss out—register today.
Changes to the Group Registration Policy and Enrolled Actuary Certificate Requests
Please note these two important changes, related to requests from the Joint Board for the Enrollment of Actuaries (JBEA) that affect the process for obtaining certificates for continuing professional education (CPE) credit:
Companies must submit their attendee lists for group registration within one business day in order for any individual in that group registration to request and receive an individual JBEA CE Certificate of Attendance.

Individual enrolled actuaries (EAs) now have two business days after attending the live event to submit their request for a JBEA CE Certificate of Attendance.
These changes were requested by the JBEA and are effective immediately. More information on these policies can be found on individual webinar event pages.
P/C Loss Reserve Opinions Seminar Kicks Off, Continues Next Week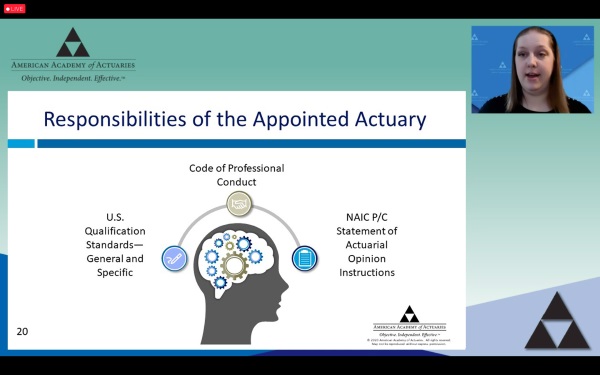 Michelle Iarkowski presents at Wednesday's opening session

Sessions began this week for the Academy's Seminar on Effective P/C Loss Reserve Opinions, which is a virtual event this year. Sessions Wednesday and Thursday covered qualifications, reserve ranges, risk of material adverse deviation, and responsibilities and record-keeping as presented in the upcoming annual practice note. Seminar sessions will continue Monday and Tuesday, Dec. 14–15, starting at 1 p.m. EST.
Public Policy Activity
Mary Bahna-Nolan, chairperson of the Life Experience Committee, submitted comments on behalf of the Academy to the NAIC's Special (EX) Committee on the Race and Insurance.
Upcoming Events
In the News
Advisor Magazine reported on the Academy's recently released issue brief discussing the effects of immigration on the finances of the Social Security program.

An opinion piece published in the Patriot Ledger (Mass.) cited the Academy's monograph on the National Flood Insurance Program and related issues.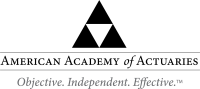 If you would like more information or to contact the Academy, please visit us at www.actuary.org/content/about-us
Follow the Academy on Facebook, LinkedIn, and Twitter. Listen to our podcast.
---
1850 M Street NW • Suite 300 • Washington, DC 20036 • 202.223.8196 • www.actuary.org
Copyright 2020 American Academy of Actuaries. All rights reserved.