This Week, December 14–18, 2020
Read the latest news from the Academy.

Recent Academy Activity, Dec. 14–18, 2020
Editor's Note: Academy operations will be closed Dec. 24–25 for Christmas, and Jan. 1 for New Year's Day. This is the last issue of This Week for 2020; the next issue will be published on Jan. 8.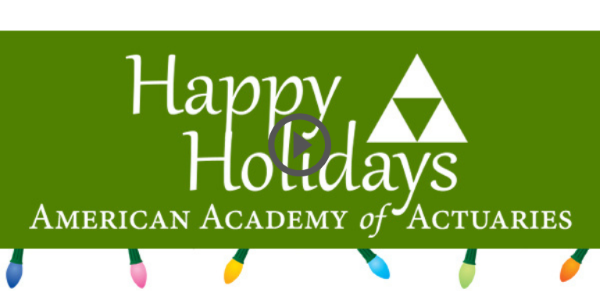 Professionalism Webinar Examines Professionalism Aspects of Communication
The Academy's final professionalism webinar of the year, "Clear as a Bell: Professionalism Aspects of Communication," held on Monday, covered actuarial communication through the lens of professionalism. Academy President Tom Campbell, President-Elect Maryellen Coggins, and Actuarial Board for Counseling and Discipline (ABCD) member Ken Kent presented and General Counsel and Director of Professionalism Brian Jackson moderated the webinar, which was attended by about 2,000 people. Presenters noted that clear and appropriate communication is emphasized in the Code of Professional Conduct, in Actuarial Standard of Practice (ASOP) No. 41, Actuarial Communications, and in the U.S. Qualification Standards. Look for more coverage in the forthcoming December Actuarial Update. Slides and audio are available for logged-in Academy members.
2021 Dues Reminder
If you are receiving this version of This Week, the Academy does not yet have a record of receiving your 2021 membership dues, which are due Jan. 1. "The Meaning of Your Membership" highlights the Academy's ongoing and important work during a challenging 2020. Please take a moment to renew your membership now by clicking here to conveniently pay your dues, or you may log in to make changes to your account, including changing your mailing address to receive Contingencies magazine at your home address, for those members continuing to work from home. For questions about dues renewal, partial dues waivers, or updating your membership profile, please contact the Academy's membership services department at 202-785-6925 or membership@actuary.org.
Public Plans & COVID-19 Issue Brief Released in Conjunction With Pension Webinar
The Pension Practice Council hosted a webinar Tuesday, "The Impact of COVID-19 on Retirement Plans" that covered the short- and long-ranging impacts of COVID-19 on pension plans and their sponsors. A Public Plans Committee issue brief, The Impact of the COVID-19 Pandemic on Public Pension Plans, released in conjunction with the webinar, noted that while long-term impacts are more uncertain, in the near term the most significant impacts to public pension plans are likely to be driven by the economic disruption caused by the pandemic. See more coverage in the fall issue of The Retirement Report, released this week. Webinar slides and audio are available free to logged-in Academy members.
Recently Released
The fall issue of The Retirement Report has a Q&A with incoming Social Security Committee Chairperson Amy Kemp on the committee's recent activity, including issue briefs on assumptions and immigration, and a look ahead at forthcoming issue briefs. Also in the issue, coverage of the Annual Meeting and Public Policy Forum's pension breakout sessions; this month's webinars on capital markets and COVID-19's effect on retirement plans; an issue brief on the Pension Benefit Guaranty Corporation; and legislative and regulatory activity.
P/C Loss Reserve Opinions Seminar Wraps Up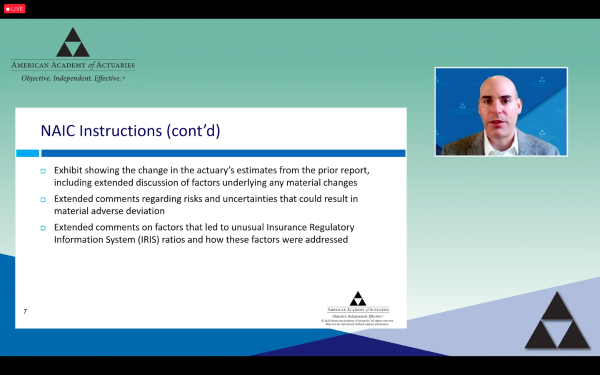 Brandon Gilbert leads a session Monday
The Academy's successful Seminar on Effective P/C Loss Reserve Opinions wrapped up this week with sessions on Monday and Tuesday, following two days last week. Held as a virtual event, sessions covered qualifications, reserve ranges, risk of material adverse deviation, and responsibilities and record-keeping as presented in the upcoming annual P/C loss reserves practice note. Interactive online discussions allowed participants to engage with and ask questions of the presenters.
Save the Dates—Life, P/C Webinars Set for January
Registration will open soon for two Academy webinars coming in January:
Jan. 13—Join the Life Practice Council (LPC) for a webinar that will present the LPC's 2020 activity and what that means for their 2021 work.

Jan. 14—The Casualty Practice Council's (CPC) "P/C Public Policy Update" webinar will provide an update on recent CPC activity and what this means for actuaries in 2021, including a look at the annual practice note on Statements of Actuarial Opinion on P/C Loss Reserves.
Academy P/C Loss Reserve, Life & Health Valuation Law Manuals Available for Preorder
Two Academy law manuals are now available for preorder:
The P/C Loss Reserve Law Manual, published annually, is designed to help appointed actuaries know the requirements for statements of actuarial opinion. The manual contains a compilation of insurance laws relating to P/C loss and loss expense reserves for all 50 states, Washington, D.C., and Puerto Rico. The manual will be available for delivery this winter—place your order today.

The Life and Health Valuation Law Manual, published annually, contains information to help appointed actuaries know the requirements of the NAIC model Standard Valuation Law and the Model Actuarial Opinion and Memorandum Regulation. The manual will be available for delivery by late January. Place your order today.
Public Policy Activity
The Health Solvency Subcommittee submitted a comment letter and verbally presented it to the NAIC Health Risk-Based Capital (E) Working Group providing analysis on the NAIC's efforts to incorporate investment income into the existing underwriting risk factors within the health risk-based capital formula.

The Life Underwriting and Risk Classification Work Group sent a letter to the NAIC Life Insurance and Annuities (A) Committee on state regulatory and legislative actions taken as a result of the COVID-19 pandemic which impact underwriting for life insurance.
Upcoming Events
"Life Practice Year in Review," Jan. 13, life webinar (registration opening soon)

"P/C Public Policy Update," Jan. 14, casualty webinar (registration opening soon)
In the News
Plan Sponsor covered Tuesday's pension webinar examining the effects of the COVID-19 pandemic on retirement plans.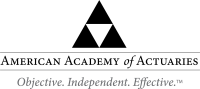 If you would like more information or to contact the Academy, please visit us at www.actuary.org/content/about-us
Follow the Academy on Facebook, LinkedIn, and Twitter. Listen to our podcast.
---
1850 M Street NW • Suite 300 • Washington, DC 20036 • 202.223.8196 • www.actuary.org
Copyright 2020 American Academy of Actuaries. All rights reserved.