Candidate Information: Maambo Mujala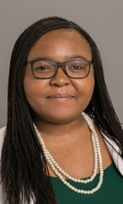 Candidate for Member-Selected Director Term
Ending in 2026

Maambo Mujala
Practice Area: Life
Employer: New York Life Insurance Co.
City, State: New York, N.Y.
Credentials: MAAA, FSA
Maambo Mujala is a corporate vice president and actuary at the New York Life Insurance Company, which she joined in 2014. Before that, she was a senior actuarial analyst at Cigna.
Mujala currently chairs the Variable Annuity Reserves and Capital Subcommittee and she is the vice chairperson of the Non-Guaranteed Elements Subcommittee. She was among the first class of recipients of the Academy's Rising Actuary Award in 2022 for her work leading and organizing the latter's practice note project. Her Academy volunteer history appears below. She has also volunteered extensively at the Society of Actuaries and is a current Board member of the International Association of Black Actuaries.
The Academy's mission is to serve the public and the U.S. actuarial profession. How will your service on the Board allow you to further the Academy's mission of public policy and professionalism?
I have had the opportunity to volunteer within the actuarial profession in many different capacities and within several actuarial organizations, not least of which is the Academy. I would be honored to serve as a Board member and hope to leverage my background to bring a unique perspective in this role.
I believe in the importance of the Academy's mission and its broader impact on public policy. The Academy plays a key role in addressing tough public policy issues by providing actuarial expertise to policymakers, which ultimately has a profound impact for the public. I will support the Academy's efforts to enhance members' ability to provide this advice while remaining abreast of trends that may impact the profession and the broader public, and to equip the next generation of actuaries with the skill set to solve tomorrow's problems. I also look forward to supporting the Board in ensuring that the Academy remains a credible voice that provides independent, objective actuarial advice while maintaining the public's trust.
| | | | |
| --- | --- | --- | --- |
| COMMITTEE POSITION | COMMITTEE NAME | START DATE | END DATE |
| Chairperson | Variable Annuity Reserves and Capital Subcommittee | 10/1/2022 | |
| Vice Chairperson | Non-Guaranteed Elements Subcommittee (LPC) | 3/1/2022 | |
| Member | Life Practice Council | 3/30/2023 | |
| Member | Research Committee | 1/17/2023 | |
| Member | Life Capital Adequacy Committee | 9/23/2022 | |
| Member | Life Valuation Committee | 7/29/2022 | |
| Member | Life Experience Committee | 6/9/2022 | |
| Member | Life Products Committee | 7/20/2021 | |
| Member | LPC Diversity, Equity, and Inclusion Task Force | 2/22/2021 | |
| Member | Life and Health Valuation Law Manual Review Subcommittee | 10/5/2020 | |
| Member | Variable Annuity Reserves and Capital Work Group | 3/25/2022 | 10/1/2022 |