Candidate Information: Donna Megregian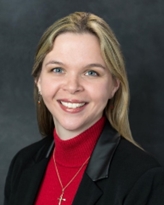 Candidate for Member-Selected Director Term
Ending in 2026

Donna Megregian
Practice Area: Life
Employer: RGA Re
City, State: Indianapolis, Ind.
Credentials: MAAA, FSA
Donna Megregian is the vice president for U.S. mortality markets at RGA Re, which she joined in 2013. She focuses on life product development and traditional reinsurance pricing as well as being a subject matter expert in various regulatory and industry developments. Before that, she was a consulting actuary at Milliman in Indianapolis. She has also worked at Lincoln Financial Group, Zurich Life and CNO Financial mainly in product development and cash flow testing.
Megregian currently chairs the Life Products Committee and the Actuarial Standards Board's (ASB's) Reinsurance Pricing Task Force. Her extensive contributions to furthering the Academy's mission in the life area are detailed below.
In 2020, she received the Outstanding Volunteerism Award for playing a pivotal leadership role as a member of the Academy's Life Practice Council (LPC) and chairperson of the LPC's Life Illustrations Work Group, as the National Association of Insurance Commissioners' Life Actuarial Task Force had been undertaking revising Actuarial Guideline XLIX to address the illustration of indexed universal life policies.
The Academy's mission is to serve the public and the U.S. actuarial profession. How will your service on the Board allow you to further the Academy's mission of public policy and professionalism?
I believe in the actuarial profession as a public servant and along with that, the Academy's mission. I want the profession to continue to shine a light in complicated areas and keep giving actuaries the tools they need to feel confident in their professional work products. I feel that through the Board, I will be able to work with others to further that mission at the highest level.
| | | | |
| --- | --- | --- | --- |
| COMMITTEE POSITION | COMMITTEE NAME | START DATE | END DATE |
| Chairperson | Life Products Committee | 2/1/2022 | |
| Chairperson | Reinsurance Pricing Task Force (ASB) | 2/5/2021 | |
| Chairperson | Life Illustrations Subcommittee | 11/18/2015 | 2/22/2022 |
| Vice Chairperson | Life Illustrations Subcommittee | 5/20/2011 | 11/18/2015 |
| Member | Life Reserves Subcommittee | 1/18/2023 | |
| Member | PBR Implementation Subcommittee | 2/25/2021 | |
| Member | ASOP 24 Task Force | 1/29/2021 | |
| Member | Life Underwriting and Risk Classification Subcommittee | 3/19/2020 | |
| Member | Life Committee (ASB) | 1/22/2019 | |
| Member | Non-Guaranteed Elements Subcommittee (LPC) | 3/7/2016 | |
| Member | Life Practice Council | 2/10/2016 | |
| Member | PBR Product Issues Work Group | 10/19/2018 | 4/15/2020 |
| Member | Task Force on ASOP No. 2 | 3/21/2017 | 6/7/2022 |
| Member | Nonforfeiture Modernization Work Group | 6/30/2008 | 1/26/2018 |
| Member | Life Products Committee | 11/17/2015 | 2/1/2022 |
| Member | Life Illustrations Subcommittee | 2/26/2008 | 5/20/2011 |