Candidate Information: Lena Black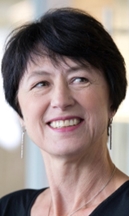 Candidate for Member-Selected Director Term
Ending in 2026
Lena Black
Practice Area: Pension
Employer: The Terry Group
City, State: Chicago, Ill.
Credentials: MAAA, FSA, FCA, EA, CFA
Lena Black is a leading practitioner and researcher in pensions, health care, and insurance with the Terry Group. She brings deep experience in risk analytics and modeling across all sorts of complex financial systems. She is an expert in mortality, longevity, and credibility, and volunteers extensively in support of professional and industry-wide mortality models. Before joining the Terry Group, she was a senior research actuary at Principal Financial Group and a pension actuary and consultant at Buck Consultants.
Her professional career follows a distinguished career in academia: After receiving her Ph.D. in algebraic geometry from the University of Maryland, she held postdoc positions at the University of Pennsylvania and at the Mathematical Sciences Research Institute in Berkeley. Her tenure-track position was at the University of Oklahoma.
She is an active volunteer in support of the public policy and research efforts of the Academy and the Society of Actuaries. Her Academy volunteering history appears below.
The Academy's mission is to serve the public and the U.S. actuarial profession. How will your service on the Board allow you to further the Academy's mission of public policy and professionalism?
Through my volunteer work for the profession, I've come to really appreciate the reputation of the Academy and see the value of its foundation of objectivity. And as I've become more familiar with practice areas other than my own, I see how my volunteer experiences can contribute more broadly to the Academy's mission.
| | | | |
| --- | --- | --- | --- |
| COMMITTEE POSITION | COMMITTEE NAME | START DATE | END DATE |
| Chairperson | Pension Committee | 11/5/2021 | |
| Vice Chairperson | Pension Committee | 11/15/2018 | 11/5/2021 |
| Member | Pension Committee | 11/15/2016 | 11/15/2018 |
| Member | Research Committee | 1/17/2023 | |
| Member | Pension Practice Council | 12/4/2018 | |
| Member | Data Science and Analytics Committee | 1/3/2020 | 8/1/2022 |
| Member | The Joint Task Force for the Review of Retirement Work Products | 6/11/2018 | 2/17/2021 |
| Member | Data Science and Analytics Committee | 5/1/2017 | 6/10/2019 |