Professionalism Webinar Looks at Big Data
The Academy held its second professionalism webinar of 2019, "Big Data: Professional Standards Provided by Actuaries and New Research on Regulatory Views," on July 25.
Academy Past President Bob Beuerlein and President Shawna Ackerman provided information on current and emerging Big Data developments, regulatory issues, and the advantages actuarial professionalism requirements can bring to actuaries. Data Science and Analytics Committee Chairperson Dorothy Andrews shared insights based on her original research on regulators' views on regulation, standards, and ethics related to Big Data.
The panelists fielded a wide variety of questions, and repeatedly noted they thought the profession's standards were an advantage for actuaries who work with Big Data because they provide a framework that demands the kind of ethical behavior that is the fundamental basis for becoming a trusted adviser.
Beuerlein kicked off the webinar by defining Big Data and examining the types of functions that use predictive analytics. "We need to remember that it's not always possible to develop a precise and definitive formula where complex human behavior is involved," he said. "We need techniques in addition to predictive analytics to significantly increase our understanding of anticipated behavior or events and support our strategies and decisions. This is where professionalism comes into play for actuaries."
He and Ackerman discussed the use of Big Data and the benefits and challenges it poses to the insurance industry and consumers. Discussing the use of telematics in the property/casualty practice area, Ackerman said, "Telematics has the potential to tie rates to usage and manner of usage. It fits the characteristics of establishing risk classifications: it's objective, verifiable, and with the technology available, it's practical. However, others caution that it is intrusive and raises privacy concerns."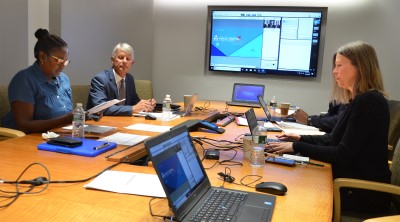 Ackerman then dove into professionalism considerations when working with Big Data and predictive analytics. She discussed actuarial standards of practice (ASOPs) that provide guidance in this area, including ASOP No. 23, Data Quality. "It's very important to understand the limitations of the data when undertaking any project, what data can be used, how it can be used, and importantly, what data cannot be used," Ackerman said.
Beuerlein spoke to regulatory considerations, such as consumer rights, protections for confidential information, and oversight. He briefly discussed the New York Insurance Circular Letter No. 1, published in January, and a Government Accountability Office report, Insurance Markets: Benefits and Challenges Presented by Innovative Uses of Technology, published in June. "In all situations, work with your regulators to gain an understanding of the problems and possible solutions," he said.
Andrews discussed her survey of regulators at a recent training session she was asked to provide for them, roughly 20 percent of whom were actuaries. The survey results indicate that regulators believe that more regulatory oversight is needed and that they would like more transparency, training, and regulatory tools. She said there was strong consensus on the statement, "Data privacy is becoming more important and needs to be more heavily regulated than it is now." For people to benefit from the advantages of Big Data, she said, "we must make data privacy a non-issue. Data in the wrong hands must become useless."
Professional Standards
The survey also indicated that regulators are largely unfamiliar with the Academy's professional standards of conduct, qualification, and practice for actuaries, and that regulators would like to see uniform standards for actuaries and data scientists.
"Big Data and artificial intelligence technologies have the power to discriminate against consumers" was another statement with strong consensus. "In the actuarial realm, that's why it's important to look at disparate impact when you deploy a model. How are people really going to be affected by this model, so you can make adjustments?" she asked, and described "disparate impact" as "different segments of the population being treated differently for reasons that may not be logically related to the risk being modeled."
The speakers concluded that there are fundamental differences between actuaries and data scientists. In contrast to data scientists, actuaries have subject matter expertise; professional standards of conduct, practice, and qualification; a discipline process; and deep knowledge of the regulatory environment.
"We are holding ourselves to a high professional standard because the work that we do impacts the public," Ackerman said. "That plays to our standards of practice and professionalism structure, including discipline when people don't adhere to appropriate standards and conduct."
Webinar slides and audio are available via your Academy member login.