This Week: Sept. 18-22, 2017
Read the latest news from the Academy.
Recent Academy Activity, Sept. 18–22, 2017
Health Practice Council Sends Comment Letter on Health Bill
The Health Practice Council sent a comment letter Friday to Senate leaders on legislation recently proposed by Sens. Graham, Cassidy, Heller, and Johnson ("GCHJ"). The letter focuses on the bill's proposed revisions to the individual health insurance market and approaches to federal Medicaid funding, noting that it would not address cost-sharing reduction funding and would eliminate the individual mandate, which, in the short term, would exert upward pressure on premiums. As a result, the letter states, enrollment would likely decline, and more insurers may withdraw from the market. The Senate may vote on the bill as soon as next week.
Related, in an Axios story published Thursday, Senior Health Fellow Cori Uccello discussed how protections for individuals with pre-existing conditions are more at risk under GCHJ.
Life Breakout Sessions Finalized for Annual Meeting and Public Policy Forum
Life practice breakout sessions are set for the Academy's Annual Meeting and Public Policy Forum, Nov. 14–15 in Washington, D.C., which include studying socio-economic implications for mortality and understanding the factors that are driving changes in mortality trends.
Sessions will include "Solving for Solvency," which will look at professional responsibilities of the actuary in insurance company solvency; "Finding a Balance: The Role of Nonguaranteed Elements in Life Insurance and Annuity Contracts," which will consider the pros, cons, and history of nonguaranteed elements; and "Emerging Trends in Mortality," which will cover ways to ensure that legislative and regulatory frameworks will support an aging population.
Click here to see all breakout sessions—register today for the Annual Meeting and Public Policy Forum.
Webinar Focuses on Long-Duration Contract Perspectives; Short-Duration Set for Next Week
The Academy hosted a financial risk webinar Tuesday, "International Financial Reporting—A Long-Duration Contracts Perspective to IFRS 17," that featured presenters from the IFRS 17 Work Group who offered an in-depth look at the International Financial Reporting Standard (IFRS) 17—Insurance Contracts. This standard was recently issued by the International Accounting Standards Board and will be effective Jan. 1, 2021.
The webinar was moderated by IFRS 17 Work Group Chairperson Doug Van Dam, and presenters were work group members Darin Zimmerman, Laura Gray, and Michael Lockerman. Slides and audio are available on the Academy's website. For those interested in learning more about the topic, a second webinar is set for next Monday, Sept. 25, from noon to 1:30 p.m. EDT, and will focus on short-duration contracts under the standard.
Save the Date: Webinar on Retirement Readiness in the U.S., U.K., and Australia
The Academy and the Institute and Faculty of Actuaries will host a webinar next month, "Retirement Readiness in Three Countries: Who Is Ready to Retire?" This free webinar will look at retirement issues in the United States, the United Kingdom, and Australia, and the results of an actuarial survey on the topic in the three countries. The webinar will be held on Thursday, Oct. 12, from 11 a.m. to 12:30 p.m. EDT. Stay tuned for registration information.
Reserve Your Copy—2017 P/C Loss Reserve Law Manual
The latest edition of the Property/Casualty Loss Reserve Law Manual is available for order. With delivery by early January, the manual is designed to help appointed actuaries comply with NAIC Annual Statement requirements for Statements of Actuarial Opinion (SAOs).
The new edition has improved navigation and contains essential information for actuaries, including: SAO requirements and the laws and regulations establishing those requirements for every U.S. state, Washington, D.C., and Puerto Rico; annual statement instructions for the SAO for property/casualty, title loss, and loss expense reserves; and other pertinent annual statement instructions.
The manual is available both online and on CD-ROM. Reserve your copy today.
Professionalism and Public Policy Outreach
Alerts
Upcoming Events

In the News
Note: Some links in this email go to external websites and may require registration. The Academy is not responsible for the content of these websites. Links may expire.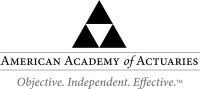 Follow the Academy on Facebook, LinkedIn, and Twitter.

---
1850 M Street NW • Suite 300 • Washington, DC 20036 • 202.223.8196 • www.actuary.org
Copyright 2017 American Academy of Actuaries. All rights reserved.