This Week: Oct. 2-6, 2017
Read the latest news from the Academy.
Recent Academy Activity, Oct. 2–6, 2017
Academy Office Closed for Columbus Day
The Academy's office will be closed Monday, Oct. 9, for the Columbus Day holiday.
Actuaries Climate Index Value Reaches New High With Winter 2016–17 Data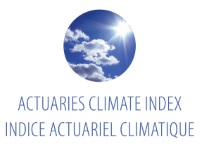 Quarterly data for the Actuaries Climate Index (ACI) released Thursday show extreme weather events continue to increase across Canada and the United States, with the index value reaching a new high in winter 2016–17. Read the news release. The new ACI data showed a record high followed the previous record value measured in fall 2016, reflecting increasing deviation of weather extremes and sea levels from historically expected patterns for the two countries.
"This hurricane season has brought renewed attention to the question of whether extreme weather is increasing, and for a broad swath of North America, the ACI data were trending in that direction to February 2017," said Caterina Lindman, chair of the ACI's Climate Change Committee.
Academy Leaders Present at IAA Meeting
Many of the Academy's leadership and active volunteers participated in the biannual meeting of the International Actuarial Association (IAA), held in Chicago this week. As it does at each IAA meeting, the Academy hosted a breakfast meeting for all representatives to IAA committees from each of the U.S.-based actuarial organizations to discuss issues of importance to U.S. actuaries, including education, Big Data, and changing international accounting and capital standards.
Working to bring the U.S. perspective to actuarial associations around the world, Academy President Bob Beuerlein helped lead a roundtable discussion among the IAA members interested in public policy, and will assist in generating discussion among the IAA members' presidential leadership on how the IAA can better serve the needs of its full member associations. In addition, Al Beer, former chairperson of the Actuarial Standards Board and the Academy's representative to the IAA Education Committee, gave a presentation to that group about how qualification to practice is viewed and specified through the U.S. Qualification Standards, and former Academy President Cecil Bykerk gave a presentation to the IAA Professionalism Committee on the counseling and discipline process in the United States.
Janet Barr, a member of the Academy's Social Security Committee, presented to IAA's Social Security Committee.
Annual Meeting News—Independent FSOC Member Roy Woodall to Keynote Plenary Session
S. Roy Woodall Jr., independent member of the Financial Stability Oversight Council (FSOC), will deliver remarks at the Nov. 14 lunchtime plenary session at the Academy's Annual Meeting and Public Policy Forum. He will discuss his role in FSOC and share his perspectives on interactions with the insurance industry and insurance regulators.
Woodall serves as FSOC's independent member having insurance expertise. This position, created by Congress, is the only one on the council that is presidentially appointed. Woodall has spent his career in a number of public and private roles, including as general counsel and insurance commissioner of Kentucky and with leading insurance trade associations.
Register today and plan to attend the Annual Meeting and Public Policy Forum, to be held Nov. 14–15 in Washington, D.C.
Next Week—Free Retirement Readiness Webinar: U.S., U.K., Australia
The Academy and the Institute and Faculty of Actuaries (IFoA, U.K.) will host a free webinar next Thursday, "Retirement Readiness in Three Countries: Who Is Ready to Retire?" Presenters will look at retirement issues in the United States, the United Kingdom, and Australia in the context of a survey of residents of the three countries sponsored by the Academy, the IFoA, and the Australian Institute of Actuaries. There will be an opportunity to ask questions, and the webinar has been scheduled to allow U.S. and U.K. registrants to participate in the discussion. Continuing education credit, including JBEA credit, is available for those attending the live webinar, which will be held on Oct. 12 from 10 to 11:15 a.m. EDT. Register today.
CE Opportunities at Seminar on Effective P/C Loss Reserve Opinions
Earn up to 13 hours of continuing education credit at the 2017 Seminar on Effective P/C Loss Reserve Opinions, to be held Dec. 7–8 in Chicago. This seminar is designed for actuaries who are preparing for opinion season and seeking to deepen their expertise on the latest requirements and standards necessary for preparing or signing NAIC statements of actuarial opinion on P/C loss reserves. Register today.
Recently Released
Public Policy Activities
Alerts
Upcoming Events

In the News
Note: Some links in this email go to external websites and may require registration. The Academy is not responsible for the content of these websites. Links may expire.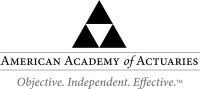 Follow the Academy on Facebook, LinkedIn, and Twitter.

---
1850 M Street NW • Suite 300 • Washington, DC 20036 • 202.223.8196 • www.actuary.org
Copyright 2017 American Academy of Actuaries. All rights reserved.