This Week, November 5-9, 2018
Read the latest news from the Academy.
Recent Academy Activity, Nov. 5–9, 2018
Academy Dues for 2019
Academy President Shawna Ackerman's Nov. 7 letter to members announced the membership renewal period and includes a link to "The Meaning of Your Membership," which highlights the many mission-critical aspects of the Academy's work in 2018. Please log in via the Academy's website to pay your annual dues.
Voting Deadline Today on Proposals to Amend Academy's Bylaws
Academy members have until 11:59 p.m. ET tonight, Friday, Nov. 9, to vote on two important proposals. A letter from nine Academy past, present, and forthcoming presidents explained why members are encouraged to vote "Yes" on Proposal 1 and "No" on Proposal 2. Academy members who have not yet voted should have received a reminder email today from our election vendor, Intelliscan. You can only vote through the link provided to you from Intelliscan. It has a personal one-time only use link to the ballot. More background information is available here.
Professionalism Webinar—More Tales From the Dark Side: Ethical Cases at the ABCD—Set for December
In a new edition of last year's December professionalism webinar, you will see additional case studies in the Academy's final professionalism webinar for 2018. "More Tales From the Dark Side: Ethical Cases at the ABCD," set for Dec. 20, will provide interesting and interactive opportunities for discussing ethical issues with examples based on matters that have been brought to the attention of the Actuarial Board for Counseling and Discipline (ABCD).
Presenters David Driscoll and Godfrey Perrott—both of whom are ABCD members—will describe reference points actuaries should look to in each case to stay on the right side of the Code of Professional Conduct and discuss information and guidance the ABCD has provided to actuaries through the ABCD's Request for Guidance (RFG) process. The Academy believes in good faith that attendees may earn up to 1.8 continuing education credits and 1.8 core ethics continuing professionalism education credits under JBEA rules. The webinar will be held on Thursday, Dec. 20, from noon to 1:30 p.m. EST. Register today.
LHQ Seminar Draws Capacity Crowd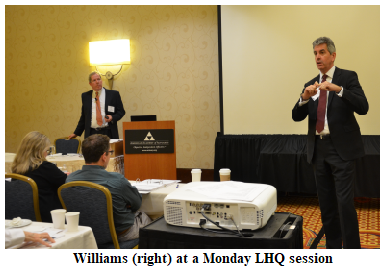 More than 100 people attended the Academy's sold-out Life and Health Qualifications Seminar this week in Arlington, Va. Now in its 18th year, the seminar and its interactive sessions have been highly valued by attendees, many returning every few years, for actuaries to acquire required basic education and continuing education (CE) to be qualified to sign statements of actuarial opinion (SAOs) for NAIC Life and Health annual statements. It is an effective way to earn CE credits under the U.S. Qualification Standards for those who already have the basic education needed to issue such SAOs. The chairperson of the committee that organizes this seminar is Academy President-Elect D. Joeff Williams.
Academy Submits Comments to NAIC on 3-Year Experience Proposal Draft
Academy Past President Mary D. Miller sent comments to the NAIC earlier this week on the NAIC's Casualty Actuarial and Statistical Task Force's latest draft three-year experience proposal.
Webinar Looks at Catastrophe Modeling
Friday's "Catastrophe Modeling" webinar focused heavily on the Casualty Practice Council's recent monograph, "Uses of Catastrophe Model Output." Attendees got an overview of how actuaries work with catastrophe models and what is not included in these models. They also heard a presentation on use of one, or more than one model. Presenters were Kay Cleary, chairperson of the Academy's Extreme Events and Property Lines Committee, and committee members Howard Kunst and Minchong Mao. Slides and audio will be available free to members soon.
Academy's Professionalism Presentations Frequent This Fall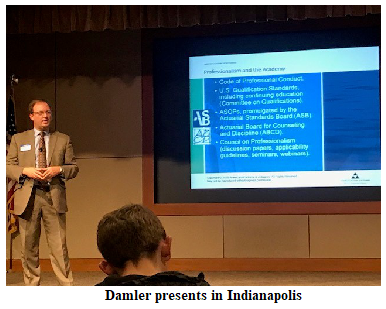 The Academy continues to introduce and reinforce the concepts and mechanics of actuarial professionalism and the infrastructure of professionalism to students and practicing actuaries, with several presentations this week and numerous others scheduled this month. Immediate Past President Steve Alpert presented "Professionalism and the Aspiring Actuary" to Penn State students in University Park, Pa., on Monday, while Actuarial Standards Board (ASB) member Rob Damler presented on professionalism topics at the Indianapolis Actuarial Club's meeting on Wednesday. On Thursday, ASB Member Darrell Knapp provided members of the Actuaries' Club of the Southwest, which met in San Antonio, with an update on the ASB's work and an overview of the Applicability Guidelines for Actuarial Standards of Practice, while Academy Past President Tom Terry presented a breakout session on "Professionalism and the Public Interest" at the Actuaries Club of Philadelphia's meeting.
Available for Order: P/C Loss Reserve Law Manual
Updated for 2018, the Academy's P/C Loss Reserve Law Manual is designed to help appointed actuaries know the NAIC annual statement requirements for statements of actuarial opinion. The manual contains a compilation of insurance laws relating to P/C loss and loss expense reserves for all 50 states; Washington, D.C.; and Puerto Rico. It is designed to allow users to directly access each jurisdiction's laws, making it a useful reference tool for actuaries. The manual will be available for delivery this winter—place your order today.
JBEA Seeks Applications for Advisory Committee on Actuarial Examinations
The Joint Board for the Enrollment of Actuaries (JBEA) is seeking applications for the next term of the Advisory Committee on Actuarial Examinations, which begins on March 1, 2019, and ends on Feb. 28, 2021. The JBEA asked the Academy to make this opportunity known to our members. The Advisory Committee plays an integral role in assisting the Joint Board to offer examinations that test the knowledge necessary to qualify for enrollment. Its duties include recommending topics for inclusion on the Joint Board examinations, reviewing and drafting examination questions, and recommending passing scores. Information on how to apply is available via the IRS website. Applications are being accepted through Dec. 7.
Alert
Election Day referendums in several states included ballot initiatives on health insurance issues. Initiatives of note focused on Medicaid expansion, a long-term care public program, and controlling costs for health care services.
Upcoming Events
In the News
Chief Investment Officer reported on the ASB's Actuarial Standard of Practice No. 51, Assessment and Disclosure of Risk Associated with Measuring Pension Obligations and Determining Pension Plan Contributions, which took effect Nov. 1.

The NAIC congratulated Elise Liebers for receiving the Academy's 2018 Robert J. Myers Public Service award last week at the Academy's Annual Meeting and Public Policy Forum.

An Adviser Voice (Australia) story on the Actuaries Institute's launch of the Australian Actuaries Climate index noted that the new index "was built following the establishment of a similar tool in the United States and Canada." The new index is similar to the Academy's jointly sponsored Actuaries Climate Index, launched in November 2016, which provides a quarterly gauge of changes in extreme weather events and sea levels in the United States and Canada.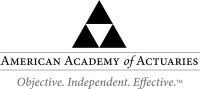 Follow the Academy on Facebook, LinkedIn, and Twitter.

---
1850 M Street NW • Suite 300 • Washington, DC 20036 • 202.223.8196 • www.actuary.org
Copyright 2018 American Academy of Actuaries. All rights reserved.