This Week, Nov. 13-17, 2017
Read the latest news from the Academy.
Recent Academy Activity, Nov. 13–17, 2017
Editor's note: Due to the upcoming Thanksgiving holiday, the Academy will not publish This Week next week. The next issue will be published on Friday, Dec. 1.
Annual Meeting and Public Policy Forum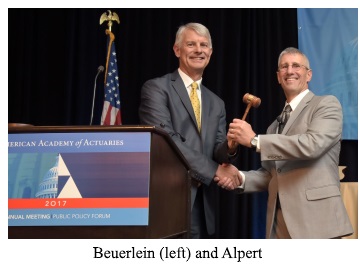 The Academy's very successful Annual Meeting and Public Policy Forum was held in Washington this week, where Steve Alpert became the Academy's 53rd president, succeeding Bob Beuerlein. The meeting and forum encompassed a day and a half of plenary and breakout sessions covering all aspects of actuarial practice. With more than 40 experts on hand, attendees of the Nov. 14–15 event took in interactive sessions on casualty, health, life, and pension issues, and heard five distinguished keynote and plenary session speakers on public policy and professionalism topics. Look for complete coverage of this marquee event in the November Actuarial Update later this month; a few highlights follow:
Please mark your calendar now for the Academy's 2018 Annual Meeting and Public Policy Forum, which will be held Nov. 1–2 in Washington.
Volunteers, Service Award Winners Honored at Annual Meeting
The Academy presented its annual service awards at this meeting. Ken Kent received the Jarvis Farley Service Award for making significant contributions in serving as vice president of professionalism, vice president of pension, and chairperson of the Joint Committee on the Code of Professional Conduct. Larry Bruning received the Robert J. Myers Public Service Award in recognition of his service at the Kansas Insurance Department and as chairperson of the National Association of Insurance Commissioners' (NAIC) Life Actuarial Task Force. See Bruning's remarks here (starting at the 3:00 mark). The Academy gave its annual Outstanding Volunteerism Awards to Mary Bahna-Nolan, Keith Passwater, Lenny Reback, Nancy Watkins, and Aaron Weindling.
Academy Dues Renewal
The Academy has no record of having received your 2018 membership dues. Dues of $635 (for regular members) will assure that the Academy's financial position remains strong as we continue to provide objective, nonpartisan actuarial analysis to U.S. policymakers. Highlights of the Academy's mission-critical work this year are noted in "The Meaning of Your Membership" report.
Please log in to pay and make changes to your account before paying your dues. (Some members may qualify for a partial or full dues waiver.) If you have questions, please contact the Academy's Membership Department at 202-223-8196, or membership@actuary.org.
Academy Releases Essential Elements Paper on Tax Reform
The Academy released a new Essential Elements paper, "Tax Treatment of Pensions and Insurance Protections," a cross-practice report that highlights select tax treatments of pensions and insurance protections and outlines the potential public policy trade-offs of changes to the U.S. tax code. The Essential Elements series is designed to make actuarial analyses of public policy issues clearer to general audiences.
The release was timely, as the House this week passed the Tax Cuts and Jobs Act on Thursday, by a 227-205 vote. Read the Academy alert. The House action followed a Senate draft tax reform bill released late last week, which would significantly revise the U.S. Internal Revenue Code. Read the Academy alert.
LHQ Seminar Draws Capacity Crowd
More than 100 people attended the Academy's sold-out Life and Health Qualifications Seminar this week in Arlington, Va. Now in its 17th year, the seminar and its interactive sessions are considered the most efficient way for actuaries to acquire required basic education and continuing education (CE) to be qualified to sign statements of actuarial opinion (SAOs) for NAIC Life and Health annual statements, and a popular way to earn CE credits under the U.S. Qualification Standards for those who already have the basic education needed to issue SAOs.
Lump-Sum Benefits Pension Webinar Set for Dec. 8
Join experts from the Academy's Pension Practice Council next month for a webinar, "Valuation of Lump-Sum Benefits," that will look at lump-sum payments and the valuation of such benefits. The webinar will discuss valuation and other interest-sensitive payment forms for financial accounting purposes, and speakers will cover specific considerations that may apply when utilizing granular interest and service cost methods for plans paying lump sums. The webinar will be held on Friday, Dec. 8, from noon to 1 p.m. EST. CE credit will be available, and the Academy believes in good faith that core non-ethics continuing professionalism education (CPE) credits under Joint Board for the Enrollment of Actuaries (JBEA) rules will be available to attendees. Register today.
Professionalism Webinar to Share ABCD Ethical Case Studies
Members of the Actuarial Board for Counseling and Discipline (ABCD) will share case studies and examples of ethical problems during "Tales From the Dark Side: The ABCD and Actual Ethical Problems," a new professionalism webinar to be held on Wednesday, Dec. 20, from noon to 1:30 p.m. EST. Presenters will draw on the standards of actuarial professionalism and discuss what steps the actuary could take in each case. They also will discuss the information and guidance the ABCD has provided to practicing actuaries in such situations through the ABCD's request for guidance process. In addition to professionalism CE credits, the Academy believes in good faith that CPE core ethics credits under JBEA rules will be available to attendees. Register here.
Upcoming Events
Recently Released
Public Policy Activities
Alerts
In the News
The Academy's Annual Meeting and Public Policy Forum received major media attention this week:
Also this week:
Note: Some links in this email go to external websites and may require registration. The Academy is not responsible for the content of these websites. Links may expire.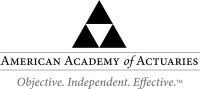 Follow the Academy on Facebook, LinkedIn, and Twitter.

---
1850 M Street NW • Suite 300 • Washington, DC 20036 • 202.223.8196 • www.actuary.org
Copyright 2017 American Academy of Actuaries. All rights reserved.