This Week: March 4-8, 2019
Read the latest news from the Academy.
Recent Academy Activity, Mar. 4–8, 2019
Academy Testifies Before House Subcommittee on Multiemployer Pension Issues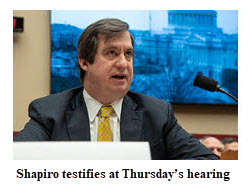 Academy Pension Vice President Josh Shapiro testified Thursday before the House Education and Labor Committee's Subcommittee on Health, Employment, Labor, and Pensions, providing oral and written testimony with a nonpartisan, objective, actuarial focus on the increasing financial risks facing some multiemployer plans and the Pension Benefit Guaranty Corporation's multiemployer program. His testimony supplemented previous Academy testimony before the Joint Select Committee on Solvency of Multiemployer Pension Plans. When the joint select committee expired at the end of the 115th Congress, the Academy urged Congress to continue efforts to address multiemployer plan issues. View a replay of the hearing (Shapiro's testimony starts at the 12:45 mark).
Health Volunteers Visit Capitol Hill to Discuss New Academy Publications and Current Health Topics
Members of the Academy's Health Practice Council (HPC) visited Capitol Hill in Washington on Thursday and Friday, offering federal policymakers, lawmakers, and their staff an actuarial perspective on key issues facing the new 116th Congress. In this annual event, Academy health volunteers visited approximately 40 offices, including House and Senate leadership, key House/Senate committee and staff, and federal agencies including the Centers for Medicare & Medicaid Services, the Department of the Treasury, and the Congressional Budget Office.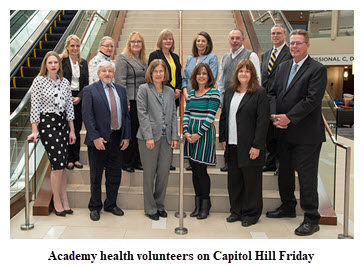 HPC members highlighted two new Academy publications: the issue paper Expanding Access to Public Insurance Plans, and an issue brief, Medicaid and Long-Term Care Insurance. With the House of Representatives now having a Democratic majority and the U.S. Senate under a Republican majority, conversations have shifted from the previous year's "repeal/replace" of the Affordable Care Act (ACA) to strengthening the ACA and new proposals to expand access to public insurance plans (e.g., Medicare for all, Medicare/Medicaid buy-ins).
"Academy health volunteers again canvassed Capitol Hill, talking to legislative staff, committees, and agencies regarding important health care and insurance issues," said Audrey Halvorson, the Academy's vice president, health. "Staffers said they appreciated the work we do, and we were very well received. The level of engagement continues to be high, with great questions and resulting discussion of issues at each meeting. The Academy appreciated the time lawmakers and policymakers gave us to talk about our work, our profession, and serving the public."
One Month Away—Limited Space Remains for April's PBR Boot Camp
The Academy's 2019 PBR Boot Camp is right around the corner—limited space is available to attend this seminar, which will be held April 8–10 in Orlando, Fla. Attendees will hear from those who have been at the forefront of the implementation of principle-based reserving (PBR) for life insurance and will benefit from a robust agenda of useful and practical information for all levels of familiarity with PBR methodologies and reserve requirements. Continuing education credit will be available. Don't miss out—register today and secure one of the remaining spots for this seminar.
Recently Released
The Retirement Report winter issue includes a Q&A deep-dive into the Pension Practice Council's (PPC) new practice note, Forecasting Investment Returns and Expected Return Assumptions for Pension Actuaries; the Pension Committee's new lump sum practice note; PPC comments to the Bipartisan Policy Center; a preview of April's Enrolled Actuaries Meeting; and recent legislative and regulatory activity.
JBEA Seeks Applications for Advisory Committee on Actuarial Examinations
The Joint Board for the Enrollment of Actuaries (JBEA) is seeking applications for the new term of the Advisory Committee on Actuarial Examinations, which began March 1, 2019, and ends on Feb. 28, 2021. The JBEA asked the Academy to make this opportunity known to our members. The Advisory Committee plays an integral role in assisting the Joint Board to offer examinations that test the knowledge necessary to qualify for enrollment. Its duties include recommending topics for inclusion on the Joint Board examinations, reviewing and drafting examination questions, and recommending passing scores. The application deadline is March 19. Information on how to apply is available via the IRS website.
Public Policy Activity
The Life Illustrations Work Group submitted a comment letter to the NAIC's IUL Illustration (A) Subgroup, addressing questions raised regarding the illustrations of Indexed Universal Life (IUL) products under Actuarial Guideline 49.
Upcoming Events
In the News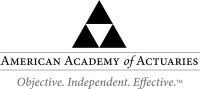 Follow the Academy on Facebook, LinkedIn, and Twitter.

---
1850 M Street NW • Suite 300 • Washington, DC 20036 • 202.223.8196 • www.actuary.org
Copyright 2019 American Academy of Actuaries. All rights reserved.