This Week: March 11-15, 2019
Read the latest news from the Academy.
Recent Academy Activity, March 11–15, 2019
Limited Space Remains for April's PBR Boot Camp
A handful of spots remain for the Academy's upcoming PBR Boot Camp, April 8–10 in Orlando, Fla. Attendees will hear from those who have been at the forefront of the implementation of principle-based reserving (PBR) for life insurance. Register today to secure one of the remaining spots for this seminar.
NEW DATE—Professionalism Webinar Rescheduled to April 18
The Academy has rescheduled the date of its first professionalism webinar of 2019—"Making the Right Call: A Discussion of Professional Judgment"—to Thursday, April 18, in order to use its new and improved webinar vendor for this event. Registration will open soon.
Recently Released
The March HealthCheck covers the Health Practice Council's annual visits to Capitol Hill earlier this month to meet with federal lawmakers and policymakers regarding health issues including two recent HPC publications on expanding access to public insurance plans, and Medicare and long-term care insurance. Topics including telehealth, Medicare Part D, and surprise billing were discussed as well. Also covered in this issue: Centers for Medicare & Medicaid Services' regulatory and budgetary actions, and state and other federal legislative, judicial, and regulatory activity.
JBEA Seeks Applications for Advisory Committee on Actuarial Examinations
The Joint Board for the Enrollment of Actuaries (JBEA) continues to seek applications for the new term of the Advisory Committee on Actuarial Examinations, which began March 1, 2019, and ends on Feb. 28, 2021. The JBEA asked the Academy to make this opportunity known to our members. The Advisory Committee plays an integral role in assisting the Joint Board to offer examinations that test the knowledge necessary to qualify for enrollment. Its duties include recommending topics for inclusion on the Joint Board examinations, reviewing and drafting examination questions, and recommending passing scores. The application deadline is next Tuesday, March 19. Information on how to apply is available via the IRS website.
Public Policy Activity
The Premium Review Work Group sent comments to the Centers for Medicare & Medicaid Services on the recently released final Unified Rate Review Template (URRT) and Instructions.
Upcoming Events
In the News
Plan Sponsor reported on Academy Pension Vice President Josh Shapiro's March 7 testimony before a House Education and Labor Committee subcommittee.

Benefits Pro reported on the Health Practice Council's new issue paper, Expanding Access to Public Insurance Plans.

An Adviser Voice story on the Australian Actuaries Climate Index cited the Academy's role as a co-sponsor of the Actuaries Climate Index, launched in 2016 by organizations representing the actuarial profession in the United States and Canada.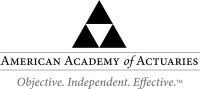 Follow the Academy on Facebook, LinkedIn, and Twitter.

---
1850 M Street NW • Suite 300 • Washington, DC 20036 • 202.223.8196 • www.actuary.org
Copyright 2019 American Academy of Actuaries. All rights reserved.