This Week: Jan. 9 - 13, 2017
Read the latest news from the Academy.
Recent Academy Activity, Jan. 9–13, 2017
Academy Closed Monday for MLK Day Observance
The Academy's office will be closed Monday, Jan. 16, in observance of Martin Luther King Jr. Day.
Academy Toolkit Offers Actuarial Perspective to Public Policymakers

The Academy sent a public policy toolkit to all members of the incoming 115th Congress highlighting major public policy issues on which actuaries have particular expertise. The Academy considers these issues to be particularly important in the coming months, and developed the toolkit in the hope that it will better inform policymakers and their staff. Key issues identified include health care, Medicare, Medicaid, Social Security, lifetime income retirement, long-term care financing, flood insurance, financial services reform, cyber security, and climate risk.
"All signs indicate that Congress is eager to consider and act on far-reaching measures affecting the financial security of many Americans, including complex public policy matters that the U.S. actuarial profession has studied extensively through the Academy," said Academy President Bob Beuerlein. "The Academy consolidated its analysis of major issues into this toolkit to provide legislators with an objective, nonpartisan resource detailing policy considerations and relevant alternatives, informed by actuarial expertise."
2016 Legislative/Regulatory Review Alert Released
The Academy released its 2016 year-in-review alert with a comprehensive summary of significant regulatory and legislative events last year at the state, federal, and international levels that are of interest to the U.S. actuarial profession. It also recaps the Academy's efforts in the past year in addressing these key areas. Topics covered include climate change, price optimization, implementation of the Affordable Care Act (ACA), Medicare, principle-based reserving, Social Security, international insurance capital standards, and many more.
P/C Webinars This Month Will Cover Opinion Writing, Recap December NAIC Meeting
The Academy will host webinars on each of the next two Thursdays on property/casualty issues:
P/C Loss Reserve Law Manual Available
The Academy's 2016 Property/Casualty Loss Reserve Law Manual is now available. Updated annually and designed to help appointed property/casualty (P/C) actuaries comply with NAIC annual statement requirements, the manual includes statements of actuarial opinion (SAO) requirements and state laws and regulations establishing those requirements; annual statement instructions for the SAOs for P/C, title loss, and loss expense reserves; and other pertinent annual statement instructions. It is available in two formats—web/online or CD-ROM. Members can order online by logging in to the Academy's website or via mail/fax.
Life & Health Valuation Law Manual Available for Preorder
The 2017 Life & Health Valuation Law Manual—designed to help appointed life and health actuaries comply with the requirements of the NAIC model Standard Valuation Law and the Model Actuarial Opinion and Memorandum Regulation—is available for preorder. The manual includes a current-topics section outlining key valuation developments and state guidance, NAIC model laws and regulations that have an effect on reserve calculations, a discussion of generally distributed interpretations, and copies of the current actuarial guidelines from the NAIC Examiners Handbook. Reserve your copy today.
Academy Launches PBR Webpage
The Academy launched a new webpage to serve as a resource for actuaries and regulators as the United States moves into the implementation phase of principle-based reserving (PBR) for life insurance. The Academy—which released an alert Friday announcing the new webpage—has been the technical architect behind PBR, helping to shape it into the valuation standard for life insurance issued after Jan. 1, 2017.
Recently Released
Public Policy Activities
Alerts
In the News
Note: Some links in this email go to external websites and may require registration. The Academy is not responsible for the content of these websites. Links may expire.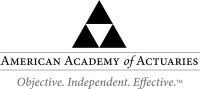 PLEASE DO NOT REPLY TO THIS EMAIL. THIS EMAIL ADDRESS IS NOT MONITORED.
If you would like more information or to contact the Academy, please visit us at www.actuary.org/content/about-us

Follow the Academy on Facebook, LinkedIn, and Twitter.
Rather not receive Academy emails? Unsubscribe by emailing membership@actuary.org.
---
1850 M Street NW • Suite 300 • Washington, DC 20036 • 202.223.8196 • www.actuary.org
Copyright 2017 American Academy of Actuaries. All rights reserved.