This Week, Jan. 22-26, 2018
Read the latest news from the Academy.
Recent Academy Activity, Jan. 22–26, 2018
Academy Urges Focus on Risk and Financial Security Issues Ahead of State of the Union
The Academy offered public policymakers actuarial expertise on health insurance, Social Security, retirement income, financial services, the National Flood Insurance Program (NFIP) and other issues ahead of Tuesday night's State of the Union speech, which will be President Trump's first. "As we learn the president's priorities for 2018, and Congress debates proposals affecting the sustainability, design, and other aspects of these plans and systems, the Academy's expert fellows are available to discuss their actuarial implications," said Academy President Steve Alpert. Read the news release.
Life Illustrations Work Group Issues Practice Note on ASOP No. 24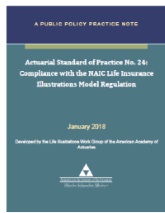 The Life Illustrations Work Group (IWG) released a public policy practice note, Actuarial Standard of Practice No. 24: Compliance with the NAIC Life Insurance Illustrations Model Regulation. The IWG was charged with updating the practice note to better reflect current practices actuaries are using when complying with ASOP No. 24, which was revised and adopted by the Actuarial Standards Board in December 2016. The practice note incorporates and updates the Practice Note Addendum: Compliance with Actuarial Guideline XLIX, published in August 2015.
Committee Comments on Promoting Health Care Choice and Competition
The Individual and Small Group Markets Committee sent comments to the Office of the Assistant Secretary for Planning and Evaluation in response to the Department of Health and Human Services' request for information on promoting health care choice and competition. The letter outlines conditions for a stable and sustainable individual health insurance market under Affordable Care Act (ACA) rules.
Professionalism Outreach
Council on Professionalism member Kevin Dyke made a presentation Wednesday to the Actuarial Society of Michigan in Livonia, Mich. His presentation focused on developments in actuarial professionalism over the past year, the framework of the U.S. profession's self-regulation, and the professionalism resources available to Academy members.
Order Today—Academy Law Manuals Available
The latest editions of the Life and Health Valuation Law Manual and the Property/Casualty Loss Reserve Law Manual are available. Order your copy today.
Both manuals are available in a variety of formats, allowing you to select the version that best suits your needs.
Alerts
Enrolled Actuaries Meeting—Early Bird Registration Deadline Next Week
The early bird registration deadline for the 2018 Enrolled Actuaries Meeting is next Wednesday, Jan. 31. The meeting will be held April 8–11 in Washington, D.C. Register today.
Upcoming Events
In the News
Note: Some links in this email go to external websites and may require registration. The Academy is not responsible for the content of these websites. Links may expire.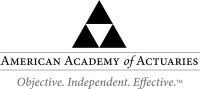 Follow the Academy on Facebook, LinkedIn, and Twitter.

---
1850 M Street NW • Suite 300 • Washington, DC 20036 • 202.223.8196 • www.actuary.org
Copyright 2018 American Academy of Actuaries. All rights reserved.