This Week: Jan. 16 - 19, 2017
Read the latest news from the Academy.
Recent Academy Activity, Jan. 16–19, 2017
Academy Closed Friday for Inauguration Day
All federal offices and many others in downtown Washington, D.C., are closed due to Inauguration Day activities and closures in the region. The Academy's office will be closed Friday, Jan. 20.
Academy Releases Health Issue Paper on Individual Market Challenges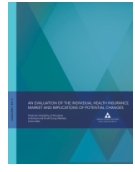 The Academy's Individual and Small Group Markets Committee released an issue paper Wednesday examining the experience of the individual health insurance market under the Affordable Care Act (ACA) and considerations of that market's sustainability under reforms or repeal of the ACA.
With the 115th Congress set to consider potentially historic changes to the individual health insurance market under the landmark 2010 health care law, the issue paper, An Evaluation of the Individual Health Insurance Market and Implications of Potential Changes, gives an overview of the market's sustainability and options to address those challenges.
"As Congress and the new administration consider major changes, it's essential for policymakers to take stock of the individual market, its challenges and successes, and the possible effects of any changes," said Academy Senior Health Fellow Cori Uccello. "Our new issue paper outlines what's needed for a sustainable individual market, assesses how well the ACA has achieved those conditions, and explores how ideas for addressing the challenges would affect the market."
ASB Adopts Final Revision of ASOP No. 23
The Actuarial Standards Board adopted a final revision of Actuarial Standard of Practice (ASOP) No. 23, Data Quality, which provides guidance to actuaries when selecting data, performing a review of data, using data, or relying on data supplied by others, in performing actuarial services. It also applies to actuaries who are selecting or preparing data, or are responsible for the selection or preparation of data, that the actuary believes will be used by other actuaries in performing actuarial services, or when making appropriate disclosures with regard to data quality.
Actuarial Club Information Sought for Online Hub
At our members' suggestion, the Academy is compiling information on U.S. actuarial clubs. We invite a club's president or equivalent leader to submit information including your club's name and location, primary officer/contact information, regular meeting schedule, and website and practice areas, as applicable. Club information already received is online at www.actuary.org/clubs, where you may also submit information. Or, you may email it to Clubs@actuary.org.
Academy Hosts P/C Loss Reserve Opinion Writing Webinar
More than 200 people attended Thursday's webinar hosted by the Academy's Casualty Practice Council (CPC), P/C Loss Reserve Opinion Writing, which reviewed relevant professional guidance including ASOPs and the Code of Professional Conduct, as well as changes to the 2016 SAO P/C Loss Reserves Practice Note. The panel included Committee on Property and Liability Financial Reporting Chairperson Lisa Slotznick and Vice Chairperson Kathy Odomirok, and the webinar was moderated by Academy member and consulting actuary Patricia Teufel. Slides and audio will be available on the Academy's webinar page soon.
Upcoming Events
P/C Loss Reserve, Life & Health Valuation Law Manuals Available
Public Policy Activities
Alerts
In the News
Note: Some links in this email go to external websites and may require registration. The Academy is not responsible for the content of these websites. Links may expire.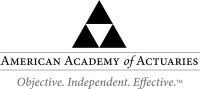 PLEASE DO NOT REPLY TO THIS EMAIL. THIS EMAIL ADDRESS IS NOT MONITORED.
If you would like more information or to contact the Academy, please visit us at www.actuary.org/content/about-us

Follow the Academy on Facebook, LinkedIn, and Twitter.
Rather not receive Academy emails? Unsubscribe by emailing membership@actuary.org.
---
1850 M Street NW • Suite 300 • Washington, DC 20036 • 202.223.8196 • www.actuary.org
Copyright 2017 American Academy of Actuaries. All rights reserved.