This Week: Dec. 19, 2016 - Jan. 6, 2017
Read the latest news from the Academy.
Recent Academy Activity, Dec. 19, 2016–Jan. 6, 2017
Professionalism Webinar on Actuarial Communications Draws More Than 2,000 Attendees
More than 2,000 people attended the Academy's Dec. 21 professionalism webinar that focused on a topic of perennial interest: actuarial communications, particularly documentation and disclosures.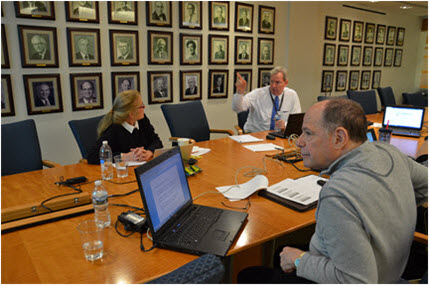 Actuarial Board for Counseling and Discipline (ABCD) Chairperson Richard Block and ABCD member Janet Carstens gave an overview of both the ABCD and Actuarial Standard of Practice (ASOP) No. 41, Actuarial Communications. Their presentation centered on responsibility for assumptions and methods, including what the actuary will typically disclose when an assumption is set by a third party or the law. They also reviewed other disclosures required by ASOP No. 41, such as conflicts of interest, reliance on sources of information, and uncertainties or risk.
Slides and audio are available to members without charge on the Academy's webinar page.
Post-NAIC Webinar Covers Life Issues
The Life Practice Council's (LPC) post-NAIC webinar Thursday covered key life issues from the NAIC Fall 2016 National Meeting held last month in Miami. Speakers provided an overview of the Life Actuarial (A) Task Force meeting, and updates on principle-based reserving (PBR), NAIC risk-based capital and other capital activities, and reinsurance developments. It was also announced that the LPC will host another PBR Boot Camp, following last year's successful boot camps, May 22–24 in Orlando, Fla. Slides and audio of the webinar are available for members without charge on the Academy's webinar page.
Now Available: P/C Loss Reserve Law Manual
The Academy's 2016 Property/Casualty Loss Reserve Law Manual is now available. Updated annually and designed to help appointed property/casualty (P/C) actuaries comply with NAIC annual statement requirements, the manual includes SAO requirements and state laws and regulations establishing those requirements; annual statement instructions for the SAOs for P/C, title loss, and loss expense reserves; and other pertinent annual statement instructions. It is available in two formats—web/online or CD-ROM. Members can order online by logging in to Academy's website or via mail/fax.
Now Accepting Preorders: Life & Health Valuation Law Manual
The 2017 Life & Health Valuation Law Manual—designed to help appointed life and health actuaries comply with the requirements of the NAIC model Standard Valuation Law and the Model Actuarial Opinion and Memorandum Regulation—is now available for preorder. The manual includes a current-topics section outlining key valuation developments and state guidance, NAIC model laws and regulations that have an effect on reserve calculations, a discussion of generally distributed interpretations, and copies of the current actuarial guidelines from the NAIC Examiners Handbook. Reserve your copy today.
Call for Volunteers—Academy Seeks Pooled Health Plan Data
Section 3.7.7(b) of the revised ASOP No. 6, Measuring Retiree Group Benefits Obligations and Determining Retiree Group Benefits Program Periodic Costs or Actuarially Determined Contributions, calls for consideration of age-specific costs within a pooled health plan. One large pooled health plan, CalPERS, has made its age-specific cost data publicly available—a link to this data can be found on the Academy website. The Academy is interested in working with other pooled fund administrators to make similar data publicly available to actuaries.
If you are a health actuary who has worked with and/or has contacts at large pooled health funds across the country, and can assist in the Academy's goal to make contact with large pooled fund administrators, we want to hear from you. If you can help, have any questions about this call for volunteer assistance, or need additional information, please contact Heather Jerbi, assistant director of public policy, at jerbi@actuary.org.
ASB Adopts Final Revision of ASOP No. 24
The Actuarial Standards Board (ASB) recently adopted a final revision of ASOP No. 24, Compliance with the NAIC Life Insurance Illustrations Model Regulation, which provides guidance to actuaries when performing professional services pursuant to applicable law based on the NAIC Life Insurance Illustrations Model Regulation and related NAIC actuarial guidelines or when performing professional services with respect to illustrations represented to be in accordance with that model.
Recently Released
In the January/February issue of Contingencies, the cover theme "The Future Is Here" includes feature stories looking at telehealth, retail medical clinics, long-term care financing, and transparency in a changing U.S. health care system. Other stories explore the ABCD as a critical part of the infrastructure of U.S. actuarial professionalism; a look at catastrophic medical claims and how to mitigate against them; and an incisive look at two books that cast the actuarial profession in a less-than-rosy light.
The December Actuarial Update covers the Health Practice Council's (HPC) letters to Congress cautioning against repealing the Affordable Care Act (ACA) without having a viable replacement plan in place, which received widespread media attention. Also included are the Academy's professionalism and public policy presentations at the NAIC Fall 2016 National Meeting; the Dec. 21 professionalism webinar on actuarial communications, which drew more than 2,000 attendees; the P/C loss reserve seminar, practice note, and law manual; and the Actuarial Board for Counseling and Discipline's redesigned website.
The winter issue of PBA Perspectives includes an update on the status of principle-based reserving (PBR); PBR issues addressed at the NAIC Fall 2016 National Meeting; the ongoing PBR Pilot Project; and Life Practice Council updates.
Upcoming Events
P/C Loss Reserve Opinion Writing Webinar: Join the Academy on Thursday, Jan. 19, from noon to 1:30 p.m. EST, for a webinar on P/C Loss Reserve Opinion Writing. Committee on Property Committee on Property and Liability Financial Reporting Chairperson Lisa Slotznick will review the relevant ASOPs and the guidance that they provide, and Kathy Odomirok, chairperson of the working group that wrote the practice note, will highlight what has changed in the past year. This will be a summary of two presentations from the December P/C loss opinion seminar and will offer the opportunity for attendees to review essential information. Register today.
Post-NAIC P/C Webinar: The Casualty Practice Council (CPC) will host a post-NAIC webinar on Thursday, Jan. 26, from noon to 1 p.m. EST. The webinar will review discussions of top P/C issues, including an account of the Casualty Actuarial and Statistical (C) Task Force and other key meetings at the NAIC Fall 2016 National Meeting. CPC Vice President Rade Musulin will be the moderator. Register today.
See our website for a listing of all Academy events.
Public Policy Activities
Alerts
In the News
More than 600 media outlets—including CNBC, MSN, Reuters, Yahoo Finance, Huffington Post, and Business Insider—have covered the HPC's December letters to the U.S. House and Senate on the potential implications of ACA repeal without immediate replacement.
National Public Radio cited the HPC's letters to the U.S. House and Senate. The story was reprinted by nearly 90 media outlets.
A subscriber-only Bloomberg BNA story discussing ACA repeal efforts and potential changes to Medicare and Medicaid programs quoted Senior Health Fellow Cori Uccello on the difficulties of implementing certain proposed provisions such as continuous coverage without a full ACA replacement.
A CNN Money story on retirement-income strategies for 401(k) participants cited the widely praised Actuaries Longevity Illustrator, developed jointly by the Academy and the Society of Actuaries, as a useful tool to help people understand longevity risk. The story was reprinted by Real Deal Retirement and Gant Daily. The illustrator also was cited on a syndicated retirement planning radio show on All News 106.7 (Atlanta) on Dec. 18.
International law firm Sutherland published a report on the NAIC's Fall 2016 National Meeting that discussed the Academy's role throughout the meeting in informing regulators on bond factors; solvency, longevity risk, operational risk issues; and other topics. The report was reprinted by JD Supra Business Advisor.
A JD Supra Business Advisor story on the NAIC's 2017 plans for its Big Data
Working Group quoted Oregon Insurance Commissioner Laura Cali's comments from the Academy's Annual Meeting and Public Policy Forum in November.
Note: Some links in this email go to external websites and may require registration. The Academy is not responsible for the content of these websites. Links may expire.
Having trouble viewing this email? View it in your browser.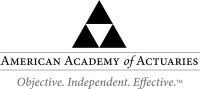 PLEASE DO NOT REPLY TO THIS EMAIL. THIS EMAIL ADDRESS IS NOT MONITORED.
If you would like more information or to contact the Academy, please visit us at www.actuary.org/content/about-us

Follow the Academy on Facebook, LinkedIn, and Twitter.
Rather not receive Academy emails? Unsubscribe by emailing membership@actuary.org.
---
1850 M Street NW • Suite 300 • Washington, DC 20036 • 202.223.8196 • www.actuary.org
Copyright 2017 American Academy of Actuaries. All rights reserved.