This Week: Aug. 7-11, 2017
Read the latest news from the Academy.
Recent Academy Activity, Aug. 7–11, 2017
Shakespeare Theatre Company to Entertain at Annual Meeting Dinner
The Nov. 14 dinner at the Academy's Annual Meeting and Public Policy Forum in Washington, D.C., promises to be an evening of lively entertainment, with performances provided by the renowned Shakespeare Theatre Company. Throughout dinner and closing with an after-dinner finale, a troupe of company actors will entertain and engage with comedic and dramatic monologues and scenes drawn from the vast treasury of Shakespeare's work. Don't miss the escapades, surprises, and fun that this critically acclaimed theatre troupe is planning for attendees—register today.
Academy Presents at NAIC Summer Meeting
The Academy made numerous professionalism and public policy presentations at the NAIC Summer 2017 National Meeting in Philadelphia, commenting on a variety of issues including long-term care insurance, principle-based reserving for life insurance and other products, and reauthorization of the National Flood Insurance Program. The Academy released a post-NAIC alert Friday covering highlights of the meeting and related public policy and professionalism activity.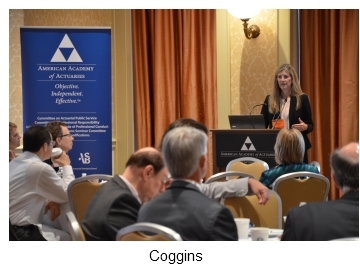 Past President Mary D. Miller, Actuarial Board for Counseling and Discipline member Janet Carstens, and Actuarial Standards Board Chairperson Maryellen Coggins, gave professionalism updates at NAIC's Life, Health, and Casualty Actuarial Task Forces. They gave overviews of the Academy's professionalism efforts in each of their groups, the U.S. Qualification Standards Attestation Form released by the Academy last year, and upcoming actuarial standards of practice. Miller, Carstens, and Coggins were joined by Committee on Qualifications member Tom Campbell at the well-attended, regulator-only professionalism breakfast hosted by the Academy on Aug. 6.
Academy Senior Casualty Fellow Jim MacGinnitie spoke at NAIC's Casualty Actuarial Statistical Task Force (CASTF) meeting on the Academy's monograph on the National Flood Insurance Program (NFIP) and ongoing efforts to inform Congress as it prepares to revamp the NFIP; and Committee on Property and Liability Financial Reporting Chairperson (COPLFR) Lisa Slotznick brought CASTF up to date on COPLFR projects.
Lauren Cavanaugh, chairperson of the Academy's P/C Risk-Based Capital Committee, spoke to the NAIC's Investment Risk-Based Capital (E) Working Group on the joint letter from the Academy P/C RBC Committee and the Health Solvency Subcommittee.
Shari Westerfield, vice president, health, gave an update to the Health Actuarial (B) Task Force on the Academy's recent public policy work at the federal, state, and international levels; and Laurel Kastrup, chairperson of the Academy's Health Financial Reporting and Solvency Committee, provided an update on the Academy's recent long-term care (LTC) activities to the Long-Term Care Actuarial (B) Working Group.
Tricia Matson, chairperson of the Longevity Risk Task Force, presented an update on the group's most recent work to the NAIC's Life Risk-Based Capital (E) Working Group.
In addition to presentations given to the NAIC's Life Actuarial Task Force (LATF) at the end of last week:
Register for Post-NAIC Webinars: The Academy will host webinars covering key life and property/casualty issues from the meeting. The post-NAIC life webinar will be held on Friday, Aug. 25, from noon to 1:30 p.m. EDT; and the post-NAIC casualty webinar will be held on Wednesday, Sept. 6, from noon to 1 p.m. EDT.
President's Memo to Volunteers
Academy President Bob Beuerlein sent a memo Friday to Academy volunteers underscoring the importance of Academy policies in the context of committee work. Volunteers and interested parties "must do that work solely in the best interest of the Academy," Beuerlein writes, and that means keeping drafts and deliberations of Academy groups confidential and adhering to the Academy's Conflict of Interest policy.
CLRS Early Registration Deadline Next Week
Next Friday, Aug. 18, marks the last day to secure early registration rates for the 2017 Casualty Loss Reserve Seminar and Workshops. This seminar, jointly sponsored by the Academy and the Casualty Actuarial Society, will be held Sept. 10–12 in Philadelphia. Register today.
Recently Released
The August HealthCheck covers the Health Practice Council's recent activity surrounding congressional health care legislation, including an FAQ on cost-sharing reductions; a new issue brief on Medicare's financial condition; and legislative, judicial, and regulatory updates from state and federal government.
Election of Regular Directors Continues
The Academy's annual online election of regular directors for the Academy Board, which began last week, continues through Friday, Aug. 25. Academy members received an email from Intelliscan, our election vendor, earlier this month announcing the online election was underway. The email was sent from academy2017@intelliscaninc.net; please check to see you received it. We encourage members to take part in electing the next leaders of the Academy who will help us fulfill our mission to serve the public and the U.S. actuarial profession. For more information, visit the Academy Board Election Center.
Upcoming Events
Public Policy Activities
In the News
Note: Some links in this email go to external websites and may require registration. The Academy is not responsible for the content of these websites. Links may expire.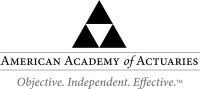 Follow the Academy on Facebook, LinkedIn, and Twitter.

---
1850 M Street NW • Suite 300 • Washington, DC 20036 • 202.223.8196 • www.actuary.org
Copyright 2017 American Academy of Actuaries. All rights reserved.