This Week: April 24 - 28, 2017
Read the latest news from the Academy.
Recent Academy Activity, April 24–28, 2017
Ackerman Nominated to Be Academy President-Elect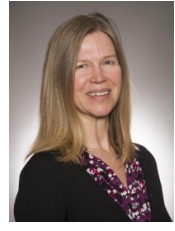 Shawna Ackerman has been nominated to be the Academy's next president-elect, as announced by the Nominating Committee.
"Shawna's commitment to the mission of the Academy is evidenced by her long and impressive volunteer history," said Mary D. Miller, Nominating Committee chairperson and Academy past president. "The committee has every confidence that she will be an outstanding presidential officer."
Ackerman has been an Academy volunteer since 2000 and was vice president of the Academy's Casualty Practice Council from 2014 to 2016. "I am humbled by the honor of being nominated and very excited to take on this role knowing the strength of the staff and the many volunteers who support the Academy's mission to serve the public and the profession," she said.
HPC Releases Issue Brief on Individual Health Insurance Market
The Health Practice Council (HPC) released an issue brief Monday examining ways in which the individual health insurance market can be strengthened and made more viable. The HPC sent it to all members of Congress, noting that serious challenges to the stability and sustainability of the individual health insurance market for 2018 need immediate attention from federal policymakers.
"With the deadlines for insurer rate filings fast approaching, policymakers need to act soon to address individual market issues for next year," said Academy Senior Health Fellow Cori Uccello. "The consumers, insurers, and health care providers in the individual market will all be affected by whether and how these challenges are addressed."
The issue brief received widespread coverage from several national media outlets—including subscriber-only publications Bloomberg BNA and Politico Pro, as well as Axios, The Hill, BestWeek, Fierce Healthcare, HealthPayer Intelligence, and HealthExec. Read the news release.
Post-NAIC Casualty Webinar
At Tuesday's post-NAIC casualty webinar hosted by the Casualty Practice Council (CPC), presenters provided a high-level overview of key P/C issues discussed at the NAIC's Spring 2017 National Meeting in Denver. Topics included discussions from the NAIC's Casualty Actuarial and Statistical Task Force meeting, risk-based capital, flood insurance, proposed changes to rules for underwriting, operational and investment risk factors, data calls for auto insurance and terrorism risk, and a discussion of how the states evaluate filings that include generalized linear models.
Academy Represents U.S. Profession at IAA Meeting
Aging and mortality, the Actuaries Climate Index, membership processes, model standards of practice, and international capital standards are just a few of the issues that were highlighted during the April International Actuarial Association (IAA) meeting in Budapest, Hungary.
More than 20 representatives from the Academy attended the meeting, representing the U.S. actuarial perspective in various committee meetings and sharing experiences of mutual interest with actuaries from more than 50 countries and jurisdictions around the world. See the April Actuarial Update for more coverage.
ASB Adopts Final Revision of ASOP No. 5
The Actuarial Standards Board (ASB) has adopted a final revision of Actuarial Standard of Practice (ASOP) No. 5, Incurred Health Claim Liabilities. It will be effective Sept. 1, 2017.
ASOP No. 5 provides guidance to actuaries when estimating or reviewing incurred claims when preparing or reviewing financial reports, claims studies, rates, or other actuarial communications as of a valuation date under a health benefit plan. It has been updated to reflect relevant legal, regulatory, and practice developments that have occurred since the 2000 revision.
Call for Volunteers—Academy Seeks Pooled Health Plan Data
Section 3.7.7(b) of the revised ASOP No. 6, Measuring Retiree Group Benefits Obligations and Determining Retiree Group Benefits Program Periodic Costs or Actuarially Determined Contributions, calls for consideration of age-specific costs within a pooled health plan. One large pooled health plan, CalPERS, has made its age-specific cost data publicly available—a link to this data can be found on the Academy website. The Academy is interested in working with other pooled fund administrators to make similar data publicly available to actuaries.
If you are a health actuary who has worked with or has contacts at large pooled health funds across the country and can assist in the Academy's goal to make contact with large pooled fund administrators, we want to hear from you. If you can help or need additional information, please contact Heather Jerbi, assistant director of public policy, at jerbi@actuary.org.
Applicability Guidelines Updated
The Applicability Guidelines, which provide actuaries with a nonauthoritative reference to ASOPs that usually apply to various actuarial assignments, have been updated. Changes have been made to reflect revisions in ASOP No. 21, Responding to or Assisting Auditors or Examiners in Connection with Financial Audits, Financial Reviews, and Financial Examinations; ASOP No. 23, Data Quality; and ASOP No. 24, Compliance with the NAIC Life Insurance Illustrations Model Regulation. Other updates have also been made, particularly in the pension and life practice areas. We encourage you to use this important tool and check for any changes in your area of practice.
April Actuarial Update Released
The April Actuarial Update, released Friday, covers the nomination of Shawna Ackerman to be the Academy's next president-elect, the CPC's new flood monograph, Academy representation at the NAIC Spring 2017 National Meeting and the International Actuarial Association Meeting, the Enrolled Actuaries Meeting, and a preview of the May 18 Actuaries Climate Index webinar.
Alert
The U.S. Government Accountability Office released a new report to Congress, Flood Insurance: Comprehensive Reform Could Improve Solvency and Enhance Resilience. The report presents multiple objectives of the National Flood Insurance Program and cautions that reforms proposed for any one aspect of the program should be weighed against their possible adverse effects on other objectives.
Upcoming Events
Public Policy Activities
The Premium Review Subgroup submitted comments to the Center for Consumer Information and Insurance Oversight on the final 2018 unified rate review template (URRT) instructions.

The ERM/ORSA Committee submitted comments to the ASB on its Setting Assumptions exposure draft.

The Casualty Practice Council submitted a comment letter on the ASB's third exposure of the proposed ASOP, Estimating Future Costs for Prospective Property/Casualty Risk Transfer and Risk Funding.
In the News
A weekly newsletter published by The Journal of Light Construction cited a Bloomberg BNA article covering the Academy's new public policy monograph, The National Flood Insurance Program: Challenges and Solutions. The monograph was also cited by Mondaq.

A Forbes column on the use of survival probabilities to analyze retirement spending decisions cited the widely praised Actuaries Longevity Illustrator, developed jointly by the Academy and the Society of Actuaries.

A Center on Budget and Policy Priorities analysis of the most recent GOP proposal to modify the Affordable Care Act cites the Academy's analysis of a possible continuous coverage requirement from the issue brief, An Evaluation of the Individual Health Insurance Market and Implications of Potential Changes.
Note: Some links in this email go to external websites and may require registration. The Academy is not responsible for the content of these websites. Links may expire.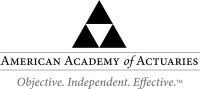 PLEASE DO NOT REPLY TO THIS EMAIL. THIS EMAIL ADDRESS IS NOT MONITORED.
If you would like more information or to contact the Academy, please visit us at www.actuary.org/content/about-us

Follow the Academy on Facebook, LinkedIn, and Twitter.
Rather not receive Academy emails? Unsubscribe by emailing membership@actuary.org.
---
1850 M Street NW • Suite 300 • Washington, DC 20036 • 202.223.8196 • www.actuary.org
Copyright 2017 American Academy of Actuaries. All rights reserved.