This Week: April 17 - 21, 2017
Read the latest news from the Academy.
Recent Academy Activity, April 17–21, 2017
Academy Releases Flood Insurance Monograph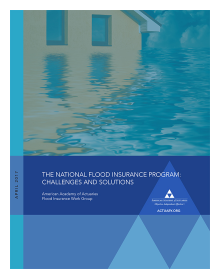 The Flood Insurance Work Group released a new public policy monograph, The National Flood Insurance Program: Challenges and Solutions. It provides objective information to policymakers on differing approaches to premium setting and program financing for the National Flood Insurance Program, including both public and private financing mechanisms.
The monograph, released Wednesday, examines improvements in flood risk assessment and modeling that are reducing the uncertainties surrounding flood coverage and could lead to greater market participation by private insurers and reinsurers. Read the Academy's news release.
The monograph received widespread interest from national media outlets, including BestWeek, Bloomberg BNA, Insurance Journal, Business Insurance, Property Casualty 360, the Tampa Bay Times (Fla.), and E&E News.
Nominations Open for Academy Service Awards
It's time once again to nominate a deserving colleague or respected mentor for one of the Academy's prestigious annual awards, either for public service or for a lifetime of service to the actuarial profession and the Academy, as described below.
The deadline for nominations is June 30, and the awards will be presented at the Academy's Annual Meeting and Public Policy Forum Nov. 14–15 in Washington.
ASB Approves Exposure Draft of a Revision of ASOP No. 17
The Actuarial Standards Board (ASB) recently approved an exposure draft of a revision of Actuarial Standard of Practice (ASOP) No. 17, Expert Testimony by Actuaries. The proposed revised standard will apply to actuaries who are qualified as experts under the evidentiary rules applicable in a forum when they provide testimony in court hearings, dispute resolutions, depositions or other adversarial proceedings, and in rate hearings. The comment deadline for the exposure draft is June 30, 2017. Information on how to submit comments can be found in the exposure document.
Post-NAIC Life Webinar
The Academy hosted a post-NAIC life webinar on Thursday, in which panelists discussed key life issues from the NAIC Spring 2017 National Meeting in Denver earlier this month. Presenters covered principle-based reserving, risk-based capital, reinsurance, and other life-related issues, and highlighted some of the Academy's presentations at the meeting. Slides and audio are available on the Academy's webinar page.
SVL Work Group Seeks Volunteers for Interest-Rate Project
The SVL Interest Rate Modernization Work Group is looking for volunteers to work on a project related to the SVL interest rates for fixed annuities, excluding single premium immediate annuities. For the purposes of this project, the work group expects to focus initially on fixed indexed annuities with guaranteed living benefits (FIA GLBs). In particular, it is looking for expertise on FIA GLBs but is open to any volunteers interested in participating in the group. The work group generally meets weekly on Wednesdays from 3 to 4 p.m. Eastern and asks that volunteers generally be able to devote at least one hour per week outside of that for the project. If interested, please contact Heather Jerbi, assistant director of public policy, at jerbi@actuary.org.
Professionalism Outreach
Committee on Qualifications Chairperson Keith Passwater delivered a professionalism presentation to an audience of 75 people at the Columbus (Ohio) Actuarial Club's meeting on Tuesday. "This was a great refresher on the topic of professionalism," said club Vice President Bethany Coffey. "The presentation and speaker were highly engaging ... well-organized ... a productive dialogue."
Academy Participates in FASB Roundtable on Insurance Accounting
Leonard Reback, a current member and past chairperson of the Financial Reporting Committee (FRC), participated in a Financial Accounting Standards Board (FASB) public roundtable meeting Wednesday on proposed improvements to insurance accounting. He provided further background regarding the FRC's December comments on FASB's Proposed Accounting Standards Update on long-duration contract disclosures.
Upcoming Events
Public Policy Activities
Alert
In the News
Note: Some links in this email go to external websites and may require registration. The Academy is not responsible for the content of these websites. Links may expire.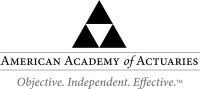 PLEASE DO NOT REPLY TO THIS EMAIL. THIS EMAIL ADDRESS IS NOT MONITORED.
If you would like more information or to contact the Academy, please visit us at www.actuary.org/content/about-us

Follow the Academy on Facebook, LinkedIn, and Twitter.
Rather not receive Academy emails? Unsubscribe by emailing membership@actuary.org.
---
1850 M Street NW • Suite 300 • Washington, DC 20036 • 202.223.8196 • www.actuary.org
Copyright 2017 American Academy of Actuaries. All rights reserved.