This Week: April 10 - 14, 2017
Read the latest news from the Academy.
Recent Academy Activity, April 10–14, 2017
Academy Presents at NAIC Spring Meeting
The Academy made numerous presentations at the NAIC Spring 2017 National Meeting in Denver April 8–11. The Academy released a post-NAIC alert Friday covering the highlights of the meeting and related Academy public policy and professionalism activity.
Past President Mary D. Miller, Actuarial Board for Counseling and Discipline member Janet Carstens, Actuarial Standards Board Chairperson Maryellen Coggins, and Committee on Qualifications member Tom Campbell presented at the well-attended, regulator-only professionalism breakfast hosted by the Academy on April 8. They gave overviews of the Academy's professionalism efforts in each of their groups and on the well-received Attestation Form that was released by the Academy last year.
Also:
Register for the Upcoming Post-NAIC Webinars
The Academy will host webinars over the next two weeks covering key life and property/casualty issues from the meeting. The post-NAIC life webinar will be held next week, on Thursday, April 20, from noon to 1:30 p.m. EDT; and the post-NAIC casualty webinar will be held on Tuesday, April 25, from noon to 1 p.m. EDT.
ASB Approves Exposure of Proposed ASOP on PBR
The Actuarial Standards Board (ASB) recently approved an exposure draft of a proposed new actuarial standard of practice (ASOP) titled Principle-Based Reserves for Life Products. The proposed ASOP will apply to actuaries when performing actuarial services on behalf of life insurance companies in connection with the calculation or review of reserves for individual life insurance policies subject to Chapter VM-20: Requirements for Principle-Based Reserves for Life Products of the Valuation Manual (VM-20).
The ASB approved a first exposure draft in 2013 and a second exposure draft in 2014. Changes to the second exposure draft were approved in 2015; however, since the draft involved compliance with a regulation that had not yet taken effect, the ASB issued a "pending draft," to be updated when the Standard Valuation Law and the Valuation Manual describing the principle-based reserves for life products took effect.
The Valuation Manual has been modified by numerous amendments since the pending ASOP was issued. In light of these amendments, the pending ASOP was updated. In addition, minor clarifications and additional guidance also have been made to the draft ASOP. For these reasons, this draft ASOP is being exposed once again.
The comment deadline for the exposure draft is May 31, 2017. Information on how to submit comments can be found in the draft.
Recently Released
The April HealthCheck covers the Academy's responses to recent Affordable Care Act and American Health Care Act legislative activity; the Medicaid Funding Work Group's issue brief on proposed Medicaid funding approaches; Academy health presentations at the NAIC Spring 2017 National Meeting in Denver; and the March 24 global health webinar on long-term care approaches in the United States and Germany.
Upcoming Events
Next Week—Hotel Room Block Closes for PBR Boot Camp: The hotel room block for the Academy's PBR Boot Camp will be held open through next Friday, April 21. Limited space remains. The intensive and interactive two-and-a-half-day seminar set for May 22–24 in Orlando, Fla., will feature insights from experts, many of whom were instrumental in shaping principle-based reserving. Attendees can earn up to 24 hours of organized-activity continuing education credit. Early registration will end on April 28, so register today and plan to join your fellow actuaries for this popular seminar that will keep you ahead of the PBR curve.

Extra-Early Registration for Annual Meeting and Public Policy Forum: The best discounts are available now for the Academy's 2017 Annual Meeting and Public Policy Forum, to be held Nov. 14–15 at the Fairmont Hotel in Washington, D.C. This annual, exceptional event will give you a unique and in-depth look at the top public policy and professionalism issues facing the actuarial profession. Register now at the extra-early discounted rate to ensure you are there to get the information you need to stay on top of the issues that matter the most to you, your profession, and our nation.

Registration Open for LHQ Seminar: Registration is open for the Academy's annual Life and Health Qualifications Seminar, to be held Nov. 12–16 in Arlington, Va. Offered annually by the Academy, this seminar is the most efficient way to acquire the basic and continuing education required to sign the NAIC life and health annual statement actuarial opinions. It also serves as a basic education refresher or as a source of required continuing education for more experienced actuaries. Attendees can earn up to 27 hours of organized-activity continuing education credit. Register now for the lowest rate.
In the News
Note: Some links in this email go to external websites and may require registration. The Academy is not responsible for the content of these websites. Links may expire.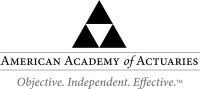 PLEASE DO NOT REPLY TO THIS EMAIL. THIS EMAIL ADDRESS IS NOT MONITORED.
If you would like more information or to contact the Academy, please visit us at www.actuary.org/content/about-us

Follow the Academy on Facebook, LinkedIn, and Twitter.
Rather not receive Academy emails? Unsubscribe by emailing membership@actuary.org.
---
1850 M Street NW • Suite 300 • Washington, DC 20036 • 202.223.8196 • www.actuary.org
Copyright 2017 American Academy of Actuaries. All rights reserved.