Take the 2012 Academy Volunteer Survey

June 1, 2012
Dear Academy colleague,
We are a volunteer-driven organization of more than 17,000 members. The Academy thus provides a wide variety of opportunities for actuaries in every practice area to have a say in the development of vital public policy issues and in all aspects of professionalism affecting actuaries in the United States.
How can you maximize the value of your Academy membership to build and enrich the growth of your career? Think about contributing your time and expertise to the Academy and our profession. Are you interested in helping shape the agenda for your practice area? Or broadening your horizon beyond your practice area? Are you an existing volunteer ready to take on a new responsibility?
You can begin—or build upon—your volunteer work with the Academy by taking a moment now to respond to this year's volunteer survey. Click on this link [http://cv.actuary.org/cvwebdrupal/Surveys/2012ACADEMYVOLUNTEER.htm] and it will take you directly there. The survey will be open until Friday, June 29th.
The survey will take only a few minutes—it lists available Academy committees, along with a brief description. You will be asked to indicate your interests and state the reasons why you think your background or skills would be a good fit for the committee. All volunteers must acknowledge the Academy's Conflict of Interest (COI) policy and acknowledge compliance with the U.S. Qualification Standards' Continuing Education (CE) requirements. You will be asked for these acknowledgments in the survey. For more information about these policies please visit http://www.actuary.org/content/conflict-interest-policy. For more information about the Importance, Benefits, and Responsibilities of Volunteering please click on this link. http://www.actuary.org/content/importance-benefits-and-responsibilities-volunteering.
Volunteering for the Academy offers the benefits of professional growth, career development, networking opportunities, developing relationships with leaders within the profession, expanding your knowledge of issues that affect our work and practices, and, in some cases, earning continuing education (CE) credit. Your participation on Academy committees and projects is vital to the profession and enables the Academy to identify future leaders of the actuarial profession. If you have any questions about volunteering or about the survey, please contact Kasha Shelton either by email at volunteer@actuary.org or by phone at (202) 223-8196.
Thank you in advance for your interest and participation.
Sincerely,
Dave Sandberg
President
American Academy of Actuaries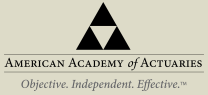 PLEASE DO NOT REPLY TO THIS EMAIL. THIS EMAIL ADDRESS IS NOT MONITORED.
If you would like more information or to contact the Academy, please visit us at www.actuary.org/aboutus.asp

Sign up to follow the Academy on Twitter.
Rather not receive Academy emails? Unsubscribe by emailing membership@actuary.org.
---
1850 M Street NW • Suite 300 • Washington, DC 20036 • 202.223.8196 • www.actuary.org
Copyright 2011 American Academy of Actuaries. All rights reserved.