Retirement Account, Winter 2017
Read the latest news from the Academy's Pension Practice Council

Winter 2017
RECENT ACTIVITY
Academy Hosts Webinar on Lump-Sum Benefits
Attendees from more than 200 registered sites attended a Dec. 8 Academy webinar, "Valuation of Lump-Sum Benefits." The webinar focused on the valuation of lump-sum benefits or other interest-sensitive payment forms for financial accounting purposes. Speakers addressed specific considerations that may apply when utilizing granular interest and service cost methods for plans paying lump sums.
Issue Brief Provides Overview of State-Based Retirement Initiatives
The Retirement System Assessment and Policy Committee published an issue brief, State-Based Retirement Initiatives and the AGES Principles, in November that explores recent state-based initiatives to expand retirement coverage among workers without access to an employer-sponsored retirement plan. A key takeaway of the issue brief is that such state-level efforts are a helpful step in expanding retirement coverage to workers who do not currently have access to a workplace retirement plan, although their overall effectiveness may be limited.
Academy Position Statement Voices Support for Lifetime Income Initiatives
The Academy released a position statement in October voicing support for policy and educational initiatives to increase retirement income options within employer-sponsored defined contribution (DC) plans. The position statement outlines the retirement security challenges facing Americans as the share of retirement income from DC plans increases, and recommends solutions such as annuitization and structured withdrawal programs, among others.
New Essential Elements Highlights Tax Treatment of Pensions
Also in November, the Academy published a new Essential Elements paper, Tax Treatment of Pensions and Insurance Protections, that highlights select tax treatments of pensions and insurance protections, and outlines the potential public policy trade-offs of changes to the tax code.
REGULATORY OUTREACH
Committee Submits Letter to PBGC on Schedule MB
The Multiemployer Plans Committee submitted a comment letter to the Pension Benefit Guaranty Corporation (PBGC) in November on modifications to the instructions for the 2017 Schedule MB (Multiemployer Defined Benefit Plan Actuarial Information) of the Form 5500.
Committee Submits Letter to AICPA on ASC 960
The Pension Committee submitted a comment letter in October to the American Institute of CPAs (AICPA) Employee Benefit Expert Panel on the current ASC 960 reporting standards for defined benefit pension plans.
PPC Sends Letter to MOSERS on New Buyout Program
The Pension Practice Council sent a comment letter in October to the Missouri State Employees' Retirement System (MOSERS) Board regarding the newly-adopted Terminated-Vested Member Buyout Program.
LEGISLATIVE & REGULATORY ACTIVITY
401(K), Multiemployer Loan Legislation Introduced
Rep. Richard Neal (D-MA) recently introduced two bills in the U.S. House of Representatives to increase retirement plan coverage and savings. The bills, H.R. 4523 and H.R. 4524, would require nearly all employers to provide retirement plans, require automatic enrollment and automatic escalation for most employer-sponsored retirement plans, and provide for new automatic enrollment safe harbors and portable in-plan lifetime income options, among other things. Read the Academy Alert.
Treasury to Provide Pre-Application Conferences for Multiemployer Plans
The U.S. Department of Treasury indicated that plan representatives of multiemployer defined benefit (DB) plans who are interested in applying for benefit suspensions under the Multiemployer Pension Reform Act of 2014 (MPRA) may request a pre-application conference with Treasury, prior to submitting a formal application. Requests for a pre-application conference should be sent to: MPRAinbox@treasury.gov. Read the Academy Alert.
IRS Announces 2018 Limits for Retirement Plans
The Internal Revenue Service (IRS) issued Notice 2017-64 on retirement plan contributions for 2018. The employee contribution limit for §§ 401(k), 403(b), most 457 plans, and the federal government's Thrift Savings Plan will increase from $18,000 to $18,500 in 2018—the first increase since plan year 2015. Income eligibility ranges for the Saver's Credit and contributions to traditional and Roth Individual Retirement Arrangements (IRAs) will also increase in 2018. Highlights of updated contribution and eligibility limits are available here. Read the Academy Alert.
IRS Releases Updated Mortality Tables
The IRS released updated static mortality tables and final regulations to be used for Mortality Tables for Determining Present Value under Defined Benefit Pension Plans. The mortality tables apply for purposes of calculating the funding target and other items for valuation dates occurring during calendar year 2018 and later plan years. Read the Academy Alert.
UPCOMING
The Academy and the Conference of Consulting Actuaries are pleased to serve as joint hosts for the 43rd annual Enrolled Actuaries Meeting on Apr. 8–11 in Washington, D.C. The meeting offers a variety of panels and workshops covering a wide range of topics relevant to Enrolled Actuaries and other pension professionals. Early bird registration is open until Jan. 31. Register here.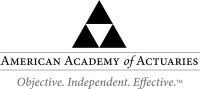 PLEASE DO NOT REPLY TO THIS EMAIL. THIS EMAIL ADDRESS IS NOT MONITORED.
If you would like more information or to contact the Academy, please visit us at www.actuary.org/content/about-us

Follow the Academy on Facebook, LinkedIn, and Twitter.
Rather not receive Academy emails? Unsubscribe by emailing membership@actuary.org.
---
1850 M Street NW • Suite 300 • Washington, DC 20036 • 202.223.8196 • www.actuary.org
Copyright 2017 American Academy of Actuaries. All rights reserved.