President's Message: JDC-Proposed Rules of Procedure for Joint Disciplinary Actions Exposed for Comment

September 4, 2012
Dear Academy colleague,
The Council of U.S. Presidents (CUSP) continues to work towards a joint discipline process through the creation of the Joint Discipline Council (JDC) as outlined in the current working draft of a proposed agreement on joint discipline, which was first exposed to the membership on July 25, 2011, and approved by members for execution by the Academy subject to approval of its final form by the Academy Board of Directors. For a review of the message to members please see President's Message (July 25, 2011). The proposed agreement requires that the JDC establish rules of procedure, following exposure to members for comment for a period of not less than 30 days. To that end, CUSP appointed a Rules Task Force, which has proposed the JDC Rules of Procedure for Disciplinary Actions (Rules). In recognition of the time needed to consider any comments, the effective date of the proposed agreement on joint discipline has been changed to January 1, 2013.
Please review the proposed Rules and give us the benefit of your comments and suggestions by no later than October 4, 2012. Each written response and each response sent by e-mail to the address below will be acknowledged, and all responses will receive consideration by CUSP in preparing a final document for approval by the JDC.
Comments will be accepted by either electronic or conventional mail. If you wish to use e-mail, please send a message to jdcrulescomments@actuary.org. You may include your comments in the body of the message or as an attachment prepared in any commonly used word processing format. Please do not password-protect any attachments. Include the phrase "JDC RULES COMMENTS" in the subject line of your message. Please note: Any message not containing this exact phrase in the subject line will be deleted by our system's spam filter.
If you wish to use conventional mail, please send comments to the following address:
Attn: General Counsel
JDC Rules Comments
American Academy of Actuaries
1850 M Street, NW, Suite 300
Washington, DC 20036
Again, the deadline to submit comments is October 4, 2012.
The creation of appropriate rules of procedure is a vital step towards a fair and equitable joint discipline process for our profession. We would greatly appreciate your input regarding this important matter.
Sincerely,
Dave Sandberg
President
American Academy of Actuaries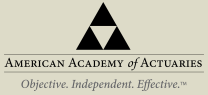 Sign up to follow the Academy on Twitter.
Rather not receive Academy emails? Unsubscribe by emailing membership@actuary.org.
---
1850 M Street NW • Suite 300 • Washington, DC 20036 • 202.223.8196 • www.actuary.org
Copyright 2012 American Academy of Actuaries. All rights reserved.