HealthCheck, November 2019

Health Sessions at the Annual Meeting and Public Policy Forum
Look at Reform Options, the ACA, Public Plans, Long-Term Care
The Academy's Annual Meeting and Public Policy Forum included several high-level discussions of health care and insurance issues. Pennsylvania Insurance Commissioner Jessica Altman was the primary speaker at a Nov. 6 luncheon plenary session, sharing her perspective with attendees on proposals to reform and improve the nation's health care system, including the current state and potential future of the Affordable Care Act (ACA).
Academy Senior Health Fellow Cori Uccello moderated a discussion with Altman as well as a subsequent discussion with two health experts who have experience in Republican and Democratic presidential administrations.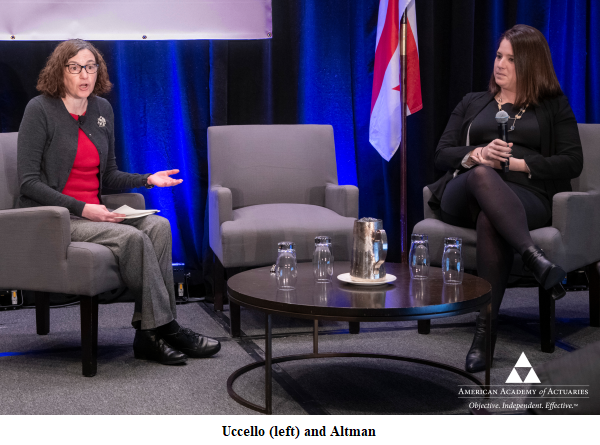 Altman discussed choice and competition in health care markets, changing market dynamics, and open enrollment, and offered her current state perspective in addition to her federal experience with the Department and Health and Human Services' Center for Consumer Information and Insurance Oversight (CCIIO).
Altman said Pennsylvania's markets have stabilized and insurers are no longer losing money—and most are making money—which is "a sign of a healthy market and one that will keep insurers in the market." But she added there are differences in markets around the country "and there is a fundamental and very important difference between stability and affordability."
Altman was followed by panelists Chris Jennings and Jennifer Young, who served in health policy roles in the Obama and George W. Bush administrations, respectively. They talked about federal-level issues including costs.
Breakout Sessions
After a year of further regulatory changes surrounding the ACA—including the new executive order related to guidance—CCIIO representatives provided the audience with a regulatory update during "Regulating the Affordable Care Act: What's New for 2020." Of particular interest was the recently finalized rule on health reimbursement arrangements as well as a new wellness program demonstration project.
Numerous proposals to expand access to public health insurance plans have been offered by policymakers as a way to reduce the number of uninsured and lower health care spending. Panelists in "Expanding Access to Public Plans" focused on their respective efforts to analyze these potential expansions. Uccello moderated and provided a background of the goals and key design questions for proposals such as Medicare-for-all, Medicare buy-in, Medicaid buy-in, and a public option within the ACA.
With long-term care insurance (LTCI) reform options being discussed more and more at both the state and federal levels, "Long-Term Care" provided the perspectives of the insurance industry, the National Association of Insurance Commissioners (NAIC), the U.S. Treasury Department, and the Academy.
For a complete recap of the Academy's marquee event, be sure to check out the forthcoming November issue of Actuarial Update. Save the date for next year's Annual Meeting and Public Policy Forum, which will be in held in Washington, D.C., on Nov. 5 and 6.
Attendees Earn Valuable CE at Sold-Out LHQ Seminar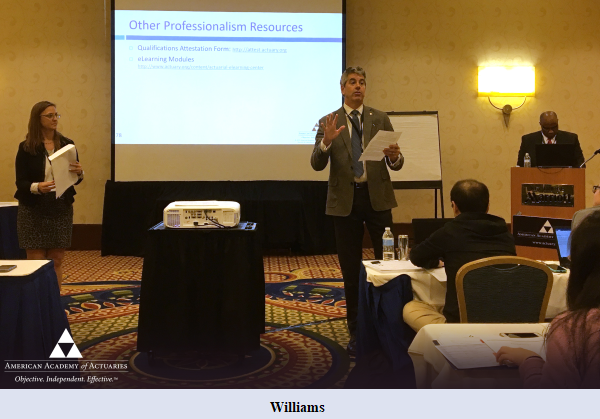 A capacity crowd of more than 100 people are attending the Academy's sold-out Life and Health Qualifications Seminar Nov. 10–14 in Arlington, Va. Now in its 19th year, the seminar and its interactive sessions have been highly valued by attendees, with many returning every few years to brush up on skills. Attendees are acquiring required basic education and continuing education to be qualified to sign statements of actuarial opinion (SAOs) for NAIC Life and Health annual statements. The seminar is an effective way to earn continuing education credits under the U.S. Qualification Standards for those who already have the basic education needed to issue such SAOs. Academy President D. Joeff Williams chaired the committee that organizes this seminar.
Other Academy Activity
Senior Health Fellow Cori Uccello represented the Academy with a presentation on Oct. 18 in a Capitol Hill panel discussion, "Examining the Continuum of Coverage Proposals," hosted by the Alliance for Health Policy and The Commonwealth Fund. Click here for a video of the event; Uccello's opening remarks begin just past the 37:00 mark.
Legislative/Judicial/Regulatory Updates

The U.S. House Ways and Means Committee advanced legislation on drug pricing on Oct. 12. The 24-17 vote within the committee seeks to require drug negotiation for certain drugs as well as make changes to Medicare Part D by requiring drug manufactures to issue rebates over a certain dollar amount as well as reduce the annual out of pocket spending threshold. No vote of the full U.S. House has been scheduled.

Arizona announced on Oct. 18 that it is pausing its Medicaid work requirements until a lawsuit challenging the program is resolved. Indiana made a similar announcement on Oct. 31.

In Massachusetts, Gov. Charlie Baker introduced a bill on Oct. 18 to tackle issues ranging from surprise billing to drug pricing, while also requiring health systems and insurers, including the state's Medicaid program, to increase spending on primary care and behavioral health by 30 percent over the next three years.

Georgia Gov. Brian Kemp announced a limited expansion of their Medicaid program on Nov. 4. His administration estimates coverage will include approximately 50,000 more uninsured adults earning below the federal poverty line. The state plans to submit the proposal to the Trump administration in late December, with hopes of approval in 2020.

On Nov. 12, the Centers for Medicare & Medicaid Services (CMS) proposed a rule that would "promote transparency by establishing new reporting requirements" within the Medicaid program. Also announced on Nov. 12 by CMS Administrator Seema Verma was upcoming guidance on issues of social determinants of health and block grants.

On Nov. 14, a federal appeals court will hear arguments on whether to allow the Trump administration's regulations expanding the availability of association health plans that aren't subject to ACA coverage rules.
December Professionalism Webinar to Feature
'More Tales From the Dark Side'
Register today for "Friday the 13th: More Tales from the Dark Side," the Academy's final professionalism webinar of the year. Highly attended and popular in each of the past two years, this latest iteration explores examples of ethical problems based on cases that have been brought before the Actuarial Board for Counseling and Discipline (ABCD).
In the course of performing their work, actuaries are sometimes confronted with ethical issues that are difficult to resolve. Our presenters—both of whom are ABCD members—will describe the reference points actuaries should look to in each case to stay on the right side of the Code of Professional Conduct. They also will discuss the information and guidance the ABCD has provided to practicing actuaries in such situations through the ABCD's request for guidance process.
Join this professionalism webinar and learn how to avoid going over to the dark side.
We believe in good faith that attendees will have the opportunity to earn up to 1.8 professionalism continuing education (CE) credits.