HealthCheck, May 2017
Academy activities, legislative/regulatory updates, and more.

Academy Activities
The Risk Sharing Subcommittee published an issue brief May 10 examining the risk adjustment program implemented under the Affordable Care Act (ACA) and the implications for the program under different potential changes to current insurance market rules. Read the Academy's news release.
Academy Senior Health Fellow Cori Uccello participated in a May 5 Capitol Hill forum hosted by the Alliance for Health Reform on the individual health insurance market, a day after the U.S. House of Representatives, by a 217-213 vote, passed the American Health Care Act (AHCA), designed in part to repeal and replace the ACA. The forum aired live on C-SPAN, and Uccello's comments were reported by NBC News, Bloomberg BNA, and other media outlets.
The Stop-Loss Work Group sent comments to the NAIC's Capital Adequacy (E) Task Force concerning calibration of risk factors in the Stop-Loss Factors Report.
The Health Practice Council (HPC) published an issue brief in late April examining ways in which the individual health insurance market can be strengthened and made more viable.
The Premium Review Work Group submitted comments to the Center for Consumer Information and Insurance Oversight (CCIIO) on the final 2018 unified rate review template (URRT) instructions.
Regulatory/Judicial Updates
CCIIO published the final 2018 AV Calculator and AV Methodology, along with the following items:
Guidance to states on review of Qualified Health Plan (QHP) certification standards in federally facilitated marketplaces for plan years 2018 or later.

Final revised key dates in 2017, including QHP certification in the federally facilitated exchanges, rate review, risk adjustment, and reinsurance and risk corridors.

A bulletin specifying revised timing of submission and posting of rate filing justifications for the 2017 filing year for single risk pool coverage; and revised timing of submission for QHP certification applications.
The Centers for Medicare & Medicaid Services (CMS) published several items in the past month, including:
A final rule published in the April 18 Federal Register to finalize changes to help stabilize the individual and small group health insurance markets, including an increase in the de minimis variation in the actuarial values (AVs) used for determining metal level of coverage for the 2018 plan year and beyond. The final rule will go into effect on June 19.

A proposed rule published April 28 on revising the Medicare hospital inpatient prospective payment systems for 2018. CMS will accept comments on the proposed rule until June 13.

A proposed rule published May 3 that would update the prospective payment rates for inpatient rehab facilities for 2018. CMS will accept comments on the proposed rule until June 26.

A proposed rule published May 4 to update the prospective payment rates for skilled nursing facilities for 2018. Comments are due by June 26.
The U.S. Supreme Court declined to consider an appeal by the state of West Virginia regarding the federal government's decision not to enforce certain ACA mandates.
The Supreme Court ruled unanimously, in Coventry Health Care of Mo., Inc. v. Nevils, that federal employees are required to reimburse health insurers that covered their treatment when they recover damages from a third party who caused their injuries. The court's ruling reversed a decision by the Missouri Supreme Court.
The Maine Department of Health and Human Services released for public comment a draft Section 1115 waiver request regarding Gov. Paul LePage's proposed plan to require low-income adults to work in order to be eligible for MaineCare, the state's Medicaid program. Several states are considering similar measures. Maine residents will vote on a measure in November that would expand Medicaid to low-income adults.
Call for Volunteers—Academy Seeks Pooled Health Plan Data
Section 3.7.7(b) of the revised Actuarial Standard of Practice No. 6, Measuring Retiree Group Benefits Obligations and Determining Retiree Group Benefits Program Periodic Costs or Actuarially Determined Contributions, calls for consideration of age-specific costs within a pooled health plan. One large pooled health plan, CalPERS, has made its age-specific cost data publicly available—a link to this data can be found on the Academy website. The Academy is interested in working with other pooled fund administrators to make similar data publicly available to actuaries.
If you are a health actuary who has worked with or has contacts at large pooled health funds across the country and can assist in the Academy's goal to make contact with large pooled fund administrators, we want to hear from you. If you can help or need additional information, please contact Heather Jerbi, assistant director of public policy, at jerbi@actuary.org.
Global Health Webinar to Look at Pandemic Risks
An Academy global health webinar will look at escalating factors for epidemic and pandemic risks, as well as the costs associated with responding to the risk in terms of infrastructure, technology, and lifestyle modifications. Presenters will discuss examples of the calculation and observation for different indices, including infrastructures for public health communication, institutional capacity, and economic factors. They will also share case studies on the United States, Canada, Israel, China, Singapore, and more. The webinar will be held on Tuesday, June 6, from 1 to 2:30 p.m. EDT. Register today.
Registration Open for LHQ Seminar
Registration is open for the Academy's Life and Health Qualifications Seminar, to be held Nov. 12–16 in Arlington, Va., outside of Washington, D.C. Offered annually by the Academy, this seminar is the most efficient way to acquire the basic and continuing education required to sign the NAIC life and health annual statement actuarial opinions. It also serves as a basic education refresher or as a source of required continuing education for more experienced actuaries. Register now for the lowest rate.
In the News / Media Activities
A subscriber-only Bloomberg BNA story cited Individual and Small Group Markets Committee Chairperson Karen Bender's comments at a health care summit sponsored by the Alliance for Health Reform on what will happen if insurers have to fund cost-sharing subsidies.
A Center on Budget and Policy Priorities analysis of the most recent GOP proposal to modify the ACA cites the Academy's analysis of a possible continuous coverage requirement from the issue paper, An Evaluation of the Individual Health Insurance Market and Implications of Potential Changes.
A weekly series published by Deloitte cited the HPC's issue brief examining ways in which the individual health insurance market can be strengthened and made more viable.
The American Medical Association (AMA) cited Academy analysis of high-risk pools regarding provisions of the AHCA. The AMA's news release was reprinted by Medical Association of Georgia, InsuranceNewsNet, The Lund Report (Ore.), DOTmed.com, PublicNow (Canada), and Health News Digest. A separate Healthcare Finance story on the AMA statement also cited the Academy.
An Insurance, Co article discussing the public policy trade-offs involved in lowering health insurance premiums cited Academy analysis of premium changes.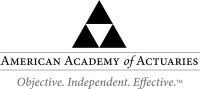 PLEASE DO NOT REPLY TO THIS EMAIL. THIS EMAIL ADDRESS IS NOT MONITORED.
If you would like more information or to contact the Academy, please visit us at www.actuary.org/content/about-us

Follow the Academy on Facebook, LinkedIn, and Twitter.
Rather not receive Academy emails? Unsubscribe by emailing membership@actuary.org.
---
1850 M Street NW • Suite 300 • Washington, DC 20036 • 202.223.8196 • www.actuary.org
Copyright 2016 American Academy of Actuaries. All rights reserved.