HealthCheck, May 2013
Having trouble viewing this email? View it in your browser.

Academy Activities
On April 11 and 18, the Academy hosted webinars on the minimum value (MV) calculator and the new requirements for rate review and disclosure under the Affordable Care Act (ACA), respectively. During the webinar on the MV calculator, representatives from the Center for Consumer Information and Insurance Oversight (CCIIO) briefly demonstrated the calculator and then answered related questions from attendees. On rate review and disclosure, a representative from CCIIO answered questions on the final unified rate review template and actuarial memorandum.
The Medical Loss Ratio (MLR) Work Group submitted comments on April 25 to the Centers for Medicaid & Medicare Services on the proposed rule implementing MLR requirements for Medicare Advantage and Medicare prescription drug (Part D) programs.
On April 26, the Rate Review Practice Note Work Group released for comment an addendum to the October 2012 practice note, Actuarial Practices Relating to Preparing, Reviewing, and Commenting on Rate Filings Prepared in Accordance with the Affordable Care Act. Comments on the addendum, which highlights changes to the rate review and disclosure requirements since the initial practice note was finalized, are due by June 3.
The Risk Sharing Work Group submitted comments to the Department of Health and Human Services (HHS) on April 30 regarding the interim final rule implementing amendments to the HHS Benefit and Payment Parameters for 2014 final rule.
Legislative and Regulatory Updates

On May 3, the Internal Revenue Service issued a notice of proposed rulemaking affecting individuals who enroll in qualified health plans through an exchange and claim the premium tax credit. The rule also addresses exchanges that make qualified health plans available to individuals and employers. The proposed rule provides guidance on determining whether health coverage under an eligible employer-sponsored plan provides minimum value and how it affects employers that offer health coverage to their employees. Comments on the rulemaking are due by July 2.

Legislation amending the ACA to ensure continuation of the temporary high risk health insurance pool program was passed on April 24. Sponsored by Rep. Joseph Pitts (R-Pa.), H.R. 1549 requires the HHS secretary to transfer any unobligated funds from fiscal years 2013–2016 to the department to carry out the temporary high risk health insurance pool program. The legislation also eliminates the eligibility requirement for the high risk pool program, prohibiting an individual from having health coverage for six months before applying for coverage through the program. The legislation requires funds to be available for use from the date of enactment through Dec. 31.
In the News/Media Activities
David Shea, the Academy's vice president for health issues, commented in a subscription-only article on AISHealth.com about Blue Cross and Blue Shield insurers moving toward more tiered or narrowed networks for the 2014 market. Shea observed that with "all the risk-selection elements and pricing removed from the market, where are carriers going to compete? They're going to compete on their networks."
Working as an actuary was ranked as the No. 1 job in the United States in the 25th annual CareerCast Best Jobs report. Academy President Cecil Bykerk elaborates in the report on the public service, client satisfaction, and personal fulfillment associated with an actuarial career.

Upcoming Health Care Reform Events
"Medicare-Medicaid Coordination for Dual Eligibles: What's It All About?"
Forum: Monday, May 13, Dirksen Senate Office Building, Washington
Sponsors: Alliance for Health Reform and WellPoint
Life and Health Qualifications Seminar
Seminar: Nov. 11–14, Arlington, Va.
Sponsors: American Academy of Actuaries and Society of Actuaries
For a complete listing of upcoming and recent health care reform events click here.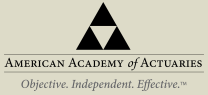 PLEASE DO NOT REPLY TO THIS EMAIL. THIS EMAIL ADDRESS IS NOT MONITORED.
If you would like more information or to contact the Academy, please visit us at www.actuary.org/content/about-us

Sign up to follow the Academy on Twitter.
Rather not receive Academy emails? Unsubscribe by emailing membership@actuary.org.
---
1850 M Street NW • Suite 300 • Washington, DC 20036 • 202.223.8196 • www.actuary.org
Copyright 2013 American Academy of Actuaries. All rights reserved.