HealthCheck, March 2019
Academy activities, legislative/regulatory updates, and more.

Academy Activity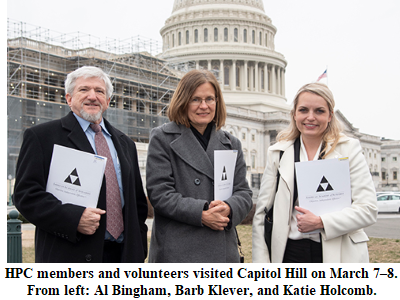 The Health Practice Council (HPC) visited Washington, D.C., on March 7–8 as part of the HPC's annual "Hill visits," during which members meet with congressional offices and federal agencies to offer policymakers their actuarial expertise on health insurance issues. Many of the discussions this year focused on recent HPC publications, including how to evaluate the different options to expand public coverage, as well as exploring the potential financial risks faced by older Americans who may incur catastrophic long-term care costs. Additionally, the topics of telehealth, Medicare Part D, and surprise billing were common themes in many of the meetings.
The HPC published an issue paper on March 1, Expanding Access to Public Insurance Plans, outlining four possible approaches to implementing a public health insurance plan, as well as key design elements that would need to be specified for a public plan to be fully evaluated and implemented.
The Medicaid and Long-Term Care Insurance Work Group published an issue brief on Feb. 26, Medicaid and Long-Term Care Insurance, which explores the potential for catastrophic long-term care costs as a major financial risk, particularly facing older Americans, and helps clarify the options currently available for mitigating the risk.
Legislative/Judicial/Regulatory Updates

The Centers for Medicare & Medicaid Services' (CMS) Office of the Actuary released projections of estimated national health expenditures on Feb. 20. The projections include estimated expenditures for health care spending from 2018 to 2027 by source of funds (Medicare, Medicaid, and private insurers), types of services, and sponsors (households, businesses, and governments). Read the Academy alert.

CMS published a request for information (RFI) on March 11, seeking comments on allowing individual health insurance coverage to be sold across state lines through health care choice compacts. Comments on the RFI are due on May 6.

Rep. Pramila Jayapal (D-Wash.) introduced a bill in the U.S. House of Representatives on Feb. 27 that would expand the Medicare program to cover all Americans.

The U.S. Department of Health and Human Services (HHS) published a proposed rule on March 4 that is intended to improve the interoperability of electronic health information (EHI). The proposed rule includes a request for comments on the "parameters and implications of including price information within the scope of EHI," and asks whether a reference price should be included in such information. Comments on the proposed rule are due May 3.

The IRS, the Employee Benefits Security Administration, and HHS published a request for information (RFI) on Feb. 25, seeking information on grandfathered group health plans and grandfathered group health insurance coverage. Comments on the RFI are due March 27.

In three separate decisions issued on Feb. 15, the U.S. Court of Federal Claims ruled that the federal government owes insurers cost-sharing reduction (CSR) payments following a decision by the Trump administration in October 2017 to end CSR reimbursements to insurers. (The cases addressed in the ruling are Community Health Choice, Inc. vs. U.S., Maine Community Health Options vs. U.S., and Common Ground Healthcare Cooperative vs. U.S.) A similar ruling was issued by the court on Feb. 14.

The Maine Legislature passed emergency legislation on March 7 ensuring that consumer protections under the Affordable Care Act (ACA) are codified under state law. A similar bill was passed by the New Mexico House on the same day, and now is under consideration by the state's Senate.

The Georgia Senate passed a bill, now under consideration in the House, on March 5 that would prohibit surprise billing in emergency situations by health insurers, and establish a mediation service through the Georgia Department of Insurance for consumers who receive bills over $1,000 for elective procedures.

The Colorado House passed a bill, now under consideration in the Senate, on March 4 that would require the Department of Health Care Policy and Financing and the Division of Insurance in the department of regulatory agencies to develop and submit a proposal for "the design, costs, benefits, and implementation" of a state health insurance option.

The Georgia Senate passed a bill on Feb. 26 that would allow the state to apply for a Section 1115 Medicaid waiver requesting the extension of Medicaid eligibility to working-age adults with incomes below 100 percent of the federal poverty level. The legislation is now under consideration in the House.

Minnesota Gov. Tim Walz introduced the FY 2020–21 Governor's Budget Recommendations on Feb. 19, including a proposal that would direct the Minnesota Department of Human Services to establish a public, platinum-level buy-in product in the state's individual health insurance exchange. The new option, called OneCare, would be financed by an initial startup investment, and then fully funded by consumer premiums.

A bill introduced in California on Feb. 19 would require large group health insurers to file certain information, including total earned premiums and total incurred claims for each contract or policy form, at least 120 days before implementing a rate change. Under the bill, a rate change would be considered unjustified if the required information is not filed. In addition, the bill would eliminate confidentiality protections for contracted rates between a health care service plan and a large group.

South Dakota Gov. Kristi Noem signed a bill into law on Feb. 14 revising the state's rules for association health plans (AHPs) to match a federal rule, finalized in June 2018, that broadened the scope and availability of AHPs.

Alaska Gov. Michael Dunleavy introduced a fiscal year 2020 budget proposal on Feb. 13, including a proposed reduction in funding for the state's Medicaid program by approximately $270 million.

Utah Gov. Gary Herbert signed a bill into law on Feb. 11 making changes to the expansion of the state's Medicaid program approved by voters on a November 2018 ballot initiative. The legislation extends eligibility for Medicaid coverage to working-age adults with incomes below 100 percent of the FPL, rather than to those with incomes below 138 percent of the FPL as approved by voters.
LHQ Seminar to Offer CE, Professionalism Credit
The Academy's 2019 Life and Health Qualifications Seminar, to be held Nov. 10–14 in Arlington, Va. (Washington, D.C., metro area), will provide attendees the opportunity to obtain qualifications or relevant continuing education credit necessary to issue actuarial opinions for either the NAIC Life and Accident & Health (A&H) Annual Statement or the NAIC Health Annual Statement, as well as professionalism credit. Limited space is available for this highly regarded seminar. Register today.
In the News / Media Activities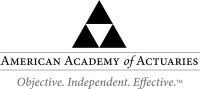 Follow the Academy on Facebook, LinkedIn, and Twitter.
---
1850 M Street NW • Suite 300 • Washington, DC 20036 • 202.223.8196 • www.actuary.org
Copyright 2018 American Academy of Actuaries. All rights reserved.