HealthCheck, June 2019
Academy activities, legislative/regulatory updates, and more.

Academy Activity
The Health Practice Council (HPC) submitted a statement for the record to the U.S. House Committee on Ways and Means for its June 12 hearing, "Pathways to Universal Health Coverage."
The HPC submitted a statement for the record to the U.S. House Committee on the Budget regarding its May 22 hearing, "Key Design Components and Considerations for Establishing a Single-Payer Health Care System."
The HPC submitted a comment letter to the Actuarial Standards Board on the fourth exposure draft of a proposed new actuarial standard of practice on modeling.
The Academy updated its Essential Elements report, "Medicare's Long-Term Sustainability Challenge," with information from the newly released 2019 Medicare Trustees Report. Be sure also to read the issue brief Medicare's Financial Condition: Beyond Actuarial Balance, released by the Medicare Subcommittee in late April just after the Trustees Report was released.
Public Policy Outreach
Steve Jackson, Academy assistant director for research (public policy), gave a poster presentation of an Academy Health Practice Council study on estimating the potential health care savings of reference pricing at the 2019 Annual Research Meeting of AcademyHealth, a private health services research organization, June 2 in Washington, D.C.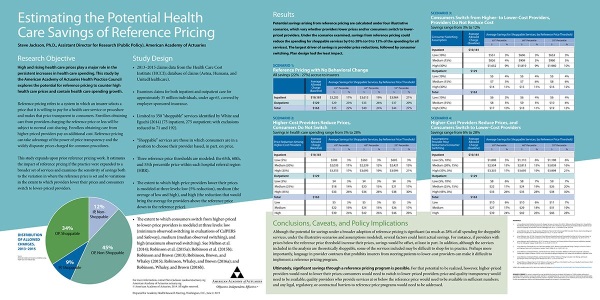 Legislative/Judicial/Regulatory Updates

The U.S. Supreme Court issued a ruling June 3 determining that the U.S. Department of Health and Human Services (HHS) neglected its statutory notice-and-comment obligations when deciding to factor Medicare Advantage patients into its disproportionate share hospital (DSH) payment calculations for fiscal year 2012, without a public comment period. In a 7–1 decision, the court ordered HHS to vacate the rule.

The Centers for Medicare & Medicaid Services (CMS) issued a final rule on May 28 updating requirements for Programs of All-Inclusive Care for the Elderly (PACE) under Medicare and Medicaid. According to CMS, the changes are intended to provide "greater operational flexibility" in the administration and regulation of PACE.

CMS issued additional guidance on May 20 providing questions and answers in response to comments received on the agency's April guidance on Medicare Part D plans. The additional guidance addresses changes that would be made to the Part D risk corridors and bidding process should the agency adopt a proposed rule to exclude rebates on prescription drugs from safe harbor protection under the Anti-Kickback Statute.

CMS issued a final rule that is intended to improve transparency of prescription drug prices in Medicare Part D and to allow Medicare Advantage plans to negotiate better prices for medications in Medicare Part C. Provisions in the final rule include requiring Part D plans to adopt real-time benefit tools informing prescribers when lower-cost alternatives are available, requiring Part D explanation of benefits sent to beneficiaries to include drug price increases and lower-cost alternatives, and prohibiting Part D plan sponsors from preventing or penalizing pharmacies for informing beneficiaries of lower-cost alternatives.

The U.S. Department of Labor (DOL) released a two-part set of Q&A on May 13 regarding the effects of a March ruling that vacated key provisions of a DOL final rule intended to broaden the scope and availability of association health plans (parts one and two).

A bipartisan group of U.S. senators introduced legislation on May 16 that would prohibit surprise medical billing for certain out-of-network services.

The U.S. House of Representatives passed two health insurance bills in May. H.R. 986, passed on May 9, would nullify guidance issued by HHS and the U.S. Department of the Treasury in 2018 that relaxed criteria for waivers issued to states under section 1332 of the Affordable Care Act (ACA). H.R. 987, passed on May 16, would rescind guidance from the administration expanding the availability of health insurance plans that do not meet the requirements of the ACA; provide states with funding to establish state-based health insurance marketplaces; provide funding for the navigator program for the federally facilitated health insurance exchanges; and require HHS to conduct outreach and educational activities regarding health insurance enrollment. Both bills have gone to the Senate for consideration.

The California Assembly passed a bill, now under consideration in the Senate, which would implement a penalty for individuals who do not maintain health insurance coverage.

The Texas Legislature passed a bill, now under consideration by Gov. Greg Abbott, which would require prescription drug manufacturers, pharmacy benefit managers, and insurers to share information with the state on drug price increases of more than 10 percent in year, or 40 percent over three years, for drugs costing at least $100 for a 30-day supply. Such information would be disclosed by the state on a public website.

A bill passed by the Texas Legislature on May 25 and now under consideration by Gov. Greg Abbott would prohibit health care providers from sending surprise bills to patients for out-of-network emergency services, and would create an arbitration process for insurers and providers to resolve disputed claims.

Tennessee Gov. Bill Lee signed a bill into law on May 24 requiring the state to request a waiver from CMS to receive funding for its Medicaid program in the form of a block grant.

Colorado Gov. Jared Polis signed a bill into law on May 17 requiring the state to seek a waiver from HHS to establish a reinsurance program aimed at reducing claims costs according to geographic variations in health insurance premiums across the state.
In the News / Media Activities
Upcoming Events
Annual Meeting and Public Policy Forum: Extra-early registration ends this month for the Academy's Annual Meeting and Public Policy Forum, to be held Nov. 5–6 at the Capital Hilton in Washington, D.C. It offers intensive learning opportunities for those interested in learning how the actuarial profession can and does affect the development of public policy in the U.S. Don't miss out on the lowest rates—register by June 28 and save.

LHQ Seminar: Registration is also open for the Academy's Life and Health Qualifications Seminar, to be held Nov. 10–14 at the Key Bridge Marriott in Arlington, Va. (just outside Washington, D.C.). This seminar provides attendees with the opportunity to obtain qualifications or relevant continuing education (CE) credit necessary to issue actuarial opinions for either the NAIC Life and Accident & Health (A&H) Annual Statement or the NAIC Health Annual Statement. Make sure to register today for this popular event.