HealthCheck, February 2020
Academy activities, legislative/regulatory updates, and more.

HealthCheck Moving to Quarterly Publication Schedule
HealthCheck will become a quarterly publication after this issue. The change will allow for a more in-depth look at health topics of interest in each issue. The next issue is scheduled to be published in April.
Academy Activity
Academy Health Practice Council volunteers will visit federal lawmakers and policymakers later this month for their annual "Hill visits" on Capitol Hill in Washington. The meetings are scheduled for Feb. 27–28, during which volunteers will talk about health issues including the Affordable Care Act (ACA), Medicare and Medicaid, long-term care, and more.
The Individual and Small Group Markets Committee sent a comment letter to the Centers for Medicare & Medicaid Services on the Sept. 30 bulletin, Opportunity for States to Participate in a Wellness Program Demonstration Project to Implement Health-Contingent Wellness Programs in the Individual Market.
The Medicaid Subcommittee sent a comment letter to the Centers for Medicare & Medicaid Services regarding the Medicaid fiscal accountability regulation proposed rule.
Legislative/Judicial/Regulatory Updates

The Centers for Medicare & Medicaid Services (CMS) released guidance Jan. 30 for state Medicaid directors to convert their program funding into block grants it says offer enhanced flexibility to states. The guidance outlines an initiative, Healthy Adult Opportunity, to allow states to apply for a fixed federal payment to fund their Medicaid programs instead of receiving fluctuating funding based on the number of eligible adults in need of Medicaid health care coverage. Coverage provided by the lump-sum payments will not apply to individuals enrolled in Medicaid for a disability or long-term care services, nor to children and pregnant patients. On Feb. 6, the House of Representatives passed a nonbinding resolution, H. Res. 826, condemning the administration's plan.

CMS on Jan. 31 issued the proposed annual Notice of Benefit and Payment Parameters for the 2021 benefit year, which would make changes to many financial and regulatory standards to health care exchanges and issuers. In the proposed rule, CMS also requests comment on certain topics including a new automatic re-enrollment process for enrollees. Comments must be submitted by close of business March 2. To view changes as noted in the proposed rule, read the Academy alert.

CMS issued a proposed rule on Feb. 5 that would allow Medicare Part D plans to offer two specialty tiers for maximum allowable cost-sharing for pharmaceutical companies and Medicare Part D beneficiaries, in an effort to lower drug prices. The maximum allowable cost-sharing for the specialty tiers would be between 25 percent and 33 percent, depending on whether the individual plan includes a deductible. CMS is seeking comment on the proposed rule, regarding whether the lower cost-sharing "preferred" specialty tier should include brand-name prescriptions or only generic drugs. Comments are due to CMS by April 6.

Two competing bills to address surprise medical billing for patients receiving surprise out-of-network bills were introduced in the House of Representatives on Feb. 7. A bill introduced by the chairman and ranking member of the House Ways and Means Committee, the Consumer Protections Against Surprise Medical Bills Act of 2020, proposes that providers and insurers would negotiate payment through a dispute resolution process when a patient receives a surprise bill for out-of-network care from an in-network facility. A bill introduced by the chairman of the House Education and Labor Committee legislation, H.R. 5800, the Ban Surprise Billing Act, was marked up by the committee on Feb. 11. It would require insurers to pay out-of-network providers the median in-network rate depending on the geographical location of health care services, up to $750. For higher-cost services, the provider and insurer may enter an arbitration process. The Academy will continue to track the progress of the legislation.
In the News
A 2018 Academy comment letter discussing potential concerns related to non-ACA-compliant plans was cited in a Bloomberg story on new short-term health plans offered in Idaho. The story was also reprinted in MSN.

A report from The Commonwealth Fund cited the Academy's issue briefs on the major drivers of premium changes for 2016 and 2017.

A Bipartisan Policy Center report cited the Health Practice Council's April 2017 issue brief, Steps Toward a More Sustainable Individual Health Insurance Market.
Life and Health Law Manual Available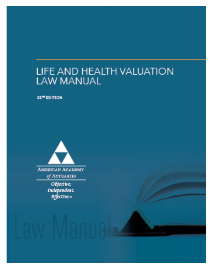 The Life and Health Valuation Law Manual contains information to help appointed actuaries and others know the requirements of the NAIC model Standard Valuation Law and the Model Actuarial Opinion and Memorandum Regulation. It includes a concise summary of the valuation laws (and NAIC regulations) of all 50 states, the District of Columbia, and Puerto Rico. Order today.


Having trouble viewing this email? View it in your browser.