HealthCheck, August 2013
Having trouble viewing this email? View it in your browser.

Academy Activities
The Academy's Large Group Medical Business Practice Note Work Group on Aug. 7 released a final version of the updated practice note Large Group Medical Insurance Reserves, Liabilities, and Actuarial Assets.
On Aug. 12, the Academy's Minimum Value Practice Note Work Group released an exposure draft of its new practice note Minimum Value and Actuarial Value Determinations Under the Affordable Care Act. Comments on the exposure draft should be submitted by Sept. 30.
The Academy's Health Practice Financial Reporting Committee will host an Aug. 22 webinar on its new white paper, Financial Reporting Implications Under the Affordable Care Act. Health actuaries should register for the webinar to learn about the financial reporting implications of several key provisions in the ACA—premium stabilization programs, new taxes and fees, advance payments, and existing actuarial liabilities.
Legislative and Regulatory Updates

On Aug. 8, the Office of Personnel Management (OPM) released a proposed rule implementing the Affordable Care Act (ACA) requirement that members of Congress and congressional staff be insured through the new health insurance exchanges. The OPM also released a fact sheet and a Q&A sheet regarding the proposed rule. Comments must be received by Sept. 9.

The Long Term Care Commission held a public hearing Aug. 1 on publicly and privately funded long-term care services and supports. The commission heard from witnesses regarding Medicare and Medicaid long-term services and supports; ways to strengthen Medicare for long-term care services; and the relationship between insurance, private resources, and Medicare. The commission is scheduled to meet again on Aug. 30.

Two bills addressing the ACA were introduced and saw some movement recently. HR 2668, sponsored by Rep. Todd Young (R-Ind.), delays until 2015 the individual mandate, delays until 2015 the enforcement of requirements that large employers offer their full-time employees the opportunity to enroll in minimum essential coverage, and delays the effective date of related reporting requirements for such employers and for providers of minimum essential coverage. This bill passed in the House and has been introduced in the Senate. HR 2009, sponsored by Rep. Tom Price (R-Ga.), prohibits the Treasury secretary from implementing or enforcing any ACA provisions or amendments. The bill has passed in the House and is awaiting introduction in the Senate. It is unlikely that either piece of legislation would be passed by the Senate.
In the News
Two PBS Newshour segments mentioned the Contingencies story on the ACA and young people. In his July 17 floor remarks, Sen. Mike Lee (R-Utah) mentioned statistics from the same story. A Senate Republican Policy Committee post also referenced the information as did a piece in the Wall Street Journal.
Senior Health Fellow Cori Uccello discussed premium changes under ACA in a PolitiFact.com article and in a Morning Call story.
Financial Reporting Implications Under the Affordable Care Act was mentioned in the NBCH newsletter.
A LifeHealthPro story on health care exchanges quoted Academy work on the issue.

Upcoming Events
Financial Reporting Implications Under the ACA
Webinar: Aug. 22
Sponsor: American Academy of Actuaries (no fee charged)
The 3rd Annual Dual Eligibles Best Practices
Conference: Sept. 16–17, Lake Buena Vista, Fla.
Sponsor: Healthcare Education Associates (fee charged)
For a complete listing of upcoming and recent health care reform events click here.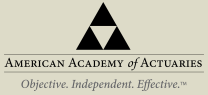 PLEASE DO NOT REPLY TO THIS EMAIL. THIS EMAIL ADDRESS IS NOT MONITORED.
If you would like more information or to contact the Academy, please visit us at www.actuary.org/content/about-us
Sign up to follow the Academy on Twitter.
Rather not receive Academy emails? Unsubscribe by emailing membership@actuary.org.
---
1850 M Street NW • Suite 300 • Washington, DC 20036 • 202.223.8196 • www.actuary.org
Copyright 2013 American Academy of Actuaries. All rights reserved.