HealthCheck, April 2018
Academy activities, legislative/regulatory updates, and more.

Academy Activities
The Individual and Small Group Markets Committee sent a comment letter to the Centers for Medicare & Medicaid Services (CMS) on April 6 in response to the proposed rule by the departments of the Treasury, Labor, and Health and Human Services (HHS) that would lengthen the maximum period of short-term, limited-duration health insurance plans.
Several Academy representatives presented on public policy matters at the NAIC Spring 2018 National Meeting March 21–27 in Milwaukee. Health-related presentations included:
Shari Westerfield, vice president for health, gave a Health Practice Council (HPC) update to the Health Actuarial (B) Task Force on the Academy's recent public policy work at the federal, state, and international levels, including a report on the HPC's March Capitol Hill visits. Westerfield also presented updates on the work being done on risk-based capital (RBC) bond factors by the Academy's Joint P&C/Health Bond Factors Analysis Work Group to NAIC's Health Risk-Based Capital (E) Working Group (HRBC).

David Olsho, chairperson of the Stop Loss Factors Work Group, updated the HRBC on some of the revisions to proposal 2018-01-CA (Stop Loss Interrogatories). The purpose of the interrogatories is to gather data to review stop loss factors and, when aggregated, provide information regarding small employers moving to self-insured status. The NAIC's Capital Adequacy (E) Task Force subsequently exposed the revisions for a 10-day period.

Warren Jones, chairperson of the Academy's Long-term Care (LTC) Valuations Work Group and LTC Combo Valuations Work Group, provided an update on the Academy's recent LTC activities to NAIC's Long-Term Care Actuarial (B) Working Group, including continuing work on LTC issue briefs and updates on other projects planned or underway in the Academy's work groups.
Legislative/Judicial/Regulatory Updates

The U.S. Government Accountability Office (GAO) released a report on April 9 analyzing CMS data on terminations of health care coverage for nonpayment of premiums. GAO found that CMS data were insufficient to determine whether individuals have had coverage terminated due to nonpayment of premiums and recommended that CMS collect such data and establish a transparent process to reconcile any discrepancies in its data and data collected by health insurers.

Maryland Gov. Larry Hogan signed a bill into law on April 5 allowing the state to seek a Section 1332 State Innovation Waiver from HHS to establish a reinsurance program as provided for under the Affordable Care Act (ACA).

Iowa Gov. Kim Reynolds signed a bill into law on April 2 allowing the Iowa Farm Bureau Federation to sell a form of health insurance that does not meet the requirements of the ACA. The plans will not be classified as insurance, and will not be regulated by the Iowa Insurance Division.

CMS released a final report on April 3 on enrollment in individual health insurance exchanges during the Open Enrollment Period (OEP) for the 2018 plan year. According to CMS, 11.8 million Americans enrolled in a plan during the 2018 OEP, a decrease from the 12.2 million enrollees in the 2017 OEP. CMS also reported that the average premium, before tax credits, increased to $621 for 2018 from $476 in 2017.

CMS announced finalized policies on April 2 for Medicare prescription drug (Part D) benefits and Medicare Advantage (MA) plans. Changes to Part D include allowing low-cost generic drugs to be substituted onto plan formularies at any point during the year, and reducing the maximum payment low income beneficiaries must pay for biosimilars. Changes to MA plans include an expansion of standards for health-related supplemental benefits to include additional services.

The Ohio Department of Insurance submitted a 1332 State Innovation Waiver to HHS on March 30. The waiver application requests an exemption from the penalty for individuals who do not maintain health insurance coverage (known as the individual mandate), which was lowered to $0, but not eliminated, in a bill signed into law by President Trump in December.

Utah Gov. Gary Herbert signed a bill into law on March 27 approving the application of a Section 1115 Medicaid Waiver to CMS. The waiver application will seek the expansion of Medicaid eligibility to working-age adults with incomes below 95 percent of the federal poverty level.

CMS released a proposed rule on March 23 that would exempt states with Medicaid Managed Care populations of 85 percent or more from access-to-care reporting requirements, and would exempt states from reporting requirements for nominal rate reductions in fee-for-service payments. The deadline for public comments on the proposed rule is May 22.

The Medicare Payment Advisory Commission released its annual report to Congress on Medicare payment policy. The report makes recommendations for fee-for-service Medicare and reviews the status of Medicare Advantage and Part D.

The Medicaid and CHIP [Children's Health Insurance Program] Payment and Access Commission released a report to Congress on March 15. The report provides recommendations to streamline the mechanisms through which states can implement Medicaid Managed Care programs, as well as an overview of state telehealth coverage, and a required analysis of disproportionate share hospital allotments.

The University of California, San Francisco, released a report last month on universal health care coverage and financing requested by the California State Assembly Select Committee on Health Care Delivery Systems and Universal Coverage. The report summarizes the activities and findings of the select committee, provides an overview of the California health care system and health care coverage in the state, and presents potential policy options for achieving universal health care coverage.
Registration Open for 2018 Annual Meeting and Public Policy Forum
Registration is open for the Academy's 2018 Annual Meeting and Public Policy Forum, to be held Nov. 1–2 in Washington, D.C., just prior to the 2018 mid-term elections. Health policy will be among the many practice-area sessions offered. Make plans to join us for the one event that consistently delivers in-depth presentations from recognized experts on the top public policy and professionalism issues relevant to you, your work, and our profession. You'll also have many opportunities to engage with policymakers, business leaders, actuaries from all practice areas, and Academy leaders. Join us in November—register today to take advantage of our deeply discounted extra-early rate.
In the News / Media Activities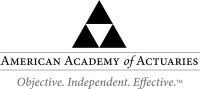 Follow the Academy on Facebook, LinkedIn, and Twitter.
---
1850 M Street NW • Suite 300 • Washington, DC 20036 • 202.223.8196 • www.actuary.org
Copyright 2018 American Academy of Actuaries. All rights reserved.