HealthCheck, April 2017
Academy activities, legislative/regulatory updates, and more.

Academy Activities
Immediate Past President Tom Wildsmith represented the Academy as a March 14 guest on C-SPAN's "Washington Journal," a televised national call-in program that focuses on current events related to politics, policy, and legislation. Wildsmith provided an actuarial perspective on health care reform proposals regarding the sale of insurance across state lines.
The Academy's Medicaid Funding Work Group released an issue brief on proposed funding approaches to Medicaid.
On March 22, the Academy's Individual and Small Group Markets Committee and the Medicaid Subcommittee sent comments to U.S. House leadership, members of the House and Senate, and the nation's governors on H.R. 1628, the American Health Care Act (AHCA), which was designed to repeal and replace portions of the Affordable Care Act (ACA).
The Academy and the International Actuarial Association (IAA) Health Section hosted a March 24 webinar, "Global Perspectives on Long-Term Care: United States and Germany." The webinar highlighted a new report issued by the IAA's Population Issues Working Group, while spotlighting health care perspectives of the two countries.
On April 7, Health Practice Council Vice President Shari Westerfield gave presentations to the NAIC's Health Actuarial Task Force and the Health Insurance and Managed Care Committee on possible changes to the ACA through legislative and administrative actions, and actuarial considerations on those changes. Warren Jones, chairperson of the Academy's Long-Term Care (LTC) Valuation Work Group, gave an update to the NAIC's LTC Actuarial Working Group on the Academy's recent LTC work.
Legislative/Regulatory Updates
The Congressional Budget Office (CBO) released an evaluation of the AHCA, portions of which were marked up by the U.S. House Energy and Commerce and the Ways and Means committees in early March. CBO estimates the legislation could have resulted in the loss of health insurance for 24 million Americans by 2026, while reducing the federal deficit by $337 billion over the same period. The Academy's Individual and Small Group Markets Committee and Medicaid Subcommittee's comments on the AHCA, sent to House leaders on March 22, address various approaches to federal Medicaid funding and the individual health insurance market.
The New York state Superintendent of Financial Services signed an emergency rule to establish a market stabilization pool for the individual and small group health insurance markets for the 2017 plan year.
The Centers for Medicare & Medicaid Services (CMS) undertook several administrative actions and released key documents in the past month, including:
CMS Administrator Seema Verma's March 14 letter to the nation's governors expressing support for states that wish "to design programs that meet the spectrum of diverse needs of their Medicaid population."

A final rule on disproportionate share hospital dollars, stating that the hospital-specific limit calculation will be limited to costs incurred by Medicaid-eligible individuals who are not covered by Medicare or other third-party payers. The rule will take effect June 2.

A Unified Rate Review Template v4.1. (Excel spreadsheet; search "URR Template v4.1" on CMS's website.)

The payment rate for insurers offering Medicare Advantage Plans, which is expected to rise by an average of 0.45 percent for 2018.

2018 Unified Rate Review Instructions for insurers selling non-grandfathered health insurance coverage in single-risk-pool markets.
The U.S. House of Representatives passed H.R. 1101, the Small Business Health Fairness Act, by a vote of 236-175. The bill would allow small employers to enroll in multistate association health plans as an alternative to fully insured small-group plans regulated by their home states.
The House passed H.R. 372, the Competitive Health Insurance Reform Act of 2017, by a 416-7 vote. The bill would end the antitrust immunity granted to health insurance companies by amending the McCarran-Ferguson Act of 1945.
The House passed H.R. 1304, the Self-Insurance Protection Act, by a 400-16 vote. The bill would exclude medical stop-loss self-insurance health programs from being defined as traditional health insurance.
The U.S. House Republican majority withdrew the AHCA from floor consideration after failing to gather enough support for the measure. The House Rules Committee approved an amendment to the AHCA on April 6 to allocate $15 billion for health plans to cover the cost of high-risk enrollees in the individual health insurance marketplaces; funding would be available from Jan. 1, 2018, through Dec. 31, 2026. No floor vote has been scheduled.
The Minnesota legislature passed the Minnesota Premium Security Plan, a bill designed to support the individual health insurance market with a state-based reinsurance program for plan years 2018 and 2019. The bill became law on April 3 after Gov. Mark Dayton stated he would let it become law without his signature.
On April 5, the Kansas legislature voted not to override Gov. Sam Brownback's veto of H.B. 2044, a measure that would have expanded Medicaid coverage to low-income residents. Several other states have recently introduced bills to expand or revise Medicaid eligibility requirements.
Registration Open for LHQ Seminar
Registration is open for the Academy's Life and Health Qualifications Seminar, to be held Nov. 12–16 in Arlington, Va., outside of Washington, D.C. Offered annually by the Academy, this seminar is the most efficient way to acquire the basic and continuing education required to sign the NAIC life and health annual statement actuarial opinions. It also serves as a basic education refresher or as a source of required continuing education for more experienced actuaries. Register now for the lowest rate.
In the News / Media Activities
House Democratic Leader Nancy Pelosi and Senate Democratic Leader Chuck Schumer cited the Academy's actuarial assessment of the ACA's insurance marketplaces in a March 30 letter to President Donald Trump on improving health care and reducing costs.
A subscriber-only Bloomberg BNA story on the AHCA cited Senior Health Fellow Cori Uccello and the Academy's March 22 letter to Congress and the nation's governors, which addressed approaches to federal Medicaid funding and continued actuarial soundness requirements, as well as the individual health insurance market. The letter was also cited by U.S. News & World Report, Modern Healthcare, and Inside Health Policy.
A McClatchy DC fact-checking story included Uccello's explanation that 2017 premium increases in a number of states are not necessarily indicative of an ACA premium spiral.
Axios cited the Academy's January issue paper on the individual health insurance market in its coverage of the GOP's proposal for a continuous coverage requirement. Wildsmith told Axios that more details on the proposed requirement are needed to assess its potential impacts.
A Politifact fact-checking story on the AHCA cited key findings of the individual-market issue paper. The issue paper also was cited in stories by the National Law Review, Employee Benefit Adviser, JD Supra Business Advisor, Lexology, and Cleveland.com.
A Lexington Herald Leader (Ky.) op-ed discussing replacement options for the ACA cited the Academy's issue brief on selling insurance across state lines.
The Huffington Post cited the Academy's issue brief on 2016 health premium drivers in a story discussing replacement plans for the ACA.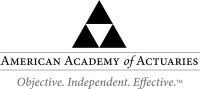 PLEASE DO NOT REPLY TO THIS EMAIL. THIS EMAIL ADDRESS IS NOT MONITORED.
If you would like more information or to contact the Academy, please visit us at www.actuary.org/content/about-us

Follow the Academy on Facebook, LinkedIn, and Twitter.
Rather not receive Academy emails? Unsubscribe by emailing membership@actuary.org.
---
1850 M Street NW • Suite 300 • Washington, DC 20036 • 202.223.8196 • www.actuary.org
Copyright 2016 American Academy of Actuaries. All rights reserved.