HealthCheck, April 2013
Having trouble viewing this email? View it in your browser.

Academy Activities
Save the Date: The Academy will hold a webinar April 18 on requirements related to Affordable Care Act (ACA) provisions on rate review and disclosure, specifically the final unified rate review template and actuarial memorandum. A representative from the Center for Consumer Information and Insurance Oversight (CCIIO) will be available to answer questions. Attendees should submit questions in advance to healthanalyst@actuary.org by noon Tuesday, April 16.
On April 11, the Academy will host a webinar on the recently released minimum value (MV) calculator—an important component of the ACA. This free webinar also will feature representatives from the CCIIO, who will walk attendees through a demonstration and then answer their questions about the calculator.
On April 1, the Academy's Senior Health Fellow Cori Uccello submitted suggested language on actuarial value to the National Association of Insurance Commissioners (NAIC) Consumer Information Subgroup for inclusion in a "frequently asked questions" document.
On March 28, the Academy's Medical Loss Ratio Work Group submitted comments to the U.S. Department of Health and Human Services (HHS) on a proposed rule that requires issuers to offer a new type of individual health insurance policy covering contraceptive benefits. The comments focus only on the effect of the proposed rule on the MLR calculation.
Legislative and Regulatory Updates

HHS issued a final rule on April 2 that implements the increase in Federal Medical Assistance Percentage (FMAP) rates for Medicaid under the ACA. The ACA authorizes states to expand Medicaid to adults younger than 65 with income of up to 133 percent of the federal poverty level (approximately $15,000 annually for a single adult), although the U.S. Supreme Court ruled that provision optional for states. Beginning Jan. 1, 2014, if a state opts to expand Medicaid under the ACA, the federal government will pay 100 percent of the costs for newly eligible individuals. The 100 percent FMAP will be in effect through 2016, decreasing to a 90 percent matching rate by 2020. Comments on the final rule are due by June 3.

The NAIC released a proposed Actuarial Guideline and a proposed modification to the Health Insurance Reserves Model Regulation. The proposed actuarial guideline provides instructions for using the new table and pertains to Group Long-Term Disability (GLTD) claims consistent with the conditions defined in the model regulation. In addition, the guideline governs the selection of claim termination rates for the purpose of calculating GLTD claim reserves. The revisions to the model regulation reflect the new methodology as described in the proposed actuarial guideline.
In the News/Media Activities
In a March 12 Op-Ed in the Greenville, N.C., Daily Reflector, "Health care defies predictions," author Scott Mooneyham cited the Academy's Medicaid decision brief and wrote that states that blocking Medicaid expansion "will see significant numbers of people who otherwise would have been covered fail to qualify for the subsidies."

Upcoming Health Care Reform Events
Academy Webinar: Implementing the ACA—Minimum Value Calculator
Webinar: April 11, 12 p.m.– 1 p.m. eastern (no fee charged)
Sponsor: American Academy of Actuaries
Academy Webinar: Rate Review and Disclosure
Webinar: April 18, 2:30 p.m.– 4 p.m. eastern (no fee charged)
Sponsor: American Academy of Actuaries
For a complete listing of upcoming and recent health care reform events click here.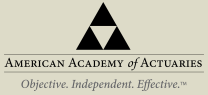 PLEASE DO NOT REPLY TO THIS EMAIL. THIS EMAIL ADDRESS IS NOT MONITORED.
If you would like more information or to contact the Academy, please visit us at www.actuary.org/content/about-us
Sign up to follow the Academy on Twitter.
Rather not receive Academy emails? Unsubscribe by emailing membership@actuary.org.
---
1850 M Street NW • Suite 300 • Washington, DC 20036 • 202.223.8196 • www.actuary.org
Copyright 2013 American Academy of Actuaries. All rights reserved.