Casualty Quarterly, Fall 2018

Travel Insurance Monograph Released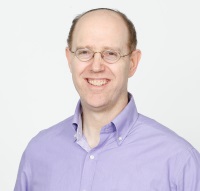 RothThe Casualty Practice Council's Travel Insurance Task Force published a monograph, Travel Insurance: An Actuarial Perspective, which provides information on the manner in which travel insurance is designed, filed, priced, sold, and serviced.
As airlines, hotels, tour organizers, and other travel service providers have increased their low-cost nonrefundable options, they also have promoted the purchase of travel insurance. Consumers have become more aware of this product and travel insurance questions now come up with greater frequency.
State regulators and legislators have recently published suggested new guidelines for how travel insurance may be regulated. The monograph seeks to provide sufficient background and understanding of how travel insurance works in the marketplace, including explanations of how travel insurance differs from other forms of insurance, so that all parties to these continuing efforts remain well informed.
Casualty Quarterly conducted a Q&A with Daniel Roth, chairperson of the Academy's Travel Insurance Task Force, about the monograph.
What are the main concerns from an actuarial perspective about travel insurance?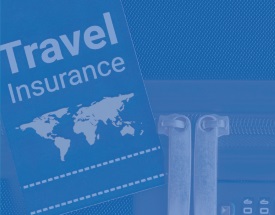 A number of challenges in travel insurance stem from being compelled to apply structures designed for more typical lines. For example, certain risk-based capital requirements rely on industry data by an Annual Statement line of business. Because the risks and economics of travel insurance differ markedly from the bulk of inland marine coverages, companies may face higher capital requirements than a travel insurance-specific risk analysis would suggest. This can lead to market inefficiencies in both the availability and price of travel insurance.
Throughout the monograph, it notes that travel insurance is different from other types of insurance. Can you give some examples?
Compared with personal automobile and homeowners insurance, travel insurance has a number of differences. A few examples include: Travel insurance is entirely discretionary because there is no law or lender that is compelling consumers to purchase; coverage is offered on a take-all-comers basis without a formal application/approval process; and policies are of various lengths and nonrenewable.
There are different components in travel insurance policies that are active at different times—e.g., cancellation vs. trip interruption. What are the implications for an actuary, and how does an actuary deal with this?
For the actuary analyzing travel insurance, the differences in the exposure emergence of the different benefit components means that certain traditional tools—such as the parallelogram technique for estimating earned rate level—cannot be used. To produce accurate results, the actuary must produce estimates by component, taking into account the emergence of exposure separately for each.
The monograph notes that travel insurance packages, as an umbrella term, often include non-insurance features such as travel assistance or cancellation waivers. How are these figured into packages?
Different providers will handle this in different ways. Some of the drivers of how these benefits will be considered in packaging include the type of benefits offered (e.g., waiver, travel assistance, etc.), the relationships among the parties (e.g., whether or not they are affiliates), and the expectations of regulators. For my company's travel insurance products, the assistance provider is an affiliate and we share resources, which allows us to build seamless integration of innovations in product benefits and customer experience for both insurance and assistance. This sharing of resources also makes it easier to stay informed and aligned on regulatory requirements regarding these packages for travel insurers, travel insurance plan administrators, and travel assistance providers.
By its nature, travel insurance includes accident & health (A&H) and property & casualty (P&C) coverages. What are the regulatory implications of involving several practice areas?
In states where separate rate and form filings are required for the A&H and P&C components, the travel package is split into its component pieces and reviewed by the respective reviewers in the state, who apply the line-specific standards to each component to ensure the product complies with the distinctive regulatory requirements for A&H and P&C. With the two components ultimately marketed as a single travel insurance plan, these separate standards can sometimes make it difficult for the travel insurer to present the plan in an easy-to-understand way for consumers. For example, a state may require a company to issue two separate policies rather than permit it to combine the full set of coverages into one. In such a case, the travel insurer will want to ensure consumers are not confused by the fact that a number of their benefits are not showing on their first declaration page, but are found after the first policy, where there is a second declaration page and policy with the remainder of the coverages. Another situation that can occur is that the two policies are compelled to have certain provisions be different—such as the general exclusions—which may cause inconsistency in the compensability of certain claims. In a couple of states, regulatory requirements may result in a situation where the P&C coverages in a travel protection plan apply equally to all insureds, but the A&H coverages don't apply at all to some of the insureds.
The monograph talks about triggers, or covered reasons, limiting the range of events that result in reimbursement, which can vary widely among carriers and policies. How do actuaries deal with these variations?
This is more of an impact to consumers comparing plans than to actuaries pricing those plans. Actuaries pricing travel insurance will typically have the data they need, at the required level of detail, in order to reflect the variations in the plans they are tasked with pricing.
The monograph notes that some states have specified that policies contain trip cancellation or interruption coverage in order to be considered travel insurance (instead of, for example, health insurance), while others have not. Is this a concern, or something that needs to be more uniform?
I like to refer to state variations as "opportunities for creative thinking" rather than concerns. As a provider of travel insurance focused on building a consistent, positive customer experience for all travelers, we certainly see value in more uniformity between states. However, each state has valid reasons for establishing its own rules, so we accept the responsibility to find solutions that fit within the full range of requirements.
The monograph notes that data may be lacking compared with other types of insurance, though it notes that policies can vary by things like destination and/or peoples' age, etc., if bought in advance.
The monograph's comments about data refer to industry-level data that would be useful for benchmarking or pricing new benefits. Individual companies should have sufficient data to perform detailed analysis on a number of dimensions.
Related, some policies purchased when buying an airline ticket, for example, offer little or no data on a person's age, etc. How do actuaries deal with this lack of data?
It has always been the case in insurance that some level of specificity with regard to a risk will be known at time of pricing and some will be unknown, and that this evolves over time. For a line where a predictive model is applied to an individual insurance applicant, the number of unknown risk factors will continue to drop as the model improves. Travel insurance is moving in a similar direction but is not as far along as traditional personal lines, so there are more instances where a price will necessarily reflect an expected average risk component rather than the specific risk component. Age for an airline website offer is a perfect example. Today the rate will reflect the expected average age because it is not known (and not asked) for the individual, but technological capabilities are likely to evolve to the point where more refined understanding of the risk, such as actual age or age cohort, can be discerned and incorporated into pricing without intruding into the customer experience.
Academy Presents on Capitol Hill Cybersecurity Panel

Edmund Douglas (right) provided an actuarial perspective in mid-September at a Congressional Cybersecurity Caucus panel discussion on Capitol Hill about insuring cyber risks. Douglas, chairperson of the Academy's Cyber Risk Task Force, noted that this line of business is constantly changing, and observed there is significant potential for aggregation of risk due to there being so much interconnection in cyberspace. Representatives from about two dozen congressional offices attended the panel discussion.
CLRS Sessions Feature Academy Presentations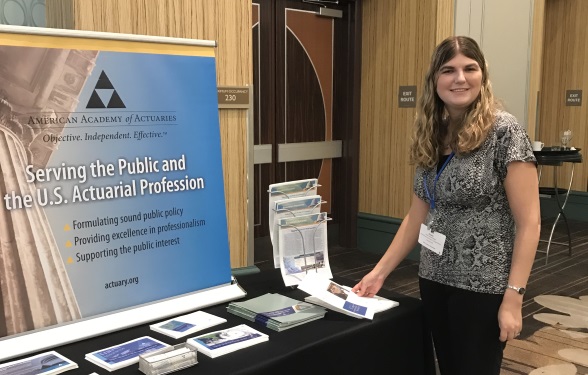 Jeana Holewinski of the Ohio Bureau of Workers' Compensation Insurance visits the Academy's booth at CLRS
Several Academy representatives gave presentations at the Casualty Loss Reserve Seminar (CLRS), held in early September in Anaheim, Calif., and co-hosted by the Academy and the Casualty Actuarial Society. A number of Academy volunteers were on the faculty for the CLRS program. Kathy Odomirok, chairperson of the Academy's Committee on Property and Liability Financial Reporting (COPLFR), presented at a Sept. 5 workshop on "Effective P&C Opinions," and Academy Committee on Qualifications member Chad Wischmeyer spoke Sept. 6 at a panel discussion on "Business Skills and Our ASOPs" (actuarial standards of practice).
Actuaries Climate Index Fall 2017 Data Released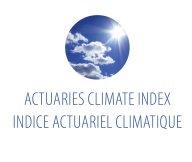 The five-year moving average of the Actuaries Climate Index (ACI)—co-sponsored by the Academy, the Canadian Institute of Actuaries, the Casualty Actuarial Society, and the Society of Actuaries—reached 1.19 in fall 2017, a new record, according to data released Aug. 1. The seasonal ACI value increased to 2.00 from the previous level of 1.59, and the five-year moving average from the previous record of 1.14.
"Increased precipitation and continuing rising sea levels drove Actuaries Climate Index values for the United States and Canada higher in fall 2017," said Doug Collins, chair of the Climate Index Working Group. The elevated moving-average and seasonal index values reflect continued deviation of climate and sea level extremes from historically expected patterns for the two countries.
Big Data Presentation at NAIC's CASTF 'Book Club'
Past Academy President Bob Beuerlein presented on "Big Data and the Role of the Actuary" during the NAIC's Casualty Actuarial and Statistical Task Force (CASTF) Predictive Analytics Book Club conference call in late June. CASTF sponsors "book club" presentations on a monthly basis to assist regulators in better understanding public policy challenges with respect to Big Data and predictive analytics. Beuerlein's well-received presentation introduced attendees to the Academy's new Big Data monograph.
Coming Soon: 2018 P/C Loss Reserve Law Manual
The Academy's Property/Casualty Loss Reserve Law Manual is designed to help appointed actuaries comply with NAIC Annual Statement requirements for statements of actuarial opinion (SAOs). It contains essential information for actuaries, including: SAO requirements and the laws and regulations establishing those requirements for every U.S. state, Washington, D.C., and Puerto Rico; annual statement instructions for the SAO for property/casualty, title loss, and loss expense reserves; and other pertinent annual statement instructions. The manual will be available for order soon.
Webinar Looks at Retained P/C Insurance-Related Risk
More than 200 people attended the Academy's June 25 webinar, "Retained P/C Insurance-Related Risk: Interaction of Actuarial Analysis and Accounting," which covered the Academy's public policy practice note, Retained Property Casualty Insurance-Related Risk: Interaction of Actuarial Analysis and Accounting.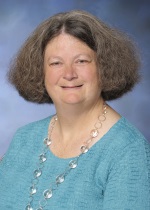 Miller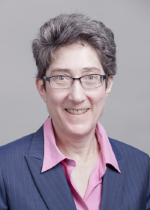 SlotznickPresenters were Academy Past President Mary Frances Miller, a member of the Committee on Property and Liability Financial Reporting; and Lisa Slotznick, vice chairperson of the Casualty Practice Council.
Much of the presentation focused on the dialogue between actuaries and accountants/auditors when reviewing the retained risk at a non-insurance entity. "Communication often is the biggest challenge," Slotznick said, noting that Actuarial Standard of Practice No. 41, Actuarial Communications, offers guidelines for communications protocols.
The panelists talked about the roles and interactions of the actuary with the non-insurance entity's risk manager and accountants. They observed that the larger the company, the more likely it is to retain some of its risk through high deductibles, captive insurance, and other means. "Some of these entities are huge. While the retained risk may seem large, to them it might be relatively small," Slotznick said.
Miller observed that "sometimes actuaries and accountants approach matters differently." Non-insurance company financial reports are governed by generally accepted accounting principles and other accounting rules, which are not always the same as what actuaries are used to.
"It's ultimately the auditor's decision" as to what and how to report on retained risk within the larger financial report on the company, she said, "but the actuary should have a good understanding of the applicable accounting standards and ensure that the actuarial work product is appropriate for the intended use."
Slides and audio are available free to members.
Committee Comments on Calif. Workers' Comp Rules
The Committee on Property and Liability Financial Reporting (COPLFR) sent a comment letter Aug. 10 to the California Department of Insurance (CDI) on proposed changes to reporting requirements for large-deductible workers' compensation plans. The letter made comment and recommendations on proposed regulation relating to the impact on annual statement schedules, implementation impact, and credit risk. The CDI subsequently released revised text of its proposed regulation, reflecting the recommendations COPLFR made on the financial reporting aspects of the regulation.
Academy Volunteer Speaks on ACI at Hartford Conference
P/C Extreme Events and Property Lines Committee member Stacey Gotham introduced environmental professionals attending the Air and Waste Management Association's annual conference in Hartford on June 27 to the Actuaries Climate Index, developed jointly by the Academy and other North American actuarial organizations, and plans for the Actuaries Climate Risk Index (ACRI).
Gotham discussed what the ACI measures, how data is constructed and can be accessed on the ACI website, and the ACRI's goal of producing an index of property damage, crop losses, fatalities, and injuries related to ACI data that will be useful to actuaries and insurance professionals, policymakers, and the public.
Academy Comments to NAIC
Comments on CASTF's Attestation Proposal
Past President Mary D. Miller sent a letter on behalf of the Academy July 25 to the NAIC on NAIC's Casualty Actuarial and Statistical Task Force's (CASTF) current attestation proposal. While lauding the direction the proposal takes in recognizing the role of boards of directors to appoint qualified actuaries, the letter states that there remain areas of duplication as well as omissions from what a company should obtain from their actuary, that the exposed version dropped the previous statement regarding the availability of the Academy's U.S. Qualification Standards Attestation Form as a possible way to meet such a requirement, and that there is no mention of the form the attestation should take.
"This lack of detail will not be helpful to appointed actuaries or to company Boards and both would benefit from some model of what they should be requesting, receiving, and providing," the letter states, noting the Academy form was developed to meticulously align with the exact wording of the U.S. Qualification Standards (USQS) to neither increase nor reduce the specific requirements. "Without such guard rails, there will be a greater burden on the regulator who would then need to make sure that whatever language is used by the appointed actuary to attest does not in any way modify the requirements of the USQS," it states.
Letter on 'Continued Competence' Exposure
Miller also submitted a letter to the NAIC on July 20, with extensive comments from the Academy, responding to an exposure draft that CASTF issued to share a proposal from a joint task force of the Casualty Actuarial Society/Society of Actuaries regarding CASTF's "Continued Competence" charge—a significant proposal that would affect many actuaries. The proposal addresses how the two education societies would "recertify" their basic education credentials to meet the recommendations of the NAIC's outside consultant that it is necessary that their certification programs contain some demonstration of "continued competence" and be time limited. The Academy's comments identified many concerns with the proposed approach.
Academy Raises Concerns With NAIC Experience Period Proposal
Miller also submitted the Academy's comment letter to NAIC Aug. 10 regarding the CASTF's exposure draft related to the three-year experience requirement to be qualified to sign statutory statements contained in the USQS. The three-year experience requirement that all appointed actuaries must meet is one of the three components of qualification (in addition to meeting the separate basic education and additional continuing education) to be necessary to sign statutory statements of actuarial opinion. The letter noted, "We believe the current proposal is a solution looking for a problem. There have been no complaints of which we are aware that any actuary failed to meet the required three-year experience requirement." The Academy previously submitted a letter to CASTF on this topic in March.
Joint Work Group on P/C and Health RBC
The Joint P&C/Health Bond Factors Analysis Work Group sent a discussion draft to the NAIC Joint Health Risk-Based Capital (RBC) and P/C RBC Drafting Group. The discussion draft provides an update on the activities of the Academy work group dealing with certain aspects of RBC factors related to risk charges for fixed-income securities.
Paper Highlights Flood-Insurance Issues
The Extreme Events & Property Lines Committee submitted a paper to the NAIC highlighting regulatory questions that arise if the flood insurance market transitions from relying upon the National Flood Insurance Program (NFIP) to a greater role for private-market coverage. The letter was subsequently sent to state insurance commissioners as well as the P/C committee members of the National Council of Insurance Legislators.
The paper covers the purpose and scope of flood insurance under the NFIP; market issues, contracts and coverage, underwriting, rates and building standards; state guarantees; and reinsurance. It also offers highlights of the NFIP's history since it was created in 1968, including the number of policies in effect since 1980.
CRS Report Cites Academy Monograph
Related, the Congressional Research Service released a report, Private Flood Insurance and the NFIP, which includes four references to the Academy Flood Insurance Work Group's April 2017 monograph, The National Flood Insurance Program: Challenges and Solutions.
Catastrophe Modeling Monograph Gives Actuarial Insight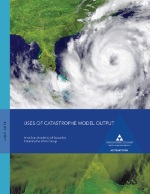 An Academy monograph released in late July takes a look at the growing use of catastrophe models and the important role the models play in the expected expansion of the private sector's role in the flood insurance marketplace. Uses of Catastrophe Model Output provides an overview of how catastrophe models have developed and demonstrates how catastrophe model output might be used in selected actuarial tasks. P/C Extreme Events and Property Lines Committee Chairperson Kay Cleary previewed the monograph in the summer issue of Casualty Quarterly.
Save the date for an Oct. 17 webinar that will look at catastrophe modeling. Registration will open soon.
P/C Policy Webinar to Be Held Sept. 25
P/C Public Policy Update—Fall 2018 will be held on Tuesday, Sept. 25, from noon to 1 p.m. EDT. Included will be P/C issues covered by the Academy at the NAIC Summer 2018 National Meeting in Boston in early August. The webinar will recap property/casualty issues from the meeting as well as presentations on current public policy topics of interest. Presenting will be CPC Vice President Rade Musulin and Kay Cleary, chairperson of the P/C Extreme Events and Property Lines Committee.
P/C VP Musulin Offers Professionalism, Public Policy Outreach
Academy Casualty Vice President Rade Musulin presented an Academy public policy and professionalism overview and update to approximately 90 actuaries and actuarial students attending the Farm Bureau Actuarial Conference in New Orleans on Aug. 6. Musulin provided an overview of the Academy and its professionalism and public policy work.
Earn Valuable CE at Seminar on Effective P/C Loss Reserve Opinions
The Academy will host its annual Seminar on Effective P/C Loss Reserve Opinions, Dec. 6–7 in Chicago. The two-day seminar will provide participants who prepare—or assist in preparing—annual statements of actuarial opinion on P/C loss reserves with information about the latest regulations and standards and includes reviews of actuarial qualification standards and interactive case studies.
In addition, the seminar will offer attendees the opportunity to:
Gain an understanding of regulatory perspectives and expectations;
Keep up to date on the latest regulations and standards; and
Network with your peers.
An agenda at a glance, available online, provides an overview of what topics will be covered during the seminar. Attendees will have the opportunity to earn up to 13.8 hours of continuing education credit.
Copyright © 2018 American Academy of Actuaries. All Rights Reserved.
1850 M Street NW, Suite 300, Washington, DC 20036
www.actuary.org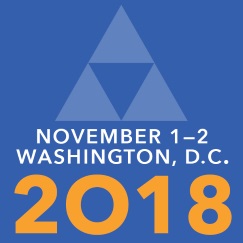 Phone: 202-223-8196