This Week, June 20–24, 2022
Read the latest news from the Academy.

Keeping You in the Know—Recent Academy Activity, June 20–24, 2022
It's time to catch up with the Academy's "This Week … In a Minute" video. Watch a recap of the top stories from the week and subscribe to us on YouTube to receive alerts as new videos are released.
Access Issue Brief and Register for Virtual Briefing on 2023 Health Insurance Premium Drivers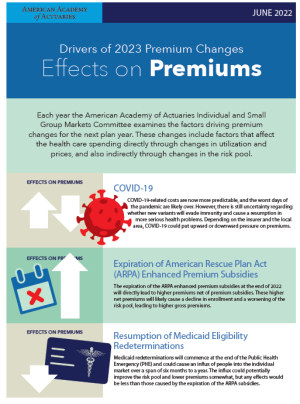 The Individual and Small Group Markets Committee released an issue brief discussing the factors that may drive 2023 health insurance premium rate-setting in the individual and small group markets. The issue brief examines the such drivers as the impact of COVID-19, Medicaid redeterminations, and the expiration of enhanced premium subsidies under the American Rescue Plan Act, among other factors.
Register for Next Week's Professionalism/Health Webinar
Register for the Academy's next professionalism webinar, "The Revised ASOP No. 28: What You Need to Know," which will cover recent changes to Actuarial Standard of Practice (ASOP) No. 28, Statements of Actuarial Opinion Regarding Health Insurance Assets and Liabilities, which takes effect July 1. The webinar will be held on Thursday, June 30, from noon to 1:30 p.m. EDT. Register today.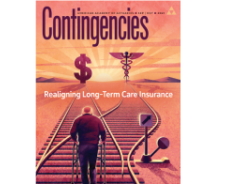 Contingencies Feature Story Wins Excel Award
Contingencies, the Academy's bimonthly magazine, received a bronze Excel Award, presented by Association Media & Publishing, for best feature story on Wednesday for the long-term care insurance (LTCI) cover story, "Realigning LTCI—Private Long-Term Care Insurance and the Health Care Continuum," from the September/October 2021 issue.
Less Than a Week Left for Early Discounts to the 2022 LHQ Seminar
Next week is the deadline for discounted registration rates for the Academy's 2022 Life and Health Qualifications Seminar, to be held Nov. 14–17 in Arlington, Va. Early registration will end next Thursday, June 30. Don't miss out on the discounted rate—register today and save $200.
Deadline Approaching to Nominate Members for Academy's Annual Awards
A reminder that nominations are open for four Academy annual awards, including the new Rising Actuary Award, which will recognize an actuary on their way up in the profession. The Jarvis Farley Service Award is a lifetime achievement award, the Robert J. Myers Award honors an actuary in public service, and the Outstanding Volunteerism Awards recognize volunteers who have made noteworthy contributions in the past year. The nominations deadline is July 8—find out more and how to submit nominations here.
Academy Delivers Essential Look at USQS, Bias Topics at Southeastern Club
Attendees of the Southeastern Actuaries Conference meeting in Sarasota, Fla., are keeping up to date on the changes to the U.S. Qualification Standards (USQS) that took effect Jan. 1, including gaining education on bias topics, newly required under the USQS. Committee on Qualifications member Kevin Russell and Data Science and Analytics Committee (DSAC) member Liaw Huang presented an in-person session on Wednesday, offering both an overview of the amended USQS and a focused discussion of bias in the context of data, models, and algorithms. Resources on both topic areas are available on the Academy's USQS webpage and the DSAC webpage.
Alert
Public Policy in Focus
Visit the Public Policy page to stay on top of the latest news and activities.
In the News
Upcoming Events
Coming Soon

PLEASE DO NOT REPLY TO THIS EMAIL. THIS EMAIL ADDRESS IS NOT MONITORED.
Follow the Academy on Facebook, LinkedIn, and Twitter. Listen to our podcast.
To update your Academy email communication preferences, please login and update your Academy member profile.
---
1850 M Street NW • Suite 300 • Washington, DC 20036 • 202.223.8196 • www.actuary.org
Copyright 2022 American Academy of Actuaries. All rights reserved.