HealthCheck, Spring 2021
Spring 2021
VOL 12 | NO 2

HPC Conducts Virtual 'Hill Visits' With Federal Lawmakers, Policymakers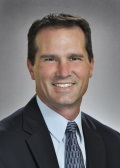 SchmitzHealth Practice Council (HPC) volunteers and Academy staff virtually visited the offices of federal policymakers and regulators in mid-April during their annual "Hill visits," discussing a number of timely topics including the Academy's new telehealth issue brief and health equity discussion brief (see stories, below).
More than 20 volunteers took part in about two dozen meetings with U.S. House and Senate committee staff members, and with representatives from federal agencies including the Treasury Department, Congressional Budget Office, Centers for Medicare & Medicaid Services, the Government Accountability Office, and others. They discussed issues including Medicaid and Medicare, health equity, COVID-19, surprise billing, prescription drug prices, long-term care (LTC), and the Affordable Care Act (ACA).
"We were pleased to offer the Academy's perspective to a wide range of federal policymakers," said Al Schmitz, Academy vice president, health. "The new telehealth issue brief, in particular, was a timely publication for the Health Practice Council to discuss with these public policy stakeholders in addition to other issues as well as the Academy's ongoing work related to COVID-19, health equity, the ACA, and long-term care. The input we provided was well received by the policymakers and regulators who we met with."
Issue Brief Explores Future of Telehealth

The new issue brief, Telehealth After COVID-19, makes the observation that, during the pandemic, the need to limit in-person health care resulted in many states and localities relaxing or waiving many of the legal and regulatory restrictions on telehealth, increasing its use.
As policymakers and regulators consider new or revised public policies regarding the availability of and payment for telehealth services now and in a post-pandemic health system, questions regarding the effects of telehealth on access to care, the costs of care, health outcomes, and potential fraud need to be considered, according to analysis in the issue brief.
---
Health Equity Work Group Releases Discussion Brief
The Academy's Health Equity Work Group (HEWG) released a discussion brief, Health Equity From an Actuarial Perspective: Questions to Explore, that serves as an introduction to the HEWG's work in the following areas: health insurance benefit design, provider contracting and network development, premium pricing, and managing population health.
"This foundational document on health equity issues begins by offering questions and topics for further exploration to help identify ways in which health benefit programs might affect health equity," said HEWG Chairperson Annette James. Read the Academy news release. The discussion brief and related items can also be found on the Academy's new webpage on Diversity, Equity & Inclusion.
Health Equity Webinar Set for May 24
The Academy will host a webinar next month, "Health Equity: An Actuarial Perspective," which will feature HEWG members. Presenters will discuss the impetus and goals for the work group and its work thus far to apply actuarial expertise to efforts to reduce health disparities, including the HEWG's recent discussion brief, Health Equity From an Actuarial Perspective: Questions to Explore. Time will be available for Q&A from webinar attendees. Presenters will be HEWG Chairperson Annette James, and Vice Chairpersons Bela Gorman and Stacey Lampkin. Senior Health Fellow Cori Uccello will moderate. The webinar will be held on Monday, May 24, from noon to 1:15 p.m. EDT. Register today.
'Actuary Voices' Podcast Features HEWG Chairperson Annette James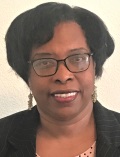 JamesIf you haven't already done so, make sure to listen to the recent "Actuary Voices" interview with HEWG Chairperson Annette James. James discusses her path to becoming an actuary, from growing up in Trinidad and Tobago to the "meteorological shocks" of attending Drake University in Iowa and to her role as a regulator in Nevada. She also addresses the importance of the work she leads on health equity, noting that "the COVID-19 pandemic has revealed long standing disparities in health outcomes experienced by communities of color, including the Latino, Native American, and Black communities."
"I can't wait until we get to a point where we can start educating others, because I understand coming from a position of not understanding health equity in the context of actuarial practice," James said. "The current administration is focusing on health equity and the many different aspects of it, so what we're doing is very current and very relevant."
Subscribe to "Actuary Voices" via iTunes, Spotify, or other podcast services. Click here to listen now.
LTC Subcommittee Releases COVID-19 Issue Brief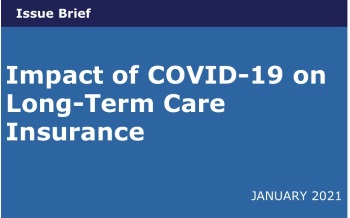 The Long-Term Care/Disability Committee's LTC Reform Subcommittee released an issue brief on COVID-19's potential short-term and long-term impacts on long-term care insurance (LTCI), focusing on key actuarial and economic assumptions impacting standalone LTCI policies.
The issue brief provides insight into the pandemic increasing mortality rates significantly on the elderly population and those with underlying medical conditions, including high levels of infection rates at LTC facilities. It raises other considerations including capital market conditions, public policy, and impacts on combo/hybrid LTCI products.
"Adjustments to underwriting and persistent low interest rates are COVID-19-related impacts already clearly affecting LTCI," said Bruce Stahl, the committee's chairperson. "More time and experience will tell if there are other consequential effects, such as a shift from facility to home care settings, or increased care needs for COVID-19 survivors."
LTC Subcommittee Releases Insurance Innovation Issue Brief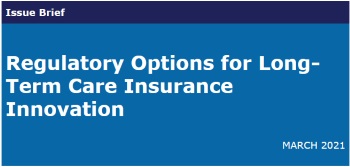 The LTC Reform Subcommittee released an issue brief on regulatory options for LTC insurance innovation. The issue brief examines some NAIC-proposed options specific to regulatory changes and discusses recommended changes with actuarial implications.
Several LTC financing reform proposals have emerged recently, due to both the limited penetration of private LTC insurance and the increased growth in state Medicaid budgets due in part to the needs of a growing elderly population, the issue brief notes.
In a 2017 report, Federal Policy Options to Present to Congress, the NAIC's LTC Innovations (B) Subgroup proposed options for financing reform; the issue brief examines some of those proposed options specific to regulatory changes and discusses recommended changes with actuarial implications.
Academy Presents on LTCI to Columbus Club
Academy Health Vice President Al Schmitz and LTC/Disability Committee Chairperson Bruce Stahl delivered a virtual presentation providing a public policy update on long-term care insurance (LTCI) to the Columbus (Ohio) Actuarial Club on April 28. The presentation noted heightened focus recently on LTC issues due to the COVID-19 pandemic and recent Biden administration policy proposals, and reviewed the Academy's extensive body of work on LTCI issues including issue briefs, comments and presentations to federal and state policymakers, and congressional testimony. Schmitz and Stahl also discussed the Academy's ongoing work on LTCI issues.
Uccello Presents on Medicare in Health Policy Webinar
Senior Health Fellow Cori Uccello presented during a Feb. 25 webinar on "Medicare Solvency Projections and Potential Policy Solutions" sponsored by the Alliance for Health Policy.
She set the stage for the panel discussion by providing basic program information, covering Hospital Insurance (HI) and Supplementary Medical Insurance (SMI), the projected depletion of the HI trust fund, and noted that Medicare's sustainability challenges go beyond solvency.
Other panelists looked at short- and long-term policy options to address the Medicare program solvency and offer equitable access, as well as the potential impacts of those proposals on providers, plans, and beneficiaries.
HPC Committees Comment to Federal Agencies
The Health Practice Council (HPC) commented to the federal agencies on several issues.
Committees Comment on COVID-19 Testing
The Individual and Small Group Markets Committee and its Active Benefits Subcommittee sent comments to U.S. Secretary of the Treasury Janet Yellen and the acting secretaries of the Department of Labor and the Department of Health and Human Services regarding an executive order on "Establishing the COVID-19 Pandemic Testing Board and Ensuring a Sustainable Public Health Workforce for COVID-19 and Other Biological Threats."
Comments on Medicaid, ACA
The HPC sent comments to U.S. Treasury Secretary Janet Yellen and the acting secretaries of the Department of Labor and the Department of Health and Human Services regarding review of agency actions related to the presidential executive order on "Strengthening Medicaid and the ACA."
Committee Comments on NAIC Health RBC Group
The Health Solvency Subcommittee sent a comment letter in response to a request from the NAIC's Health Risk-Based Capital (RBC) Working Group to further analyze the impact of incorporating investment income into the existing underwriting risk factors within the health RBC formula.
HPC Submits Comments on Colorado Senate Insurance Unfair Discrimination Bill
The Academy sent casualty, health, and life practice-area letters regarding Colorado Senate Bill 21-169, related to the legislation's stated purpose of prohibiting unfair discrimination in insurance. The letters, which included one on behalf of the Health Practice Council, express support for the elimination of unfair discrimination in insurance and focus on the potential impacts the bill would have on health insurance from an actuarial perspective.
ASOP No. 6 Practice Note Released
The ASOP No. 6 Practice Note Work Group released a finalized practice note, Actuarial Standard of Practice (ASOP) No. 6: Development of Age-Specific Retiree Health Cost Assumptions, Including Applications to Pooled and Non-Pooled Health Plans, to provide information on valuing retiree health benefit plans.
The practice note provides information about current or emerging practices for actuaries valuing retiree health benefit plans and, in particular, for those seeking information that may assist in their compliance with section 3.7.7 of ASOP No. 6.
Copyright © 2021 American Academy of Actuaries. All Rights Reserved.
1850 M Street NW, Suite 300, Washington, DC 20036
www.actuary.org

Phone: 202-223-8196