Casualty Quarterly, Winter 2020–2021
Winter 2020-2021
VOL 4 | NO 4

Q&A—The CPC Addresses Issues on Race & Insurance

CavanaughThe issue of race and insurance has risen to the forefront over the past historic year. The National Association of Insurance Commissioners (NAIC) created a new Special (EX) Committee on Race and Insurance, and the Academy wrote to the special committee in September offering assistance for its goals. Lauren Cavanaugh, vice president, casualty, presented to the special committee in November on the issue and testified before the National Council of Insurance Legislators' (NCOIL) Special Committee on Race in Insurance Underwriting in early December.
In her comments to the NAIC, Cavanaugh recommended consideration of independent organizations to examine and certify third-party data for hidden biases, accuracy, and relevance. She also described for commissioners and regulators several actuarial standards of practice (ASOPs) relevant to actuarial practice in areas being looked at by the special committee.
Casualty Quarterly did a Q&A with Cavanaugh on the issue that has risen to prominence.
In your first month as the new casualty vice president, you testified before NCOIL and the NAIC and submitted comments for a congressional hearing on business insurance in a pandemic. Did you expect to be this busy so soon?
It has certainly been a busy start! That said, the volunteers within the Casualty Practice Council (CPC), together with the Academy staff, make for an incredible team. All three comment letters and associated presentations reflect an extraordinary team effort and they all benefitted from work that the CPC had been doing before I became VP.
The NAIC and NCOIL both have launched initiatives to look at issues of race and insurance. Why is this topic coming up now?
There has been increasing attention on the availability and affordability of insurance for Black and brown Americans, especially in light of events that have unfolded this [past] year. This has prompted comments to regulators and legislators from various interested parties, and NAIC and NCOIL have both responded by launching initiatives to look into the issue further.
Property/casualty insurance—especially automobile insurance—seems to be a focus of attention. Why is that?
There has been a focus on automobile insurance premiums because it is directly linked to a household's transportation expenses and it is mandatory to hold such coverage. Given that affordability and availability of auto insurance has been a concern, especially within Black and brown communities, it is not surprising that this has been an area of focus.
Speaking for the CPC, what are you telling regulators and legislators?
There has been a lot of discussion surrounding "fairness" in insurance rates. We are reminding regulators and legislators of what actuaries consider when assessing equitable insurance rates—referencing our ASOPs and the Code of Professional Conduct. In addition, we are elevating the topic of data quality—with so much external data in use in rating, regulators could consider options to further regulate this data.
You have testified there is room for improvement when it comes to scrutiny of some external data used in predictive models. Can you elaborate on that?
As actuaries, we are keenly aware of the effect that data quality has on our conclusions. ASOP No. 23 requires us to review data for reasonableness and consistency, unless, in the actuary's professional judgment, such review is not necessary or practical. Oftentimes, there are practical limitations to what an individual actuary can do when reviewing external data.
Additional regulatory scrutiny on the use of such external data can help to ensure that the data that is relied upon in predictive models is properly vetted. One idea that has arisen in conversations is the concept that one or more independent third-party organizations could verify and certify external databases. Hidden or unintentional racial biases would be one of the things that such a third-party organization could look for.
In your testimony, you have suggested that there might be a role for independent certification of some external data, similar to how rating agencies evaluate bonds. How has this idea been received?
There is initial interest in this concept from regulators. Furthermore, there has been no pushback on this concept thus far, either from consumer groups or industry groups. We look forward to exploring this idea further with regulators, third-party data providers, insurers, and consumer groups.
If there is independent certification of external data, would that address some of the concerns over increasing use of predictive models?
There has been some skepticism raised by certain interested parties regarding whether there is enough transparency in the development of rates when predictive models are utilized. Concerns include whether there are biases or inaccuracies in the data feeding the models, whether there is bias in the way the models are developed, and whether the results indeed reflect expected costs. Certification of external data may help to alleviate some of these concerns.
COPLFR Releases Updated/Expanded COVID-19 FAQs
Following the first release in June, the Committee on Property and Liability Financial Reporting (COPLFR) released an updated and expanded edition of FAQs pertaining to P/C financial reporting and COVID-19. COPLFR developed both documents to assist appointed actuaries as they contend with the various uncertainties and challenges pertaining to loss reserving in light of the ongoing pandemic and related financial and regulatory developments.
Academy Submits Testimony to House on Pandemic Insurance
Casualty Vice President Lauren Cavanaugh submitted written testimony for the record on behalf of the CPC to the U.S. House Financial Services Committee's Subcommittee on Housing, Community Development, and Insurance on its hearing "Insuring Against a Pandemic: Challenges and Solutions for Policyholders and Insurers." The hearing looked at ways to address the issue of business interruption insurance protection in the event of future pandemics.
Cyber Risk Task Force Comments to Treasury Dept.
The Cyber Risk Task Force sent a letter to the U.S. Department of the Treasury responding to questions about the applicability of the Terrorism Risk Insurance Act (TRIA) in cases of cyber attacks that are aimed at targets outside the United States but cause insured losses within the U.S.
Coming Soon: P/C Loss Reserves Practice Note
The Committee on Property and Liability Financial Reporting (COPLFR) will release its annual Statements of Actuarial Opinion on P/C Loss Reserves practice note later in January.
The purpose of the practice note is to provide information to actuaries on current or emerging practices relevant to signing NAIC P/C statements of actuarial opinion (SAOs) and actuarial opinion summaries (AOSs).
It is intended to assist actuaries by describing practices that COPLFR believes are commonly employed in issuing SAOs and AOSs on loss and loss-adjustment expense reserves in compliance with the P/C Annual Statement Instructions for 2020 issued by the NAIC. Actuaries may also find this information useful in preparing SAOs for other audiences.
P/C Loss Reserve Law Manual Available for Order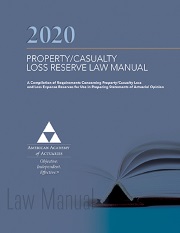 The Academy's P/C Loss Reserve Law Manual—updated annually—is available for order. Designed to help appointed actuaries know the requirements for statements of actuarial opinion, the manual contains a compilation of insurance laws relating to P/C loss and loss expense reserves for all 50 states, Washington, D.C., and Puerto Rico. Place your order today.
Academy Hosts Successful Virtual P/C Loss Reserve Opinions Seminar

Michelle Iarkowski presents at the Dec. 9 opening session
The Academy hosted a successful Seminar on Effective P/C Loss Reserve Opinions, held as a virtual event over four days in December. Sessions covered qualifications, reserve ranges, risk of material adverse deviation, the regulatory perspective, and responsibilities and record-keeping as presented in the upcoming annual P/C loss reserves practice note, among others. Interactive online discussions allowed participants to engage and ask questions of the presenters.
"I continue to be impressed with the quality of the presenters and the materials in this seminar. I have attended for several years and I am amazed at how good it was this year, even in the virtual format."
— 2020 attendee
Presenters were Jeffrey Carlson, chairperson of the Academy Opinion Seminar Subcommittee, Vice Chairperson Dawn Fowle, and subcommittee members Sue Gozzo Andrews, Caryn Carmean, Chuck Emma, Brandon Gilbert, Aaron Hillebrandt, Michelle Iarkowski, and Jim Leonard, along with Committee on Property and Liability Financial Reporting (COPLFR) Chairperson Kathy Odomirok and COPLFR member Derek Freihaut.
ASB Catastrophe Modeling Exposure Draft Comments Due Jan. 15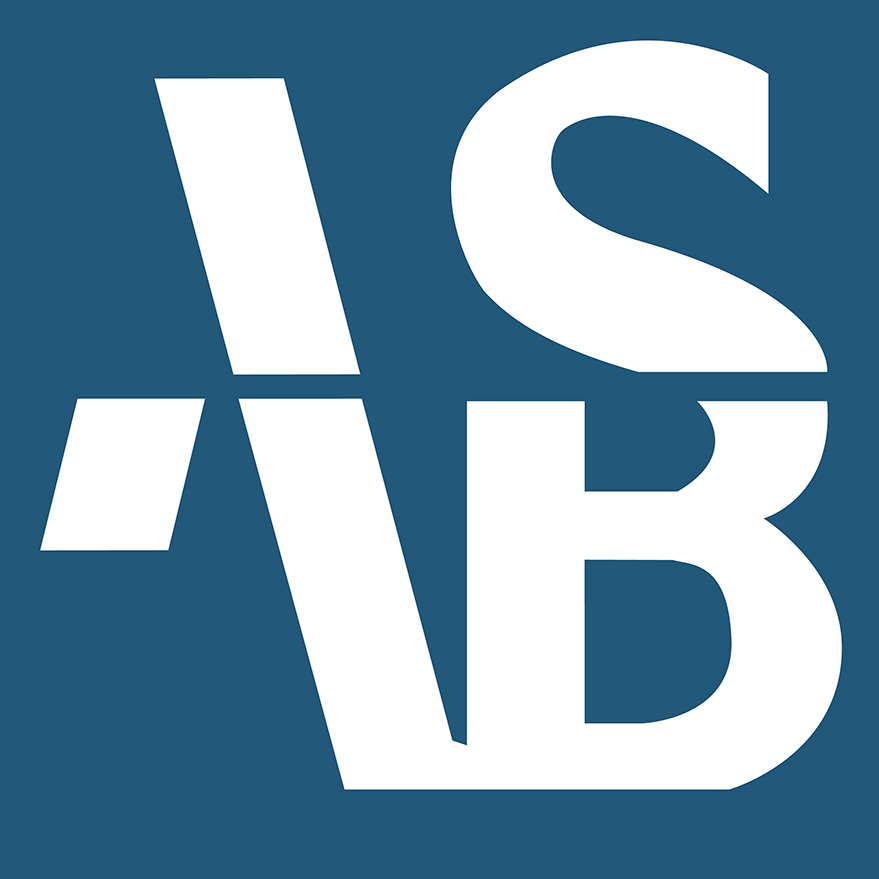 The Actuarial Standards Board (ASB) approved an exposure draft of a revision of ASOP No. 38, now titled Catastrophe Modeling (for All Practice Areas). The ASOP provides guidance to actuaries when performing actuarial services with respect to selecting, using, reviewing, or evaluating catastrophe models. The comment deadline for the third exposure draft is Jan. 15. Information on how to submit comments using the comment template can be found in the exposure drafts.
Professionalism Outreach Looks at P/C Issues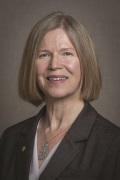 AckermanPenultimate Past President Shawna Ackerman provided a "Professionalism Update from the Academy" to the virtual meeting of the Casualty Actuaries of the Mid-Atlantic Region on Oct. 28. In the presentation, Ackerman reviewed recent developments in ASOPs, the exposure of the qualification standards that closed for comment on Oct. 30, discipline and counseling activity, and Academy professionalism resources.
Annual Meeting P/C Breakout Sessions
Property/casualty sessions at the Academy's Annual Meeting and Public Policy Forum—held in November in a virtual format—covered an array of timely topics.
Presumptive Benefits in Workers' Compensation: Emerging Issues Before and During COVID-19
Presumptive benefits were already an area of focus of policymakers with workers' compensation coverage, and then came the pandemic. In response to the COVID-19 outbreak, states and local jurisdictions have been extending benefits to first responders, health care professionals, and other essential workers.
This session explored the immediate effect of this shift and discussed the long-term implications. Panelists were Steve DiCenso, member of the Academy Workers' Compensation Committee, and Ann Gergen, executive director of the Association of Governmental Risk Pools. Dave Heppen, chairperson of the Workers' Compensation Committee, moderated.
In a session filled with relatable stories, DiCenso kicked off by level-setting—describing what presumption of benefits is and to whom it applies: "The injured worker must demonstrate that his or her injury arose out of and in the course of employment." From there, both panelists and Heppen discussed how the COVID-19 pandemic had altered the landscape for workers' compensation.
Front-line and essential workers—including health care, grocery, restaurant, and hardware supply employees—have begun to be covered in some states under presumption laws. At the time of the meeting and forum, 29 state governments had either issued executive orders or enacted or at least proposed legislation that pertains to presumptive coverage of COVID-19-related claims, DiCenso said. These orders or laws stem from concern over workers potentially being denied workers' comp benefits if exposed to COVID-19 on the job.
Gergen, giving attendees a ground-level look at workers' comp experience, said the assessment based on what she is hearing from a number of pools "is that they're getting very, very high rates of exposure, but relative low rates of infection, or of actual COVID-19." DiCenso concurred with that view, adding that "high rate of incidence, low rate of claims."
Cyber Risk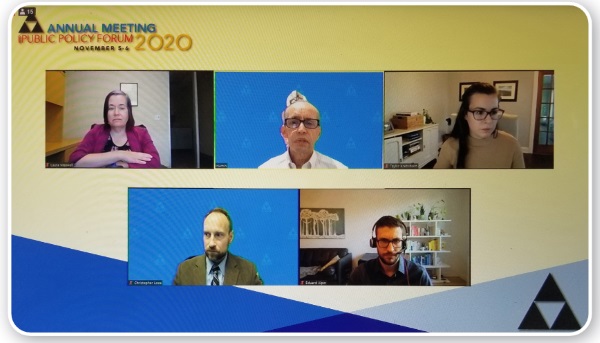 Cyber Risk presenters, clockwise from top left: Maxwell, Niami, Krebsbach Davis, Alpin, and Loza
Cyber coverage continues to grow, and the threat of cyber attacks or breaches continues to evolve. Our panelists—Laura Maxwell, Taylor Krebsbach Davis, and Eduard Alpin, all members of the Academy's Cyber Risk Task Force (CRTF), and Christopher Loza, Academy senior research analyst—gave an overview of cyber risk threat and possible solutions thereto. Norman Niami, chairperson of the CRTF, moderated.
After a thorough background by Maxwell that laid out the size of the cyber coverage marketplace, coverage definitions, and typical policy characteristics, Krebsbach discussed "silent cyber," or "unintentional, non-affirmative coverage of losses caused by cyber perils." She discussed two major types of silent cyber risk: unintentional coverage and unpriced coverage. Kresbach concluded by laying out recent, nascent developments intended to curtail the silent cyber threat.
After Alpin discussed some of the solutions and services that carriers and reinsurers use to price, underwrite, and manage exposure, Loza unveiled the Academy's new report—Cyber Breach Reporting Requirements: An Analysis of Laws Across the United States. A project of the CRTF, this report provides a systematic comparison of the existing regulations with respect to data breaches involving personally identifiable information across the states. No uniform national standards exist for notifying consumers and authorities of data breaches, Loza said.
The report concludes that variability among jurisdictions' statutes may make mitigation and prevention more difficult, raising losses due to cyber risk, requiring higher cyber coverage premiums—actuaries, insurers, regulators, and the public might benefit from increased harmonization.
Automobile Insurance: Recent Developments
Because of COVID-19, millions of workers stayed home, others were laid off, miles driven fell dramatically, the number of accidents dropped sharply, and insurers gave billions of dollars in rate rebates. Are these just temporary adjustments due to the pandemic or will we see long-term changes to the automobile insurance business?
Panelists in this session—including Alex Carges, former chief actuary, Root Insurance Company; Mark Jones, leader of the Advanced Analytics Team at PwC; and Jim Lynch, chief actuary with the Insurance Information Institute—offered their perspectives, with Greg Frankowiak, chairperson of the Academy's Automobile Insurance Committee, moderating.
Structured as an open exchange of ideas, panelists began with the obvious most pressing topic of COVID-19. Carges noted that while people are driving fewer miles as a result of the pandemic, that means there are fewer cars on the road as well, "and that is combining to shift the types of accidents we see." Lynch reported that while nearly 100% of consumers had received a premium break as a result of the pandemic-spurred reduction in miles driven, something on the order of 30% to 40% of them did not notice—perhaps indicating a communications issue.
Turning to telematics and usage-based insurance (UBI), Jones said that during this lockdown period, some carriers have shelved various initiatives—but "the projects that involved UBI and telematics are accelerating." Carges agreed, speaking of the ease on the consumer side in adopting the technology now, as opposed to even in the recent past.
Another important topic of the day is the potential for predictive model bias and disparate impact. Jones opined that "The biggest challenge to detecting disparate impact and model bias is that insurers typically don't capture most of the protected features to evaluate on vulnerable segments. … We capture relatively few protected features as insurers, so it makes it much harder to detect bias and to apply the methods that are known to the market."
CPC, COPLFR Update CASTF on P/C Initiatives
The Casualty Practice Council (CPC) and the Committee on Property and Liability Financial Reporting (COPLFR) presented updates on their respective recent work to the NAIC's Casualty Actuarial and Statistical Task Force (CASTF) in November, including comments made on pandemic risk insurance proposals, impact on workers' compensation and automobile insurance from COVID-19, and the new cyber breach reporting research. A preview was also provided of December's Seminar on Effective P/C Loss Reserve Opinions and the forthcoming 2020 practice note on Statements of Actuarial Opinion on P/C Loss Reserves and the P/C Loss Reserve Law Manual.
Copyright © 2021 American Academy of Actuaries. All Rights Reserved.
1850 M Street NW, Suite 300, Washington, DC 20036
www.actuary.org

Phone: 202-223-8196