Life Perspectives, Winter 2021
Winter 2021
Vol 4 | No. 1
Webinar Recaps LPC's 2020 Work, Looks Ahead to New Year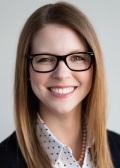 HansonIn the "Academy Life Practice Area: 2020 in Review/2021 Preview" webinar held on Jan. 13, Life Practice Council (LPC) volunteers recapped key life-practice actuarial issues from 2020 and previewed what to look forward to in 2021 and beyond from the LPC and the National Association of Insurance Commissioners (NAIC) including the NAIC's Life Actuarial (A) Task Force (LATF).

Moderated by Academy Life Vice President Laura Hanson, the presenters were LATF Chair Mike Boerner; Bruce Sartain, chair of the NAIC's VM-22 Subgroup; Ben Slutsker, chairperson of the Academy's Annuity Reserves Work Group (ARWG); Asset Adequacy Testing Task Force (AATTF) Co-Chairpersons Bill Sayre and Karen Rudolph, and Vice Chairperson Leslie Jones.
Boerner opened by recapping prominent 2020 life topics, including COVID-19-related requirements, the Model 805 Amendment, and deferring 2020 experience data collection to 2021. Other key issues were Indexed Universal Life (IUL) illustrations, updates on the timeline of the economic scenario generator, Valuation Manual (VM) amendments, VM-02 coordination with 7702, and principle-based reserving (PBR) yearly renewable term reinsurance solutions.
Boerner presented on COVID-19 related requirements, Indexed Universal Life (IUL) illustrations, Economic Scenario Generator development at the NAIC, Valuation Manual (VM) amendments, VM-02 coordination with the federal tax code, and a proposed PBR Yearly Renewable Term (YRT) Reinsurance solution.
Hanson covered recent Academy publications and resources, including:
She also noted forthcoming publications including the VM-21 Practice Note Addendum and the Life and Health Valuation Law Manual (see stories, this issue), the Life Illustrations Practice Note Addendum; a paper on the use of Big Data and algorithms in actuarial modeling and the impact on consumers; and frequently asked questions (FAQs) on changes to tax reserve calculations and reporting under the Tax Cuts and Jobs Act.
Hanson also cited planned Academy webinars on Long Duration Targeted Improvements and Disclosures for Generally Accepted Accounting Principles (GAAP) and said the LPC is planning two PBR Boot Camps this year—tentatively scheduled for June and the third quarter—following the success of the popular seminars in the past few years, including last year's virtual event.
Sartain and Slutsker gave updates on development of a VM-22 framework for a PBR non-variable annuity approach. While reviewing the NAIC VM-22 Subgroup's work last year, Sartain cited a "heavy reliance on the Academy work" related to PBR. He also laid out the plan for the subgroup for the early part of 2021.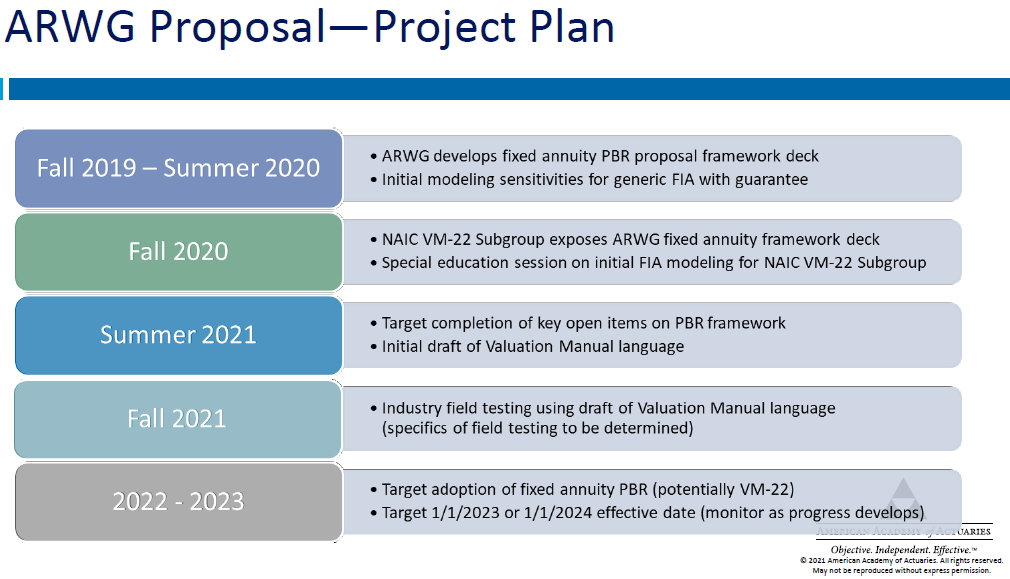 Slutsker noted the Academy's ARWG has put forward a proposal that outlines the framework for PBR stochastic reserves. He gave an overview of the ARWG's project plan, including past and future milestones heading into 2022–2023, and noted that the work group's scope has expanded for 2021 to also oversee principle-based capital and has been renamed the Annuity Reserves and Capital Work Group (ARCWG), which will oversee a C-3 Phase I Subgroup specifically working on capital.
Rudolph, Sayre, Jones, and Jackson gave an update on the Academy's AAT survey, results, and analysis. Jackson noted the survey was sent to almost all appointed actuaries and that about half responded. Most respondents said they did not anticipate making changes to liability assumptions due to current conditions, and the majority of those who said they did, said those were not related to COVID-19.
Slides and audio from the webinar are available to logged-in Academy members.
VM-21 Practice Note Supplement Released
The Life Practice Council's Variable Annuity Reserves & Capital Work Group released a practice note supplement on VM-21 to provide information to actuaries on current and emerging practices concerning the 2020 revisions to PBR and capital for variable annuities. It is intended to supplement the available actuarial literature in the area under discussion, and to assist actuaries with implementation of the revisions adopted by the NAIC as detailed in the Requirements for Principle-Based Reserves for Variable Annuities—2021 Edition of VM-21. Comments on the exposure draft are due by April 30, and can be sent to lifeanalyst@actuary.org.
Sold-Out Virtual LHQ Seminar a Success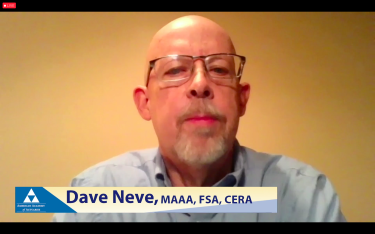 Dave Neve, a former Academy Life VP, leads a session The Academy hosted a successful and sold-out Life and Health Qualifications Seminar in November. Hosted virtually, the seminar was held for its 20th iteration; its interactive case-study breakout sessions have long been highly valued by attendees, with many returning every few years to brush up on skills.

Breakout "Zoom rooms" allowed for interactive discussions with session leaders. Attendees gained required basic education and continuing education to be qualified to sign NAIC Life and Health annual statements of actuarial opinion (SAOs), and a range of topics were discussed, including principle-based reserving, risk adjustment data validation, risk-based capital, and actuarial professionalism.
Incoming Actuarial Standards Board Chairperson Darrell Knapp, who presented and moderated several sessions, chaired the committee that organized this year's seminar.
Academy Presents to NAIC, NCOIL on Life Issues
Life Vice President Laura Hanson presented to LATF during the NAIC's Fall National Meeting, which was held in a virtual format. She briefed the task force on the Life Practice Council's recent activities and 2021 priorities.
Mary Bahna-Nolan submitted comments Dec. 10 to the NAIC's Special (EX) Committee on Race and Insurance on its life insurance workstream. Bahna-Nolan also presented from a life perspective to the National Council of Insurance Legislators' (NCOIL) Annual Meeting during NCOIL's Special Committee on Race in Insurance Underwriting's session.
Annual Meeting Life Breakout Sessions
Life breakout sessions at the Academy's Annual Meeting and Public Policy Forum—held in November in a virtual format—covered an array of timely topics.
Implications of the SECURE Act
The Setting Every Community Up for Retirement Enhancement Act (SECURE Act) was passed by Congress and signed into law in December 2019. This law contains provisions to strengthen the retirement system, some of which will have an immediate impact, while others will depend on whether employers implement them. Presenters discussed the implications of the SECURE Act on the life insurance industry and explored how the new law will impact defined contribution plans and annuities.
Presenters were Gregory Fox, Aon; J. Mark Iwry, nonresident senior fellow at the Brookings Institution; and Kerry Pechter, Retirement Income Journal. The moderator was Noel Abkemeier, co-chairperson of the Academy's Lifetime Income Risk Joint Committee.
Noting the SECURE Act was passed in December 2019, Iwry said "the aim of this legislation is to promote more retirement income in our system by encouraging 401(k)s to include annuities as an option that participants could choose." The law reflects a longstanding consensus that this is an important issue, confirmed with the bipartisan introduction of SECURE 2.0, which was introduced days prior to the breakout session. Sponsors of SECURE 2.0 have said they are seeking to reinforce the goal to encourage more Americans to think ahead and invest for retirement, while addressing some of the issues that came to light in the original act.
Beyond bipartisan support in Washington, the initiative has backing from both employees and employers, Fox observed. He also said that not surprisingly, most employees desire a way to save for retirement and that employers want to offer one, but several hurdles prevent them from acting, including fiduciary concerns, cost, complexity, and usage turnaround.
The panelists focused in on key issues they see as priorities, referred to as the lifetime income trio: ERISA fiduciary safe harbor for selection of annuity providers, lifetime income estimate disclosure requirement for 401(k) and other DC plans, and improved portability for annuities in 401(k) plans.
Panelists said the conversations happening now, both for employers and employees, are moving in the right direction but that it will likely take a couple of years to see the anticipated positive side effects. In the meantime, they opined, COVID-19 has taken the spotlight— lessening the willingness of employers to increase risk and employees to "give up their paycheck."
Effects of COVID-19 on the Life Insurance Industry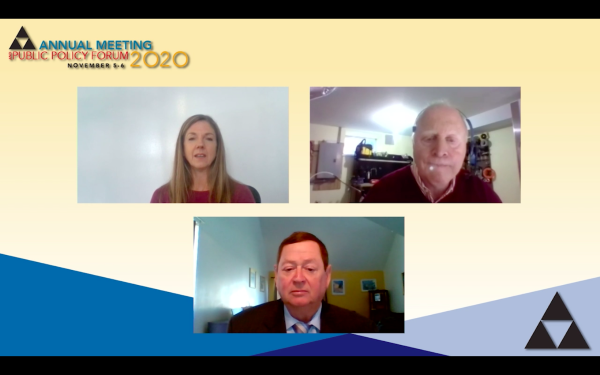 Matson (top left), Berg (top right), and Hansen during the COVID-19 & Life Insurance session's Q&A
The COVID-19 pandemic has impacted nearly every aspect of global business. While the long-term effects of this pandemic will take some time to reveal themselves, this session focused on what was currently known at the time of the impacts to the life insurance industry. Speakers were Eric Berg, Lehman; and George Hansen, A.M. Best. Tricia Matson, a member of the Academy's Life Practice Council, moderated.
Despite companies improving their enterprise risk management (ERM) programs in recent years, the ongoing pandemic has exposed certain weaknesses in companies' programs, panelists said. Given the global nature of the virus, combined with many high-density cities with international travel, companies are being challenged in all aspects of operational risk management. The pandemic further shows the need for strong capital, improved liquidity, and regular stress testing.
Along with operational risk, they discussed mortality concerns. Mortality from an insurance perspective is not a simple concern. Insurers expected the pandemic to hit everyone equally, but this has not been the case. There have been pockets of increased mortality, primarily among older age groups and the uninsured.
Further complicating the issue, many people put off elective procedures, perhaps causing their general health to decline. One of the biggest concerns that panelists stressed watching is commercial real estate loans. Other issues or areas to monitor include interest rates, exiting businesses, and the leisure and hospitality industry. The panelists noted the pandemic is not near its conclusion and that there remains much uncertainty.
Regulation Best Interest and Annuity Suitability Model
In recent years, the Securities and Exchange Commission (SEC) adopted the new Regulation Best Interest rule, the NAIC has adopted changes to the Suitability in Annuity Transactions Model Regulation (#275), and the New York State Department of Financial Services revised Insurance Regulation 187.
Panelists discussed the implications of these regulations on the life insurance industry and the actuary's role in complying with the regulations. Presenters were Skip Edmonds, LIMRA; and Deidre Downes, Prudential Financial. Linda Lankowski, vice chairperson of the Academy's Life Practice Council, moderated.
Both the SEC'S Regulation Best Interest (Reg BI) and the NAIC's Annuity Suitability Model (NAIC Model Reg) raise duty of care concerns. Until these recent regulatory actions, the common practice was a suitability standard.
Panelists agreed these regulations are meant to protect consumers while also encouraging them to invest more and are especially important with more consumers investing on their own. They also opined that with the rules imposing more paperwork, they may prove to be the opposite of consumer-friendly.
DOL's Employee Benefits Security Administration resurrected its proposed rule, and after a comment period this summer, panelists said they expected a quick turnaround and for the rule to be implemented. (Note: The rule was finalized in November and became effective Jan. 12.)
PBR Task Force Posts VM-31 Templates
The Principle-Based Reserving (PBR) Analysis Templates Task Force published six PBR templates to assist users when performing PBR analysis or preparing PBR Actuarial Reports required by the NAIC's Valuation Manual (VM-31).
Task Force Comments on ASOP No. 2 Proposed Revision
The Life Practice Council's ASOP No. 2 Practice Note Task Force submitted comments to the Actuarial Standards Board on the second exposure draft of the proposed revision of ASOP No. 2, Nonguaranteed Elements for Life Insurance and Annuity Products.
Work Group Comments on COVID-19 and Life Insurance
The Life Underwriting and Risk Classification Work Group sent a letter to the NAIC Life Insurance and Annuities (A) Committee on state regulatory and legislative actions taken as a result of the COVID-19 pandemic that impact underwriting for life insurance.