HealthCheck, Spring 2023
Spring 2023
VOL 14 | NO 2

Highlights From HealthCheck
Prefer to watch your news? Check out this "Highlights From HealthCheck" video for a quick recap of what you need to know.
Academy Offers Actuarial Perspective on Medicare Trustees Report
Following the release of the 2023 Medicare Trustees Report in late March, the Academy released several publications offering analysis of the annual report.
An Academy alert on both the Medicare and the Social Security trustees' reports relayed that the Medicare Hospital Insurance (HI) trust fund (Medicare Part A) is projected to have sufficient funds to cover its obligations until 2031, three years later than last year's report, with dedicated revenues covering 89% of HI costs at that time. Supplementary Medical Insurance (SMI) trust fund expenditures for Medicare Part B as a share of gross domestic product are expected to be lower than previously estimated in part due to lower projected spending.
Issue Brief Key Points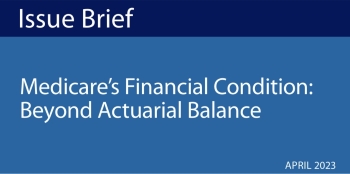 The Health Practice Council (HPC) released an issue brief, Medicare's Financial Condition: Beyond Actuarial Balance, focusing on the near- and long-term financing challenges facing the program and offering an actuarial perspective on the annual trustees report.
It notes that Medicare continues to face serious financing challenges:
HI trust fund income is not adequate to fund HI benefits; increases in costs to the SMI trust fund increase pressure on both beneficiary household budgets and the federal budget; and increases in total Medicare spending threaten the program's sustainability.
Changes are needed to improve Medicare's near- and long-term solvency and sustainability.
Delaying corrective measures would increase the burden that might be imposed on beneficiaries and taxpayers. Any changes aiming to improve Medicare's financial condition should be considered in light of how they would impact the program's ability to meet the health care needs of beneficiaries.
The COVID-19 pandemic continues to affect the trust fund projections and increases the uncertainty surrounding estimates.
Essential Elements Paper
The Academy also published an Essential Elements paper, "Medicare's Long-Term Sustainability Challenge," which lays out financial basics including where the program's funding comes from, where it's spent, and future shortfalls as projected in recent years' trustees reports. The Essential Elements series is designed to provide a quick and easy-to-understand overview of actuarial analyses of public policy issues for general audiences.
Webinar Examines Program Details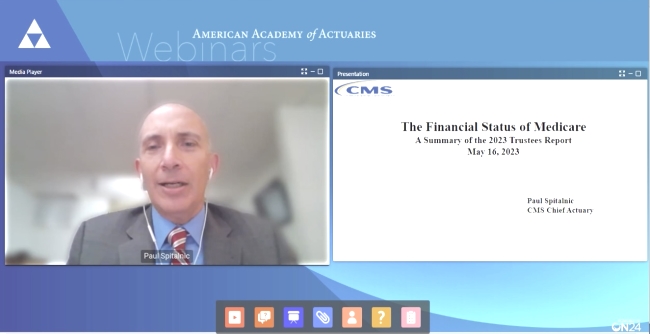 Spitalnic presents during the webinar
The Academy hosted a May 16 webinar, "Medicare's Financing Challenges and Options to Address Them," in which presenters discussed the latest trustees report's findings.
In the keynote presentation, Paul Spitalnic, chief actuary in the Centers for Medicare & Medicaid Services' (CMS) Office of the Actuary, covered the trustees report's key takeaways and went into detail on some of the report's modeling changes. In particular, he discussed what Medicare spending will look like moving out the COVID-19 pandemic.
Next, panelists discussed options for addressing Medicare program's short- and long-term financing challenges. Presenters were Bowen Garrett, senior health fellow with the Urban Institute; James Mathews, executive director, Medicare Payment Advisory Commission (MedPAC); and Marilyn Serafini, executive director of the Bipartisan Policy Center's Health Program. They discussed options for addressing Medicare program's short- and long-term financing challenges. Academy Senior Health Fellow Cori Uccello moderated.
Panelists agreed that policymakers should act sooner rather than later to address Medicare's financing challenges, as waiting will only increase the costs. For a complete summary of the webinar, click here.
Projected Medicare Spending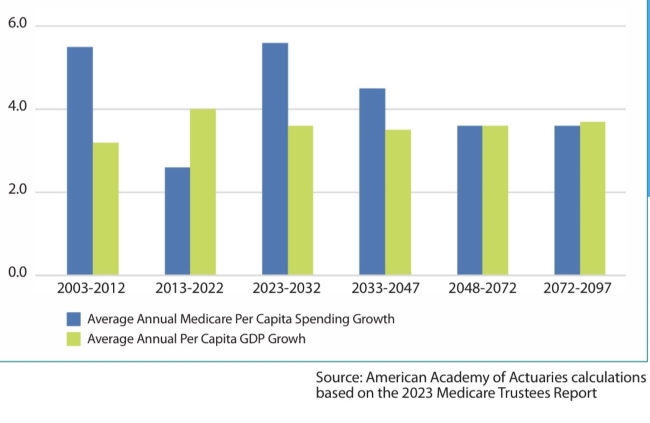 By the Numbers: Medicare Funding
HPC Holds 'Hill Visits' on Key Health Issues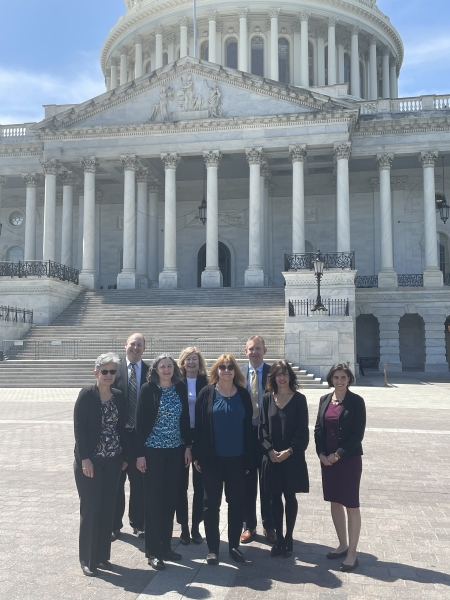 HPC volunteers at the CapitolHealth Practice Council (HPC) volunteers and Academy staff held their annual Hill visits with lawmakers, regulators, and policymakers on Capitol Hill and at federal agencies in the nation's capital in April. Through these meetings—as well as others held throughout the year—public stakeholders gain a greater understanding of the role of the Academy, the importance of the U.S. actuarial profession, and the unique actuarial perspective on many public policy issues.
As the public policy voice for the U.S. actuarial profession, the Academy undertakes "Hill visits" each spring with federal lawmakers and policymakers to develop relationships with and serve as a resource for public stakeholders.
HPC and Academy representatives met with officials from the Department of the Treasury; the Congressional Budget Office; CMS' Center for Consumer Information and Insurance Oversight (CCIIO); and staff of the Senate Finance Committee; the Committee on Health, Education, Labor and Pensions (HELP); the Special Committee on Aging; the House Committee on Education and the Workforce; and with staff from both Speaker of the House Kevin McCarthy and House Minority Leader Hakeem Jeffries.
"The HPC was grateful to be able to meet with so many federal agencies and congressional offices, and to talk about the important health issues the Academy has been working on," said Barb Klever, Academy vice president, health. "We hope to be able to follow up on these discussions, including at the Academy's annual meeting this fall, where we invite CCIIO representatives to offer updates on key health issues."
Colleen O'Malley Driscoll, Council on Professionalism and Education liaison to the HPC, added, "The Academy's Hill visits brought to life the mission of the Academy—objective, independent, and effective. Congressional staff clearly valued the actuarial perspective we shared during the meetings, asking many questions on health equity and health care policy."
HPC volunteers also met with officials from the White House, the Government Accountability Office, and the DOL's Employee Benefits Security Administration. They discussed Medicare and Medicaid; health insurance coverage; health equity; prescription drug costs; pharmacy benefit managers; the unwinding of the COVID-19 public health emergency; and public health and health care workforce issues, including at long-term care facilities.
They also met with the House Budget Committee, the Congressional Research Service (CRS), the Medicare Payment Advisory Commission (MedPAC), the Medicaid and CHIP Payment and Access Commission (MACPAC), and House Ways and Means Committee's health subcommittee staff. To learn more and get involved in public policy initiatives, visit the Academy website.
Webinars Look at NBPP Rule, Medicaid Funding
Academy health webinars looked at the recently released 2024 Notice of Benefit and Payment Parameter (NBPP) final rule, and Medicaid in the context of the public health emergency.
Subject matter experts from CCIIO joined Academy Senior Health Fellow Cori Uccello, who moderated the May 17 webinar, "2024 Final Rules for Exchanges." They examined the NBPP final rule and the 2024 final actuarial value calculator, released recently by CMS. Together these finalize standards for issuers and marketplaces and cover various aspects of health insurance in the individual and small group health insurance markets. Slides and an on-demand recording are available free as a member benefit.
HPC Medicaid Committee leadership—including Chairperson and Academy Board member Julia Lerche, who moderated—joined with outside experts for the March 14 webinar, "The Great Unwinding: What's Next for the Medicaid Population?" which examined the future of Medicaid as states plan to reinitiate Medicaid redeterminations for the first time since the start of the COVID-19 public health emergency (which ended on May 11). Slides and an on-demand recording are available as a member benefit for logged-in Academy members, as is a detailed recap.
The Group Life Waiver Valuation Table Work Group is joining the Society of Actuaries Research Institute (SOARI) on an SOA-hosted webinar June 9 to discuss tables and changes to Actuarial Guideline LXIV (AG 44) that were submitted to the NAIC last year and adopted at the NAIC Fall National Meeting in December. The work group and SOARI are working on an updated report, and presenters will discuss changes in group life waiver of premium claim recovery and mortality experience since the 2005 table was released, development of the 2023 table, and the new statutory valuation standard approved by the NAIC. Register here.
Academy Presents on Health Issues at NAIC Spring National Meeting
HPC volunteers presented at the NAIC's Spring National Meeting in Louisville, Ky., in mid-March. Academy Health Vice President Barb Klever provided an update on HPC activities to NAIC's Health Actuarial (B) Task Force (HATF).
Priorities for this year include health equity, COVID-19 and other public health challenges, insurance coverage and benefit design, health care costs and quality, Medicare sustainability, long-term services and supports, financial reporting and solvency, and professionalism.
Professionalism presentations included virtual updates to HATF by representatives of the ASB and the Actuarial Board for Counseling and Discipline (ABCD). Academy Past President and ABCD member Shawna Ackerman focused on the ABCD 2022 Annual Report. ASB Chairperson Rob Damler focused on Actuarial Standard of Practice (ASOP) Nos. 12 and 41, and offered information on life- and health-specific ASOP Nos. 10, 28, and 57.
Health Equity Committee Seeks Volunteers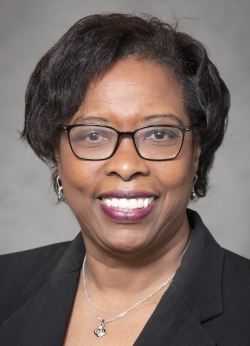 JamesThe Health Equity Committee, led by Chairperson and Academy Board member Annette James, has an ambitious agenda and needs health actuaries interested in contributing to its efforts.
Prospective volunteers don't necessarily need experience in health equity issues; rather, the committee is looking for those with experience in one of its areas of focus—health insurance benefit design, health plan pricing, provider contracting and network development, or population health management. It is also interested in people with expertise in data and algorithms.
Behavioral Health Task Force—The HPC is also looking for volunteers for a new task force or work group on behavioral health issues. Those interested in volunteering for either may contact Senior Health Policy Analyst Matthew Williams at williams@actuary.org.
DEI Committee Continues to Develop and Share Resources
Read more about the Academy's Diversity, Equity & Inclusion initiatives on the Academy's DEI webpage, which highlights work done by Academy committees and task forces tasked with working specifically on DEI-related issues, as well as work done more generally on these topics by the newly formed Board DEI Committee in support of the focus on reinforcing the importance of DEI in all the Academy's work.
Academy Participates in Senate Health Roundtable
Senior Health Fellow Cori Uccello participated in a March 28 informal roundtable discussion with the U.S. Senate Committee on Health, Education, Labor and Pensions (HELP).
The roundtable focused on complementary medicine—chiropractors, massage therapists, acupuncturists, and other forms of integrative medicine—and its costs and benefits, and whether and how such services are covered by health insurance. The roundtable was part of a series the HELP Committee is holding on various issues under its jurisdiction.
ASB Approves Health-Related ASOPs
The Actuarial Standards Board undertook recent actions regarding health-related actuarial standards of practice (ASOPs).
The ASB adopted a revision of ASOP No. 10, now titled U.S. GAAP for Long-Duration Life, Annuity, and Health Products.
The ASB adopted new ASOP No. 57, Statements of Actuarial Opinion Not Based on an Asset Adequacy Analysis for Life Insurance, Annuity, or Health Insurance Reserves and Related Actuarial Items. A conversion of Actuarial Compliance Guideline (ACG) No. 4, Statutory Statements of Opinion Not Including an Asset Adequacy Analysis by Appointed Actuaries for Life or Health Insurers, it applies to actuaries when performing actuarial services with respect to providing a statement of actuarial opinion for life insurance, annuity, or health insurance reserves and related actuarial items within the scope of the Statement of Actuarial Opinion, NAIC Life and Accident & Health/Fraternal Annual Statement (Blue Book), when the statement is prepared to comply with applicable law and is not based on an asset adequacy analysis because of an exemption.
Nominations Open for ASB Health Member—The Academy is accepting names for members interested in potentially serving as an Actuarial Standards Board (ASB) member—there will be a need to fill one position with a volunteer from the health practice area with service beginning Jan. 1, 2024. Submissions are also due by May 31. Email professionalism@actuary.org.
Early Registration Rates Available for LHQ Seminar
Register now to receive the best rates to attend the 2023 Life and Health Qualifications Seminar. This annual seminar is the best way to get basic education or relevant continuing education (CE) credit necessary to qualify to issue actuarial opinions for either the NAIC Life and Accident & Health (A&H) Annual Statement or the NAIC Health Annual Statement. The seminar will be held Nov. 6-9 just outside Washington, D.C. Early registration will end on July 31—register today to lock in your spot.
Copyright © 2023 American Academy of Actuaries. All Rights Reserved.
1850 M Street NW, Suite 300, Washington, DC 20036
www.actuary.org | Phone: 202-223-8196