Casualty Quarterly, Winter 2022

Q&A—New Issue Paper Looks at Wildfire Risk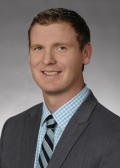 EvansThe Academy's Extreme Events and Property Lines Committee released Wildfire, an Issue Paper—Lessons Learned from the 2017 to 2021 Events, which updates and expands upon a June 2019 issue paper. It identifies and discusses key areas pertaining to wildfire risk after recent events in the Western U.S. placed a spotlight on how devastating wildfires can be to the general public, as well as the impact to insurers and reinsurers. Casualty Quarterly did a Q&A with committee member Dave Evans, who spearheaded work on the issue paper.
What new topics did the paper expand on and/or add from the previous 2019 issue paper?
We updated the wildfire data statistics and legislation section to make it current, but also made significant expansions and additions for key areas that are important to today's wildfire conversation. We further explored the evidence that climate change may be influencing wildfire behavior and expanded on wildfire mitigation options available to homeowners and communities. We also delved into how wildfire catastrophe models work.
With respect to wildfire catastrophe models, more insurers and reinsurers have been relying on them since 2019. It was therefore important to discuss the struggle between insurers and regulators in finding common ground on the use of catastrophe models in pricing. This is a particularly important issue in California, where wildfire models cannot be used to set overall rate levels in the admitted market. There has been a lot of discussion in California, in particular, around property insurance availability due to perceived rate inadequacy, and we found evidence that indeed consumers in wildfire-prone areas are more often having to leave the admitted market and turn to surplus lines and residual markets. These timely topics found their way into new discussions in our paper of catastrophe model regulation and insurance industry impacts to date.
The paper discusses how the past several wildfire seasons have broken records with how destructive they've been. Did 2021 continue with this trend?
Across the U.S., 2021 currently looks like an average or even below-average year as far as acres burned and structures destroyed. Per the National Interagency Fire Center, 7.1 million acres burned in 2021, slightly below the average of 7.5 million in the decade prior. However, the recent pattern of extreme fire behavior continued.
In California, the Dixie and Caldor fires became the first fires to burn on both sides of the Sierra Nevada. Each burned over 1,000 structures and finished in the top 20 most destructive wildfires in state history. The Dixie fire was the largest single/non-complex fire in California history. In Oregon, the Bootleg fire became the third-largest wildfire in the state since 1900. In Colorado, over 1,000 structures were destroyed by a wildfire in late December.
There will be up and down years in terms of how large and how destructive fires are relative to the average, but a recent trend we're seeing is the increase in extreme fire behavior based on when, where, and how intensely fires are burning.
Do you expect that insurers are withdrawing or will withdraw from the California homeowner's market in response to wildfires and concerns over their ability to achieve adequate rates in the market?
I can't speak to reasons for specific insurers completely exiting the market, but I do think there is clear evidence that California homeowners in wildfire-exposed areas are having major insurance availability issues.
Section IV of the paper presents evidence that these wildfire-exposed properties in California are being turned away from the admitted market and toward the surplus lines and residual markets. In general, when insurers in the admitted market are statutorily unable to support overall rate levels with catastrophe models and are unable to include the cost of reinsurance in their pricing, it creates disincentives to remaining in the market.
Are wildfire catastrophe models mature and ready for regular use in ratemaking? If so, are they being rolled out? Are they meeting any resistance?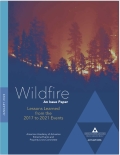 The paper notes that wildfire models are less mature than their hurricane and earthquake counterparts used in the industry today. This does not mean that wildfire models should not be used in ratemaking; it means that insurance company and regulatory actuaries need to be diligent in their use and cognizant of their limitations. The alternative to using wildfire models in ratemaking is to either not consider wildfire in pricing, or to rely only on historical experience. The former is becoming impossible in many states and the latter is often unreliable due to issues such as volatility, increases in exposure and the changing risk of wildfire hazard.
We also discuss hesitancy from regulators to accept these models in our paper, given that many of the models have not undergone a thorough regulatory review to date. Such a review would be costly and time-consuming for a single state, which is one of the reasons we note that an impartial national-level review of models may be the most efficient way to increase confidence in wildfire models. This is not just an issue for wildfire, as every state is exposed to at least one peril that insurers use catastrophe models to price.
In the legislative and regulatory section of the paper, you discuss at length the actions the state of California is taking to try and react and prevent the damage. Have other Western states, such as Colorado that has also had some recent wildfires, taken similar actions or followed California's lead?
There is not another state that has taken as many legislative actions related to wildfire and the insurance industry as California. Actuaries probably want to monitor other states, though, as those states simply had not seen the type of destruction that California had until recently. States to watch include Oregon (2020) and Colorado (2021), which each recently saw fires burn a substantial number of homes.
The recent (late December) Colorado wildfire you mentioned above seems to have occurred later than normal. Is the wildfire "season" broadening? If so, any thoughts on why that would be? And did this event make 2021 worse than prior years?
A broadening fire season is certainly an extreme behavior trend that may be unfolding before us. Our paper notes certain studies that show that climate change can make summers hotter and drier, and there is a lot of climate change research on the possibility of more extreme droughts leading to longer fire seasons.
Cyber Risk Toolkit Adds Two New Sections
The Cyber Risk Toolkit developed by the Casualty Practice Council's Cyber Risk Task Force (CRTF) has been updated since its original publication last year. The toolkit now includes a "War, Cyberterrorism, and Cyber Insurance" section and a "Cyber Risk Resource Guide." The toolkit will continue to be updated periodically to reflect new and emerging work from the CRTF.
Academy Comments on Colorado Insurance Discrimination Law
Academy President Maryellen Coggins sent a letter to Colorado Insurance Commissioner Michael Conway on that state's newly enacted law to protect consumers from unfair discrimination in insurance.
The statute, enacted last July, prohibits unfair discrimination based on certain personal characteristics—race, color, national or ethnic origin, religion, sex, sexual orientation, disability, gender identity, or gender expression—in any insurer practice.
The Colorado Division of Insurance is beginning to gather stakeholder input in advance of a rulemaking based on the new law. "It is our belief that we can continue to provide useful professional input as you work on the implementation of [the regulations]," Coggins wrote, adding that the comments relate generally to the property/casualty, health, and life practice areas, and also provide comments specifically to those practice areas. The letter follows practice-area letters sent to Colorado last year, including from the Casualty Practice Council.
Stakeholder Engagement Session
The Academy also participated in the Colorado Division of Insurance's Feb. 17 stakeholder engagement meeting on unfair discrimination in insurance practices. The meeting, chaired by Colorado Insurance Commissioner Mike Conway, was the first in a series of meetings whose ultimate goal is to implement the new law to regulate insurers that use external consumer data and information sources, algorithms, and predictive models. Although the law affects all lines of insurance, this engagement session focused on life issues.
COPLFR Releases Annual P/C Practice Note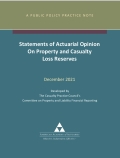 The Committee on Property and Liability Financial Reporting (COPLFR) released its annual practice note, Statements of Actuarial Opinion on Property and Casualty Loss Reserves. This year's practice note has been updated for issuing 2021 opinions in 2022. It is intended to assist actuaries by describing practices commonly employed by actuaries working on Statements of Actuarial Opinion (SAOs) on loss and loss expense reserves in accordance with the National Association of Insurance Commissioners' (NAIC) Property and Casualty Annual Statement Instructions and also contains considerations related to COVID-19. Actuaries might also find this information useful in preparing actuarial work products for other audiences.
Academy Hosts Successful P/C Loss Reserve Opinions Seminar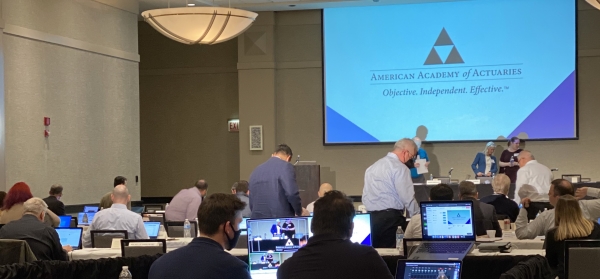 Attendees prepare for a session
The Academy in December hosted a successful Seminar on Effective P/C Loss Reserve Opinions—a two-day hybrid event, with in-person sessions held in Chicago—that provided participants with information on the requirements and instructions for P/C actuaries working on reserve opinions.
Sessions covered qualifications, reserve ranges, risk of material adverse deviation, relevant actuarial standards of practice, and responsibilities and recordkeeping. Interactive online discussions on case studies allowed remote participants to engage with and ask questions of the presenters.
Have You Ordered Your P/C Law Manual?
There's still time to order your copy of the updated Property/Casualty Loss Reserve Manual. Make sure you're current with the requirements—the manual is designed to help appointed actuaries know the NAIC Annual Statement requirements for statements of actuarial opinion. Plus, the manual is available in a variety of formats, including by jurisdiction, allowing you to select exactly what you need. Place your order today.
Annual Meeting & Public Policy Forum Features P/C Issues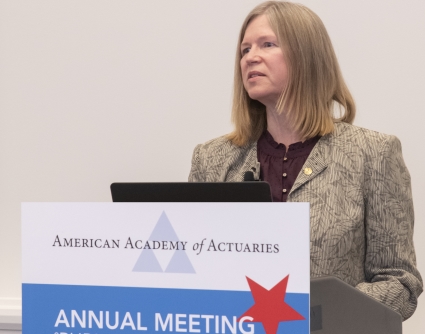 Past President Shawna Ackerman
moderates a P/C wildfire sessionThe Academy's Annual Meeting and Public Policy Forum, held Nov. 4–5 in the nation's capital as a hybrid event, covered property/casualty topics in both breakout and plenary sessions.
Academy Casualty Vice President Lauren Cavanaugh took part in a plenary session conversation on the pension P/C policy work in progress to advance diversity, equity & inclusion (DE&I). P/C breakout sessions were "Affordability in Automobile Insurance," "Wildfire: Still a Hot Topic," "Impact of Telehealth on Workers' Compensation."
For a complete recap of this outstanding event, including deep dives into the P/C breakout sessions, be sure to check out the Annual Meeting and Public Policy Forum supplement, published alongside the November Actuarial Update.
Issue Brief Released on Workers' Comp, Opioids, and COVID-19
The Workers' Compensation Committee's issue brief, The Potential Impact of COVID-19 on the Opioid Epidemic, outlines potential impacts to injured workers, employers, and insurers associated with the opioid epidemic, and explores the effects on these stakeholders before, during, and after the COVID-19 pandemic subsides.
It notes that in the height of the pandemic, injured workers lost access to key resources and guidance to prevent opioid dependency. Also, precautions for more hazardous industries were negatively impacted and insurers feared increased use of telemedicine could lead to more opioid prescriptions and less adherence to treatment programs.
The issue brief further notes that post-pandemic, if claims frequency rises, medical providers and claims adjusters could be challenged to manage opioid use disorder with the same focus.
P/C Public Policy Webinar Covers DE&I, COVID-19, Other Issues
The Academy's Dec. 16 webinar, "P/C Public Policy Update," looked at recent property/casualty issues, including insurance regulatory developments surrounding diversity, equity & inclusion at the National Association of Insurance Commissioners (NAIC) and with state insurance departments; P/C risk-based capital (RBC); the impacts of COVID-19 on medical professional liability exposure; and a discussion on the past, present, and future effects of the opioid epidemic on workers' compensation insurance.
Panelists were Medical Professional Liability Committee Chairperson Alison Milford, Property and Casualty Risk-Based Capital Committee Chairperson David Traugott, and Workers' Compensation Committee Vice Chairperson Derek Jones. Casualty Vice President Lauren Cavanaugh moderated and presented on the recent efforts of the Casualty Practice Council's (CPC's) Racial Equity Task Force, and Milford and Jones presented on their committee's recent publications, Medical Professional Liability: Considerations Stemming From the COVID-19 Pandemic and The Potential Impact of COVID-19 on the Opioid Epidemic (see story, above). Traugott gave a brief introduction to RBC and an overview on upcoming property and casualty RBC committee developments.
Slides and audio are available free to logged-in Academy members.
Racial Equity Task Force Comments on Race & Insurance
Casualty Vice President Lauren Cavanaugh presented in December to the NAIC's Special Committee on Race and Insurance (SCORI) Workstream 3 (Property and Casualty) on behalf of the Academy's Racial Equity Task Force (RETF) on the work RETF has completed and the ongoing efforts. She also provided comments on proxy discrimination and disproportionate impact.
Casualty Practice Council (CPC) Vice Chairperson Dee Dee Mays and Committee on Property and Liability Financial Reporting (COPLFR) Chairperson Derek Freihaut presented to the NAIC's Casualty Actuarial and Statistical (C) Task Force in December on behalf of the CPC and COPLFR on recent publications and future work products expected for release in early 2022.
Auto Insurance Committee Presents to NAIC P/C Committee
Senior Casualty Fellow Rich Gibson presented on Dec. 15 on behalf of the Automobile Insurance Committee to NAIC's Property and Casualty Insurance (C) Committee to provide considerations on the topic of automobile insurance refunds.
Copyright © 2022 American Academy of Actuaries. All Rights Reserved.
1850 M Street NW, Suite 300, Washington, DC 20036
www.actuary.org

Phone: 202-223-8196