Retirement Account, Winter 2016
Printer-friendly version

Winter 2016
EVENTS AND PRESENTATIONS
Webinar on Alternative Pension Cost Held
The Pension Practice Council (PPC) held a webinar on Nov. 16 titled "Alternative Pension Cost—An Update and Review of Implementation Issues" in which presenters recapped expense methodologies presented in a 2015 issue brief and reviewed additional content that will be summarized in two forthcoming pension issue briefs on the subject.
About 450 members attended the webinar, which was moderated by Ellen Kleinstuber, Pension Committee chairperson. The presenters included: Bruce Cadenhead, Pension Committee vice chairperson; Tim Geddes, vice chairperson of the PPC; and Pension Committee member Jerry Mingione.
PBGC's Reeder Presents at Academy Annual Meeting
Pension Benefit Guaranty Corporation (PBGC) Director Tom Reeder was a keynote speaker at the Academy's 2016 Annual Meeting and Public Policy Forum in Washington in November, and his address was televised live on C-SPAN2.
Reeder identified the financial situation for single-employer and multiemployer defined benefit (DB) pension plans, and expressed great appreciation for the Academy's new issue brief on the difficult choices ahead for multiemployer plans. (see "Issue Briefs" below) In talking about DB pension plans, Reeder said: "We can't turn our backs on those employers and those employees who have accrued those benefits. I think the DB plan is the best way to accrue lifetime income that you can't outspend and you can't outlive."
Hallmark Represents Academy at GAO Hearing
PPC Vice President Bill Hallmark represented the Academy at a daylong expert panel convened by the Government Accountability Office (GAO) on the state of retirement in America. The purpose of the panel discussion was to provide information to the GAO, which is likely to issue a report on the topic next year.
ISSUE BRIEFS
Issue Brief on Challenges Facing PBGC Multiemployer Program Released
The PPC published an issue brief in October that examines the PBGC multiemployer pension program.
The issue brief, Honoring the PBGC Guarantee for Multiemployer Plans Requires Difficult Choices, notes that the program that guarantees minimum benefits to multiemployer pension plan participants is projected to exhaust its assets within about eight years, and then beneficiaries and retirees receiving PBGC support could see their guaranteed benefits reduced by about 85 percent. There are no easy solutions, according to the issue brief, but doing nothing means that ultimately the PBGC guarantee will not be honored.
Pension Risk Transfer Issue Brief Published
The Pension Committee released an issue brief in October that explores risk transfers by defined benefit pension plans from the perspectives of plan sponsors, plan participants, regulators, and fiduciaries.
This issue brief does not offer a judgment about whether such transactions, on balance, enhance or detract from a retirement system. It instead seeks to provide a factual basis upon which such determinations may reasonably be made.
LEGISLATIVE AND REGULATORY
Intersector Group Releases Meeting Notes with Treasury, IRS, and PBGC
The Intersector Group released the notes from its September 2016 meeting with the Treasury Department and Internal Revenue Service in October as well as its notes from its September 2016 meeting with the PBGC.
PROFESSIONALISM
Comments on Risk Assessment and Disclosure ASOP Submitted
The Pension Committee, Multiemployer Plans Subcommittee, and Public Plans Subcommittee submitted comments in October to the Actuarial Standards Board (ASB) on the second exposure draft of the proposed actuarial standard of practice (ASOP), Assessment and Disclosure of Risk Associated with Measuring Pension Obligations and Determining Pension Plan Contributions.
The comments address ASB questions about risks and assessments, and state that ASOP No. 41, Actuarial Communications, should be amended to incorporate certain definitions and related disclosure provisions from ASOP No. 4, Measuring Pension Obligations and Determining Pension Plan Costs or Contributions.
Committee Offers Comments on Proposed Modeling ASOP
The Pension Committee submitted comments to the ASB in October on the third exposure draft of a proposed ASOP on modeling, and addressed several ASB questions on a modeling standard.
On a question about the scope of the proposed ASOP excluding "simple" models, which are defined in section 2.13, the committee wrote it believes that having a definition of a simple model is appropriate and extremely important in limiting the proposed ASOP's applicability. The committee also offered specific comments on several sections of the proposal and offered a variety of suggested clarifications for the ASB to consider.
IN THE NEWS
Bloomberg BNA and PlanSponsor.com covered the release of the PPC's issue brief on the PBGC multiemployer guarantee system.
Time and CNN Money ran stories on retirement planning that cited the Actuaries Longevity Illustrator, developed by the Academy and the Society of Actuaries, as a useful tool to help people understand longevity risk.
MoneyTips cited recommendations from the ASB's Pension Task Force report in a story that looks at retirement challenges, including the funding of state and local pension plans.
UPCOMING
Registration Opens for EA Meeting
Registration has opened for the Enrolled Actuaries Meeting on April 2–5, 2017, at the Marriott Wardman Park Hotel in Washington. The meeting, co-sponsored by the Academy and Conference of Consulting Actuaries, offers a variety of panels and workshops on many topics geared toward Enrolled Actuaries and other pension professionals. Register today or get more information here.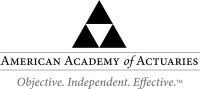 If you have any questions, suggestions, or comments about Retirement Account, please contact Monica Konaté, the Academy's pension policy analyst, at Konate@actuary.org .

PLEASE DO NOT REPLY TO THIS EMAIL. THIS EMAIL ADDRESS IS NOT MONITORED.
If you would like more information or to contact the Academy, please visit us at www.actuary.org/content/about-us

Follow the Academy on Facebook, LinkedIn, and Twitter.
Rather not receive Academy emails? Unsubscribe by emailing membership@actuary.org.
---
1850 M Street NW • Suite 300 • Washington, DC 20036 • 202.223.8196 • www.actuary.org
Copyright 2016 American Academy of Actuaries. All rights reserved.