This Week, April 22-26, 2019
Read the latest news from the Academy.

Recent Academy Activity, April 22–26, 2019
Health Webinar Features CCIIO Official, Covers 2020 Rate Filings
The Academy's Health Practice Council hosted a health webinar Wednesday, "A Conversation With CCIIO on 2020 Rate Filings," during which a representative of the Centers for Medicare & Medicaid Services' (CMS) Center for Consumer Information and Insurance Oversight (CCIIO) discussed changes to the 2020 unified rate review template (URRT) and instructions. Brent Plemons, deputy director in CMS/CCIIO's Rate Review Division, demonstrated changes to the URRT template and answered questions from attendees on a range of related issues, along with co-presenter Barb Klever, chairperson of the Academy's Individual and Small Group Markets Committee. Audio is available free for Academy members on the webinar page.
P/C Policy Webinar Covers Recent State, Federal Developments
The Academy's Casualty Practice Council hosted a webinar Tuesday, "P/C Public Policy Update—Spring 2019," which covered an extensive presentation on distracted driving, recent state and federal policy updates and professionalism topics. The presenters were Lisa Slotznick, vice president, casualty; Senior P/C Fellow Rich Gibson; and Roosevelt Mosley, chairperson of the Automobile Insurance Committee. Professionalism topics included NAIC initiatives on casualty actuaries' qualifications and credentials and the Actuarial Standards Board's exposed actuarial standards of practice (ASOPs) on modeling and assumptions proposals. Other topics covered included current developments on predictive modeling. Slides and audio are available free for Academy members.
Uccello Participates in Event Looking at Medicare Trustees Report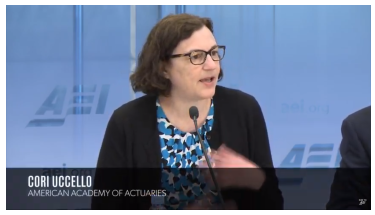 Academy Senior Health Fellow Cori Uccello participated in an American Enterprise Institute (AEI) panel on Tuesday looking at the future of Medicare, following the release of the 2019 Medicare Trustees Report a day earlier that showed that Medicare's Hospital Insurance Trust Fund would run out of funds by 2026. Uccello gave a general overview of some recent legislative proposals to expand public health insurance plans and their potential implications for Medicare and the health insurance system. Academy member Paul Spitalnic, chief actuary for CMS, gave the keynote address. C-SPAN2 is scheduled to air a recording of the event at 6:10 p.m. EDT today (Friday, April 26), or you can view the video on AEI's YouTube page. (Uccello's remarks begin after the 1:20:00 mark).
Uccello to Co-Chair Medicare Eligibility Study Panel
Also this week, the National Academy of Social Insurance announced that Uccello will co-chair that organization's newly formed Medicare Eligibility Study Panel, which will examine potential changes to Medicare eligibility and issue a final report of findings next year. Read the press release.
Reminder—May 1 Deadline to Nominate Academy Regular Directors
A reminder to members that next Wednesday, May 1, is the deadline to submit your recommendations for nominees as Academy regular Board of Directors members to be elected by the membership in an online election from a slate of candidates presented by the Nominating Committee. Review the criteria and how to submit nominations in the Academy's Board Election Center.
Professionalism Outreach
Actuarial Board for Counseling and Discipline (ABCD) member David Driscoll gave an overview of the ABCD at the New York City Office of the Actuary on Friday. The presentation described the role and processes of the ABCD, including how actuaries can get help through the request for guidance process in interpreting the Code of Professional Conduct and/or ASOPs.
Post-NAIC Life Webinar Set for May 10
Registration opened Friday for the Academy's "Life Post-NAIC Update" webinar, to be held on May 10 from noon to 1:30 p.m. EDT. Speakers will give an overview of key life insurance issues discussed at this month's NAIC Spring 2019 National Meeting in Orlando, including a recap of the NAIC's Life Actuarial Task Force meetings. This webinar is just two weeks away, so make sure to register now to gain a high-level look at relevant life insurance issues discussed during the meeting.
Recently Released
The spring Life Perspectives includes a Q&A with Principle-Based Reserves (PBR) Review Procedures Work Group Chairperson Randall Stevenson about an exposure draft of a new PBR-related practice note; the Academy's life presentations at the NAIC 2019 Spring National Meeting; coverage of the recent PBR Boot Camp; and legislative, judicial, and regulatory activity.
Alerts
The Social Security and Medicare Boards of Trustees issued their annual reports on the financial status of the Social Security and Medicare programs on Monday. The reports show that the Medicare Hospital Insurance (HI) Trust Fund will have only sufficient funds to cover its obligations until 2026, and that the combined retirement and disability programs of Social Security will have sufficient resources to fully cover benefits until 2035. Read the Academy alert.
Public Policy Activity
The Annuity Illustration Work Group submitted a comment letter to the NAIC's Annuity Disclosure (A) Working Group on proposed changes to the Annuity Disclosure Model Regulation #245.
Upcoming Events
In the News
Academy Senior Life Fellow Nancy Bennett discussed an emerging issue for life insurers of non-tobacco smoking risks in a subscriber-only Life Annuity Specialist story.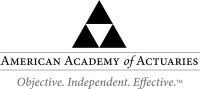 Follow the Academy on Facebook, LinkedIn, and Twitter.

---
1850 M Street NW • Suite 300 • Washington, DC 20036 • 202.223.8196 • www.actuary.org
Copyright 2019 American Academy of Actuaries. All rights reserved.