Academy releases Medicare and Social Security voters' guides

KEY POINTS

Voters' Guides

The 2012 Social Security and Medicare trustees' reports, released Monday, underscored—again—both programs' long-term financing challenges. Every candidate for national office should be prepared to address the long-term sustainability of both programs. To help voters understand the various proposals to reform these programs, the Academy has published these non-partisan resources on Social Security and Medicare.

A Guide to Analyzing the Issues: What Voters Should Know About Medicare—This guide provides essential information on Medicare, how it is funded, and the financial challenges it faces. The voters' guide also explains options that have been proposed to improve Medicare's financial condition so that voters can urge candidates or their representatives to advance concrete proposals that would address the program's long-term sustainability.

A Guide to Analyzing the Issues: Social Security Reform—This guide lays out many of the potential options for reforming Social Security, including the effects of current proposals on benefits and program solvency. The guide also provides questions that voters should ask when evaluating a candidate's specific reform proposal.

Both voters' guides have been added to the Academy's Campaign 2012 Toolkits, which are designed to provide members across all practice areas with the necessary tools to deliver objective information about key public policy issues. Along with the voters' guides, the toolkits also include sample slide decks, notes to assist with crafting public presentations, issue briefs, and other policy statements that can be handed out or used to enhance an actuary's presentation.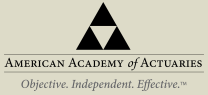 PLEASE DO NOT REPLY TO THIS EMAIL. THIS EMAIL ADDRESS IS NOT MONITORED.
If you would like more information or to contact the Academy, please visit us at www.actuary.org/aboutus.asp

Sign up to follow the Academy on Twitter.
Rather not receive Academy emails? Unsubscribe by emailing membership@actuary.org.
---
1850 M Street NW • Suite 300 • Washington, DC 20036 • 202.223.8196 • www.actuary.org
Copyright 2012 American Academy of Actuaries. All rights reserved.