Casualty Quarterly, Spring 2019

Academy Comments to NAIC Regarding 'Qualified Actuary' Definition on P/C Opinion Instructions

MillerMary D. Miller, former chief actuary of the state of Ohio and a past Academy president, sent two more comment letters on behalf of the Academy to the NAIC in February regarding qualifications and credentials. These are just the most recent written communications on this topic in which the Academy has been fully engaged over several years—including as recently as late March, when Miller participated in an NAIC telephonic hearing on the subject—to try to continue to support the importance of strong actuarial qualifications of basic education, experience, and continuing education that are all grounded in specific U.S. laws and practice. We believe it is only the Academy credential that provides all of those assurances to regulators.
In the most recent submissions, the first letter, to the Executive (EX) Committee's Ad Hoc commissioner group, pertains to the proposed changes of the Property and Casualty 2019 Actuarial Opinion Instructions, including the Ad Hoc Group's draft definition of "qualified actuary." The second letter, to the Casualty Actuarial and Statistical (C) Task Force (CASTF), is in regards to the CASTF's draft qualification and related documentation requirements.
Casualty Quarterly conducted a Q&A with Miller about the ongoing issue.
Why has the NAIC taken up the issue of qualifications and credentials for casualty actuaries?
This began when the Society of Actuaries (SOA) asked that its new GI track be recognized as equivalent to Casualty Actuarial Society (CAS) exams for providing an adequate basic education for Appointed Actuaries. CASTF felt it did not have enough information to make that determination, so an extensive process was begun to look at both syllabi by a consultant, WorkCred, that the NAIC retained to develop a process of evaluating the basic education for opining actuaries provided by both the CAS and the SOA.
What are the primary concerns from the Academy's perspective about the proposed definition of the qualified actuary?
As currently written, the proposed definition does not say an appointed actuary must be a member of the Academy. The Academy has long been the defining credential referenced in model NAIC laws, state laws and regulations, to identify a qualified actuary in Life and Health Opinion Instructions. We believe the definition should reference membership in the Academy because it is, and was created to be, the U.S. national association that establishes the standards of conduct, practice, and qualification for actuaries practicing in the U.S.
Have the NAIC's proposals evolved in response to comments from the Academy and others?
Yes, the NAIC has adopted many of the changes we suggested. For example, it originally had a list of over 100 knowledge statements the actuary was going to have to check off. Now the CAS and SOA are each mapping its syllabus to the knowledge statements and a group of actuaries is verifying the mapping for the NAIC. There are many other changes that have been made to the original proposals as a result of Academy and others' comments.
Your letters mentioned the Academy's P/C Opinion Writing Practice Note and the Seminar on Effective P/C Loss Reserve Opinions. How do these annual publications/events relate to the discussion of qualifications for P/C actuaries?
They are examples of how the Academy has developed extensive educational offerings and tools to support practicing actuaries who file or who want to file these statutory opinions. By our attention to detail and any yearly changes, regulators can have greater assurance that appointed actuaries have the necessary tools at their disposal in order to write quality opinions.
Why do you think the proposed definition of a "Qualified Actuary" as "an Academy member who meets the basic education, experience and continuing education requirements set forth in the U.S. Qualification Standards and has obtained an NAIC-accepted actuarial designation" is the best solution to this issue?
The Academy is the national association of the United States. The SOA and CAS are outstanding international educational societies, but they are very different than the Academy in their focus on basic actuarial education. Membership in the Academy brings regulators an assurance that the appointed actuary will be familiar with U.S. laws and practice because that requirement is a fundamental aspect of Academy membership, and it differs from membership in any other actuarial organization.
How can members stay abreast of the latest developments in this important issue?
The latest developments are usually posted on the NAIC website under the CASTF homepage: https://www.naic.org/cmte_c_catf.htm. The Academy publishes all our comment letters on its website as well and highlights them in the Academy's weekly newsletter This Week, and monthly publication Actuarial Update.
Richard N. Gibson Is the Academy's New Senior P/C Fellow

Gibson Richard N. Gibson, an actuary with more than 35 years of experience, was named the Academy's new senior property/casualty fellow in January. Gibson will communicate the Academy's work on casualty actuarial issues including cybersecurity, extreme events and climate risk, workers' compensation, medical professional liability, automobile insurance, and many more P/C issues to public policymakers and the public. He testified and presented at several events in late March (see stories, below).
"Rich brings an impressive depth of actuarial experience and leadership to the Academy's ongoing work on property/casualty issues," said Academy President Shawna Ackerman. "He will provide valuable insights in the discussions surrounding today's P/C public policy issues."
Gibson has nearly 40 years of actuarial experience, most recently as a consultant, during which he has worked on a diverse portfolio of insurance lines including homeowners', automobile, workers' compensation, specialty and commercial property lines. Before 2018, he served 14 years as chief actuary of Hallmark Financial Services, where he also was the company's appointed actuary.
From 2000 to 2003 he was an independent actuarial consultant. Earlier in his career, Gibson directed or managed actuarial services for several insurers, including the California State Automobile Association, TIG Insurance Company, Nationwide, Farmers Insurance Group, Allstate, and others.
Webinar Dives Deep on P/C Actuarial Opinion Report Writing
A Feb. 1 Academy property/casualty webinar explored how to write an effective P/C loss reserve opinion report. "P/C Actuarial Opinion Report Writing," hosted by the Academy's Committee on Property and Liability Financial Reporting (COPLFR), included a review of the actuary's responsibilities, NAIC instructions, and relevant actuarial standards of practice, and featured discussion of how clear communication and documentation of the actuary's work is handled in each report chapter.
COPLFR Chairperson Kathy Odomirok moderated, and the presenters—COPFLR member and Opinion Seminar Subcommittee Chairperson John Gleba, and subcommittee member Chuck Emma—offered insight on differences in writing the narrative and technical components of the report, what kind of data and disclosures support the report, and what is included in the report to help the intended readers understand and navigate it.
Presenters emphasized that actuaries understand their audience and provide pertinent background and historical information and details to help the reader navigate through the narrative and exhibits, while describing the process and steps along the way. "One of the most important feedback items we get from regulators is that organization is far more important than detail," Emma said.
Slides and audio are available without charge for Academy members.
Senior P/C Fellow Gibson Presents at Tulane on ACI; Testifies in D.C. on Auto Insurance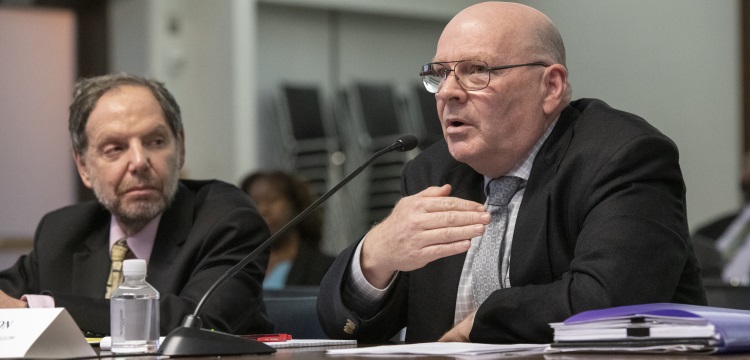 Gibson (right) presents in D.C. on March 25
Academy Senior P/C Fellow Rich Gibson spoke at a late March symposium at Tulane University in New Orleans, on climate change, and at a Washington, D.C., Department of Insurance, Securities and Banking (DISB) meeting on passenger automobile insurance.
At the Tulane Environmental Law and Policy Summit on March 23, Gibson—participating in a panel discussion—gave an overview of the Actuaries Climate Index (ACI), developed jointly in 2016 by the Academy along with the Society of Actuaries, the Casualty Actuarial Society, and the Canadian Institute of Actuaries. He also gave a status update on the Actuaries Climate Risk Index (ACRI), still being developed in conjunction with the ACI project and currently undergoing peer review.
"Rising sea levels and more frequent high temperatures are sustaining the long-term trend of higher ACI values," Gibson said, reaffirming the latest ACI data results released in November.
At the D.C. DISB presentation on March 25, Gibson gave an overview of the work of the Academy's auto-insurance-related committees and task forces, including the Casualty Practice Council's (CPC) Automobile Insurance Committee and the Risk Management and Financial Reporting Council's Data Science and Analytics Committee. He also cited the Academy's June 2018 monograph, Big Data and the Role of the Actuary, and the CPC's January comments to NAIC's Casualty Actuarial Statistical Task Force (CASTF) on CASTF's recent draft white paper on predictive modeling (see story, below).
COPLFR Releases P/C Loss Reserves Practice Note
The Academy's Committee on Property and Liability Financial Reporting (COPLFR) released the Statements of Actuarial Opinion on Property and Casualty Loss Reserves practice note, which provides information to actuaries on current or emerging practices relevant to signing NAIC P/C statements of actuarial opinion (SAOs) and actuarial opinion summaries (AOSs). It is intended to assist actuaries by describing practices that COPLFR believes are commonly employed in issuing SAOs and AOSs on loss and loss-adjustment expense reserves in compliance with the P/C Annual Statement Instructions for 2018 issued by the NAIC. Actuaries may also find this information useful in preparing SAOs for other audiences.
Academy Comments on NAIC's Predictive Modeling White Paper
Academy Senior P/C Fellow Rich Gibson submitted comments to the NAIC's Casualty Actuarial and Statistical Task Force (CASTF) regarding CASTF's proposed white paper on regulatory review of predictive models. The letter posed thoughtful questions to the task force; identified areas in the paper where additional clarification may be needed; mentioned some valuable Academy resources to consider including as part of the best practices, such as actuarial standards of practice (ASOPs); and reiterated the Academy's commitment to work with the task force in developing an appropriate review process for regulators.
"Though predictive analytics is still in its early stages of use in insurance ratemaking, benefits are being realized," the letter states. "Along the way, the insurance industry has committed resources to fund and staff the development of predictive analytics projects. Actuaries have played a central role in this development."
P/C Loss Reserve Manual Available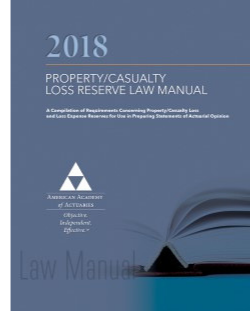 The Academy's law manuals, updated each year, are designed to help appointed actuaries know requirements relevant to their work. The newly released Property/Casualty Loss Reserve Law Manual contains a compilation of insurance laws relating to P/C loss and loss expense reserves for all 50 states, Washington, D.C., and Puerto Rico. Order today.
Copyright © 2018 American Academy of Actuaries. All Rights Reserved.
1850 M Street NW, Suite 300, Washington, DC 20036
www.actuary.org

Phone: 202-223-8196