Editor's Note: Today's issue of This Week will be the last of 2016; the next issue will be published on Jan. 6.
Regulator-Only Professionalism Breakfast Highlights Academy's Activity at NAIC Meeting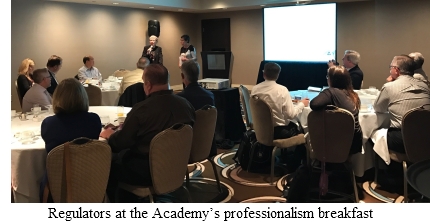 Past Academy President Mary D. Miller, Actuarial Board for Counseling and Discipline (ABCD) Chairperson Janet Fagan, and Actuarial Standards Board (ASB) Chairperson Maryellen Coggins presented professionalism updates to the NAIC life, health, and casualty actuarial task forces at the NAIC Fall 2016 National Meeting in Miami earlier this month. The presenters, joined by Committee on Qualifications member Tom Campbell, also presented at the always well-attended regulator-only professionalism breakfast on Dec. 10 and invited candid conversations.
The Academy released an alert recapping key issues from the NAIC meeting, including risk-based capital, professionalism, principle-based reserving, as well as the release of the Actuaries Climate Index.
Two post-NAIC webinars will recap life and property/casualty issues from the NAIC meeting. The Life Practice Council webinar will be held on Thursday, Jan. 5, 2017, from 1:30 to 3 p.m. EST (please note time change). The Casualty Practice Council webinar will be held on Thursday, Jan. 26, from noon to 1 p.m. EST; more details will be forthcoming.
ABCD Unveils Revamped Website
The ABCD website has been upgraded to provide a more user-friendly experience, including information about guidance, requests for speakers, and the ABCD complaint process.
Capital Adequacy Assessment Exposure Draft Open for Comment
The exposure draft of a proposed new actuarial standard of practice (ASOP), Capital Adequacy Assessment for Insurers, is open for comment through Jan. 31, 2017. The proposed ASOP will apply to actuaries involved in capital adequacy assessment work for life or health insurers, including fraternal benefit societies and health benefit plans, property and casualty insurers, mortgage and title insurers, financial guaranty insurance companies, complex insurance organizations, and similar organizations.
Upcoming Events
See our website for a listing of all Academy events.
Preorder Your Copy of the P/C Loss Reserve Law Manual
Recently Released
Alerts
Public Policy Activities
In the News
Note: Some links in this email go to external websites and may require registration. The Academy is not responsible for the content of these websites. Links may expire.