This Week, May 11 – 15, 2020
Read the latest news from the Academy.

Recent Academy Activity, May 11–15, 2020
Nominations Open for Academy's Distinguished Service and Volunteerism Awards
Nominations are open for the Academy's 2020 distinguished service and volunteerism awards. During the COVID-19 pandemic, volunteerism across the country has grown exponentially, and the Academy's volunteers have been no exception, with volunteers continuing to focus on our mission to serve the public and the U.S. profession. Now is an excellent time to support the recognition of a fellow actuary who has made a difference through public service, or on behalf of the U.S. actuarial profession, by nominating him or her for one of the Academy's prestigious service and volunteerism awards:
The deadline for nominations is June 26, and the award recipients will be recognized during the Academy's 2020 Annual Meeting and Public Policy Forum on Nov. 5–6.
Register with confidence: The Academy now has cancellation policies in place to accommodate any necessary change to your in-person registration resulting from a continuation of the current pandemic situation.
Issue Brief Released on Risk Mitigation and COVID-19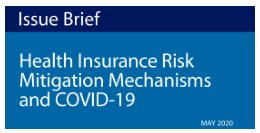 The Health Practice Council released an issue brief Friday, Health Insurance Risk Mitigation Mechanisms and COVID-19, which notes the coronavirus pandemic is affecting the U.S. health system in numerous ways, many of which will have downstream effects on health insurers and group health benefit plans, and ultimately on health insurance premiums.
"The issue brief provides a primer on the different types of health insurer risks and risk mitigation mechanisms and examines whether these mechanisms can mitigate increased insurer uncertainty arising due to COVID-19," said Cori Uccello, the Academy's senior health fellow and primary drafter of the issue brief. "Depending on how they are structured, risk mitigation mechanisms such as risk corridors could help address the increased uncertainty health insurers face due to COVID-19. But they won't address other risks in the health system such as declining provider revenues and increased pressures on state Medicaid programs."
Register for Monday's Webinar on COVID-19, Rate Filings
Join the Academy for a webinar Monday on "ACA Rate Filing and Risk Adjustment in the Time of COVID-19: A Discussion with Federal and State Regulators." The regulators—including from the federal Center for Consumer Information and Insurance Oversight (CCIIO)—will discuss the potential effects of the coronavirus pandemic and the prospective impact of COVID-19 on 2021 rate filings, 2020 reporting requirements, and risk adjustment issues for individual and small group plans. Speakers will also discuss the final Notice of Benefit and Payment Parameters (NBPP) for 2021, which was released on May 7 by the Centers for Medicare & Medicaid Services. There will be ample time for Q&A. Speakers will be David Shea, past Academy health vice president and currently health actuary with the Virginia Bureau of Insurance, and CCIIO's Brent Plemons and Allison Yadsko. Academy Senior Health Fellow Cori Uccello will moderate. The webinar will be held May 18 from noon to 1:30 p.m. EDT. Register today.
CPC Comments on Pandemic Reinsurance Proposal
The Casualty Practice Council submitted comments to the U.S. House of Representatives Financial Services Committee on a proposed Pandemic Risk Reinsurance Program. The letter urges committee members to consider specific challenges that would be posed by adding coverage of pandemic risk to business interruption (BI) policies through a commercial insurance approach.
"Pandemic risk is more similar to the catastrophic risks covered by programs like the Terrorism Risk Insurance Program and the National Flood Insurance Program than to risks normally insured by the commercial insurance market, and any new federal program seeking to facilitate pandemic risk coverage should reflect that difference," said Lisa Slotznick, Academy vice president, casualty. Read the Academy news release.
Updated Academy Interest Rate Generator and FAQ Paper Released
The annual update to the Academy's Interest Rate Generator (AIRG), which is used in regulatory reserve and capital calculations, is now available. Version 7.1.202005 updates the AIRG with historical yield curves through December 2019. The scenario numbers of subsets generated by the internal picking tool assume a Dec. 31, 2019, start date. In addition, the National Association of Insurance Commissioners Mean Reversion Point (MRP) is updated accordingly. Read the Academy alert.
Recently Released
The Spring StateScan Quarterly recaps the latest quarter's state legislation and regulation, with 15 of 33 scheduled state and D.C. legislatures temporarily adjourned due to the ongoing coronavirus pandemic, and the other 18 legislatures actively convened in session. Six states are convening temporarily to consider COVID-19-related legislation; lawmakers have largely shifted focus on introducing and considering legislation responding to the social and economic effects of the COVID-19 pandemic. For a more comprehensive look at state legislative and regulatory activity, log in to the StateScan portal, free for Academy members.
Register for the Third of the Academy's Three-Part Retirement Webinar Series
Register now for the last installment of the Pension Practice Council's three-part webinar series on retirement in America, to be held after Memorial Day. "Part Three: Focus on Private-Sector Plans, State Initiatives, and Opportunities to Expand Coverage" will focus on retirement plans sponsored by private-sector employers, the new state-mandated initiatives that are being implemented to increase access and enhance employees' ability to save for retirement, and public policy opportunities that could further increase Americans' retirement security. The webinar will be held on Wednesday, May 27, from noon to 1:30 p.m. EDT. Register today.
Public Policy Activity
Upcoming Events
In the News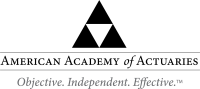 If you would like more information or to contact the Academy, please visit us at www.actuary.org/content/about-us
Follow the Academy on Facebook, LinkedIn, and Twitter. Listen to our podcast.
---
1850 M Street NW • Suite 300 • Washington, DC 20036 • 202.223.8196 • www.actuary.org
Copyright 2020 American Academy of Actuaries. All rights reserved.