This Week, June 1–5, 2020
Read the latest news from the Academy.

Recent Academy Activity, June 1–5, 2020
Statement About Recent Events From the Academy
We want to take a moment to mark the protests that have taken place since the murder of George Floyd in Minneapolis. Combined with the disparity in how COVID-19 has affected communities of color, recent events reflect poorly on our country's commitment to equality for all. The Academy stands resolutely with those who value equality and inclusion, both within the profession and in society at large. We condemn racism and encourage our members to stand up for equal justice for all, and to oppose all forms of racism, discrimination, and bias whenever you encounter them.
D. Joeff Williams, President
Deadline This Month—Nominations for Academy's Service and Volunteerism Awards
The deadline is this month to offer nominations to support the recognition of an Academy member who has made a difference through public service, or has demonstrated an enduring contribution to the U.S. actuarial profession, by nominating him or her for one of the Academy's annual prestigious service and volunteerism awards:
In addition to these two singular awards, the Academy also recognizes members annually who have made a difference through their volunteer work:
The Outstanding Volunteerism Awards honor Academy volunteers who have made noteworthy contributions during this past year. The Academy recognizes the exceptional efforts of volunteers across all practice areas for their work in public policy and professionalism. Nominate a member here.
The deadline for nominations is June 26, and the award recipients will be recognized during the Academy's 2020 Annual Meeting and Public Policy Forum, set for Nov. 5–6 in Washington, D.C.
Academy Continuing to Update COVID-19 Resources Webpage
The Academy is continuing to add pertinent information about the ongoing coronavirus pandemic to our "COVID-19 Resources" webpage. New links are noted each week with a "NEW" designation, highlighted in yellow. This week's new entries under "Legislative Actions and Congressional Resources" include the GAO on COVID-19 vaccine development, CBO preliminary cost estimate of the CARES Act, and CBO cost estimate of the Families First Coronavirus Response Act. Academy members may use this form to suggest additions to the resources page or FAQs on COVID-19, potential webinar topics, or other issues we might want to investigate on the pandemic. Visit the webpage at actuary.org/coronavirus.
Public Employment Opportunity
The U.S. Department of Defense (DoD) Office of the Actuary is seeking an actuary to work in its Alexandria, Va., office. The DoD Office of the Actuary provides actuarial expertise on all matters relating to military compensation and benefits. Among other duties, this role will be responsible for:
Providing expert advice and assistance to the DoD chief actuary in support of the undersecretary of defense (personnel and readiness) on all actuarial matters bearing on the current, proposed, or alternative DoD military personnel benefit programs; and

Applying professional actuarial principles and techniques in the analysis, evaluation, and projection of data with heavy emphasis on pension, survivor benefits, retiree health care, education benefits, and other employee benefit plans.
The position notice is open through Monday, June 8. For more information and to apply, see the job description at USAJobs.
The Academy has long supported government employers who are seeking to hire qualified actuaries. See our Public Employment Opportunity Posting Policy for more information.
Alert
The U.S. Supreme Court issued a decision in Thole v. U.S. Bank NA, ruling the plaintiffs did not have standing to bring claims of mismanagement of the workers' U.S. Bank pension plan, establishing that in the specific circumstances of this case, pension fund mismanagement claims were not valid because the participants had not suffered an injury because their benefit payments were not reduced or altered and they therefore lacked "standing" to bring the claims. Read the Academy alert.
Public Policy Activity
The Cyber Risk Task Force sent comments to the Government Accountability Office regarding cyberattacks and the Terrorism Risk Insurance Act.
Upcoming Events
In the News
A Politico daily cybersecurity newsletter cited the Academy's comment letter to the Government Accountability Office regarding cyberattacks and the Terrorism Risk Insurance Act.

The Wall Street Journal cited the Academy's Pension Assistance List (PAL) program, which provides professional services to consumers who have questions about their pension plans.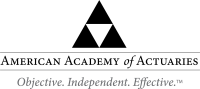 If you would like more information or to contact the Academy, please visit us at www.actuary.org/content/about-us
Follow the Academy on Facebook, LinkedIn, and Twitter. Listen to our podcast.
---
1850 M Street NW • Suite 300 • Washington, DC 20036 • 202.223.8196 • www.actuary.org
Copyright 2020 American Academy of Actuaries. All rights reserved.