This Week, July 1-12, 2019
Read the latest news from the Academy.

Recent Academy Activity, July 1–12, 2019
Editor's Note: There was no This Week last week due to the July 4 holiday. This week's issue covers the past two weeks of Academy activity.
National Retirement Policy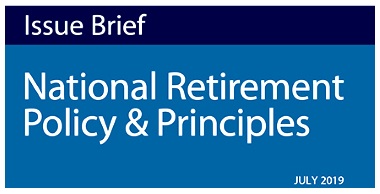 An Academy issue brief released Friday, "National Retirement Policy & Principles," explores what a cohesive national policy framework for the U.S. retirement system could look like. "A national retirement policy framework would aim to provide a more coordinated and inclusive system that helps more people better prepare financially for retirement, as opposed to the piecemeal approach that exists today," said Eric Keener, chairperson of the Academy's Retirement System Assessment and Policy Committee, whose members authored the issue brief. "If policymakers decide to pursue a national framework, they'd need to address familiar challenges to retirement security, as well as weigh the benefits, complexities, and costs of establishing a new framework." Read the news release.
Take the 2019 Annual Volunteer Survey
With close to 20,000 members, the Academy appreciates the active participation of its more than 1,000 volunteers from all practice areas who lend their skill, knowledge, and experience to our work on public policy issues and professionalism. All members are being invited to complete the Academy's Annual Volunteer Survey, sent this week via email. The survey is also available in the members-only section of the Academy website through Friday, July 26.
July 25 Professionalism Webinar to Look at Big Data
Join the Academy later this month for "Big Data: Professional Standards Provided by Actuaries and New Research on Regulatory Views," for the latest information on current and emerging developments, regulatory issues, and the advantages professionalism brings to actuaries. The presenters, Academy Past President Bob Beuerlein, President Shawna Ackerman, and Data Science and Analytics Committee Chairperson Dorothy Andrews will address these topics and more. The webinar will be held July 25 from noon to 1:30 p.m. EDT. Register today.
Pension Webinar to Look at Expected Return Assumptions
The Pension Practice Council will host a webinar at the end of the month, "Developing Return Expectations in Today's Capital Markets—What Methods Work Now?" The webinar is intended to support actuaries directly responsible for assumption recommendations, or in assessing recommendations or resources provided by other parties. Panelists will be Evan Inglis, a member of the Public Plans Committee; and Jerry Mingione, a member of the Social Security Committee. Senior Pension Fellow Linda K. Stone will moderate, and continuing education credit will be available. The webinar will be held on July 30, from noon to 1:30 p.m. EDT. Register today.
Recently Released
The July HealthCheck covers the Individual and Small Group Markets Committee's recent issue brief on 2020 health insurance premium drivers; several Health Practice Council committees' joint presentation at the Society of Actuaries Health Meeting in Phoenix; a new Essential Elements paper on high-performance networks; and legislative and regulatory activity including oral arguments on the Texas v. Azar case regarding the Affordable Care Act.
Public Policy Activity
Senior P/C Fellow Rich Gibson is presenting late Friday on factors influencing automobile insurance rates at the National Council of Insurance Legislators' summer meeting in Newport Beach, Calif.

The Life Practice Council submitted a comment letter to the Actuarial Standards Board, outlining its recommendations on the second exposure draft of the proposed actuarial standard of practice (ASOP), Setting Assumptions. The Casualty Practice Council also commented on the proposed ASOP.

The Current Estimate Credit Losses Work Group released a white paper on estimating the uncollectible reinsurance reserve for property and casualty companies.
Upcoming Events
In the News
A Washington Examiner article cited comments from Academy Senior Health Fellow Cori Uccello on the possible impact of a final rule on health reimbursement arrangements on employers' decision-making regarding the insurance they offer to employees.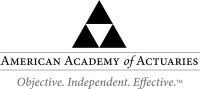 Follow the Academy on Facebook, LinkedIn, and Twitter.

---
1850 M Street NW • Suite 300 • Washington, DC 20036 • 202.223.8196 • www.actuary.org
Copyright 2019 American Academy of Actuaries. All rights reserved.