This Week, September 21–25, 2020
Read the latest news from the Academy.

Recent Academy Activity, Sept. 21–25, 2020
Issue Brief Addresses COVID-19's Effect on Pension Plans
The Pension Committee released an issue brief considering the near-term and long-term effects of COVID-19 on pension plans, including mortality and other assumptions. Key points include uncertainty about near-term and assumed long-term future mortality; effects on the economy, workforce patterns, and plan sponsors' budgets; and as plan experience and medical research unfold, actuaries being able to incorporate this information as they consider both short- and long-term effects on actual plan experience and future economic and demographic assumptions.
JBEA Seeks Applications for Advisory Committee on Actuarial Examinations
The Joint Board for the Enrollment of Actuaries (JBEA) is seeking applications for the next term of the Advisory Committee on Actuarial Examinations, which begins March 1, 2021, and ends Feb. 28, 2023. The JBEA asked the Academy to make this opportunity known to our members. The Advisory Committee plays an integral role in assisting the Joint Board to offer examinations that test the knowledge necessary to qualify for enrollment. Its duties include recommending topics for inclusion on JBEA examinations, reviewing and drafting examination questions, and recommending passing scores. Applications are being accepted through Dec. 4—for information on how to apply, visit the IRS website.
Uccello Presents at Brookings Health Panel Webinar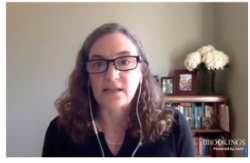 Academy Senior Health Fellow Cori Uccello participated in a Brookings Institution webinar panel discussion Wednesday, "Health Care Price Regulation and Public Options: Assessing Approaches to Increasing the Public Role," in which she talked about the key design issues of developing a public option. "A big issue for a public plan is whether it's going to be on a level playing field with private plans" under the Affordable Care Act, she said. The webinar is available for viewing via the Brookings website.
Professionalism Outreach
Academy General Counsel and Director of Professionalism Brian Jackson delivered a virtual presentation on ethics and professionalism to John Hancock on Thursday. The presentation focused on how ethical practice is rooted in adherence to the Code of Professional Conduct, how the Actuarial Board for Counseling and Discipline (ABCD) proceeds when potential violations of the Code are brought before it, and the important function of the ABCD in responding to actuaries' requests for guidance.
Register for December's Virtual Seminar on Effective P/C Loss Reserve Opinions
The Academy's 2020 Seminar on Effective P/C Loss Reserve Opinions is coming to you virtually this year. The agenda for this year's seminar is designed for your convenience and needs during these challenging times with travel restrictions and stay-at-home remote work. Seminar sessions—to be held on Dec. 9–10 and 14–15—will begin at 1 p.m. EST each of the four days and run through the afternoon. Mark your calendars and register today.
More CE Opportunities at Our Virtual Fall Events
The Academy's Annual Meeting and Public Policy Forum, to be held Nov. 5–6, is the actuarial profession's best forum for the most significant public policy and professionalism issues that matter to U.S. actuaries and policymakers across all practice areas. Register by Oct. 16 to take advantage of early registration rates.
The Life and Health Qualifications Seminar, to be held Nov. 9–12, is a highly engaging basic and continuing education offering for those seeking qualification requirements to sign statutory statements of actuarial opinion for NAIC life and health filings. Register today.
COPLFR Paper Addresses Audit Committees and Loss Reserve Expertise
The Committee on Property and Liability Financial Reporting issued a new public policy paper, An Overview for P/C Insurers' Audit Committees: Effective Use of Actuarial Loss Reserve Expertise. This document replaces an earlier publication on the same subject.
Alerts
Public Policy Activity
Upcoming Events
In the News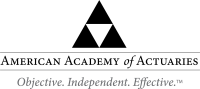 If you would like more information or to contact the Academy, please visit us at www.actuary.org/content/about-us
Follow the Academy on Facebook, LinkedIn, and Twitter. Listen to our podcast.
---
1850 M Street NW • Suite 300 • Washington, DC 20036 • 202.223.8196 • www.actuary.org
Copyright 2020 American Academy of Actuaries. All rights reserved.